By Kaitlyn Longstaff
DB Water Trucks, a company based in Glendale, Arizona, specializes in the sale, repair, and restoration of com­mercial water trucks. DB Water Trucks is an authorized custom-truck dealership serving the Glendale area and carries a large selection of new and pre-owned inventory. When you are ready to invest in a new truck, the friendly and knowledgeable sales, financing, service, and parts departments are prepared to make sure your experience is outstanding, from assisting you while you're making your choice to ongoing maintenance and customization.
DB Water Trucks was founded in 2021 by Sara VanFleet and is a woman-owned, family-run business. "I serve as the CEO, while my husband holds the position of president. We employ 10 people, but we are composed of only three families," VanFleet said.
DB takes great pride in its workers and the quality of its products. The company's goal is to provide its workers with a solid future and place where they want to work, and a product that both DB's employees and customers are proud of. DB Water Trucks values the opportunity to create a long-term relationship with its customers and does that by giving the best customer service possible.
Services, Products, and New Launches
DB Water Trucks primarily serves customers across the United States and Canada. "Although we are based in Ari­zona, we receive inquiries from various regions, as our cus­tom commercial water trucks cater to the specific needs of businesses across different industries," VanFleet explained. "Our main focus is on converting medium-duty trucks into functional water trucks that serve various purposes. We customize these trucks to function as traditional water trucks for dust control, water tenders for transport, fire tenders, potable water transporters, and any other custom water-disbursement systems required by our customers."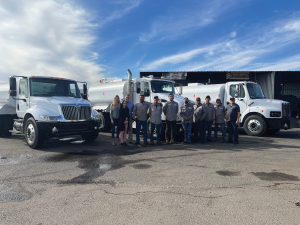 At DB Water Trucks, each order received results in a unique truck tailored to the specific needs of the customer. "As a result, our product offerings are driven by the intended usage and requirements of our clients," VanFleet said. Every truck created by DB Water Trucks functions as a new product release.
DB takes great pride in its customers and looks forward to new opportunities and fostering new relationships. "One of my favorite 'wins' is being able to provide the water truck to the National Radio Astronomy Observatory, the backdrop for the movie Contact with Jodie Foster," VanFleet said.
She continued, "We recently had our first international sale, with three trucks shipped to Canada, and our first New England customer, with trucks being shipped to New York and Vermont."
While there are multiple companies in the business of water-truck assembly, there is still a growing need for the ability to transport water in bulk to remote areas; provide water for fire control; and provide water for dust control for municipalities, farms, and constructions sites—to name a few critical needs. Bulk water transport is economical and far more environmentally friendly than smaller plastic-cen­tric water transport solutions.
Challenges and Solutions
Being a small business in today's economic climate comes with its share of challenges. Starting DB Water Trucks during the COVID-19 pandemic and entering a new indus­try presented a steep learning curve. "We faced difficulties in obtaining financing, experienced a shortage of workers, and encountered supply chain issues, which added stress during the initial stages of the company," said VanFleet.
In addition, since DB Water Trucks is a new company in a competitive market, acquiring customers required creative and determined effort from the entire team. "We leveraged the internet, social media, outside sales, and customer referrals to gradually break into the market and prove our competitiveness against larger companies," VanFleet said. "As a small business with limited funding, we must stay ahead of any potential issues and be prepared to make quick decisions and changes." Paying attention to every detail and remaining adaptable, open-minded, and resil­ient are crucial to navigate the challenges that arise.
Inspiration and Looking Toward the Future
"My primary business for many years has been in the structured settlement industry. However, my passion and hobby is horse show jumping," said VanFleet. "Through my involvement with horse arenas and horse care, I became aware of the importance of footing care and dust control in that environment."
In seeking solutions for a farm's needs, VanFleet developed an interest in water trucks and their manufacturing and maintenance. At the time, VanFleet noticed a lack of avail­ability and service in this field. "This realization, combined with my desire to transport water to those in need, partic­ularly in the water-scarce Arizona desert, inspired me to found DB Water Trucks," VanFleet explained.
The future for DB Water Trucks, said VanFleet, is "to provide a high-quality product and maintain or grow our family of workers and customers." Product innovation and supply chain improvements will drive the company into the future.
Neither Arizona nor the United States are immune from the water requirements needed to sustain growing communities. "Water demands will put stress on current supplies, and DB intends to constantly monitor its cus­tomers and the industry needs in order to be a strategic partner for any solutions as they evolve," VanFleet said. "We are always committed to helping our community transport water to people who need it."
About the author

Kaitlyn R. Longstaff is associate editor at Water Conditioning & Purification International Magazine. She studied English at Southern New Hampshire University and publishing at The George Washington University. She can be reached at [email protected].
---