NSF/ANSI/CAN 50 Equipment for Swimming Pools, Spas, Hot Tubs, and Other Recreational Water Facilities includes requirements for a wide range of products and technologies. Equipment as diverse as pumps, sand filters, and ultraviolet disinfection systems are all covered under various sections of NSF/ANSI/CAN 50.
The standard not only covers an expansive list of equipment, but the end use applications under NSF/ANSI/CAN 50 are quite broad—residential hot tubs and commercial water parks are both included under the standard.
General requirements for materials in contact with recreational water, including safety against leaching of harmful chemicals and corrosion resistance, are included. Additional general requirements address the design and construction of various types of equipment. For example, seals are required to be free of leaks, and piping assemblies must be able to be disassembled for repair.
Types of Equipment and Products with Specific Requirements
There are a number of types of equipment that have specific requirements established in NSF/ANSI 50. These are listed in Figure 1.
Sections 14 through 18 cover process equipment. Each section details specific requirements for each type of process equipment. These sections also have in common some requirements for all process equipment. These common requirements are listed in Figure 2.
The standard includes a variety of testing protocols and equipment requirements specific to these types of equipment, as well as evaluates the intended end use of each type of equipment. The aspects covered by testing protocols and equipment requirements vary with the type of equipment and end use.
In addition to the 28 sections of the standard, there are 12 normative annexes (N-1 through N-12) and six informative annexes (I-1 through I-6). The normative annexes address test methods and other relevant information for specific types of products, allowing the main body of the standard to be focused more on equipment requirements. The informative annexes include recommendations for installation and
operation of various types of equipment, as well as recommended water quality maintenance for spas.
Significant Developments Over Several Decades
First adopted in 1977, the standard has a long history of development and evolution behind it as it has evolved to keep up with developments in of recreational water facilities and equipment.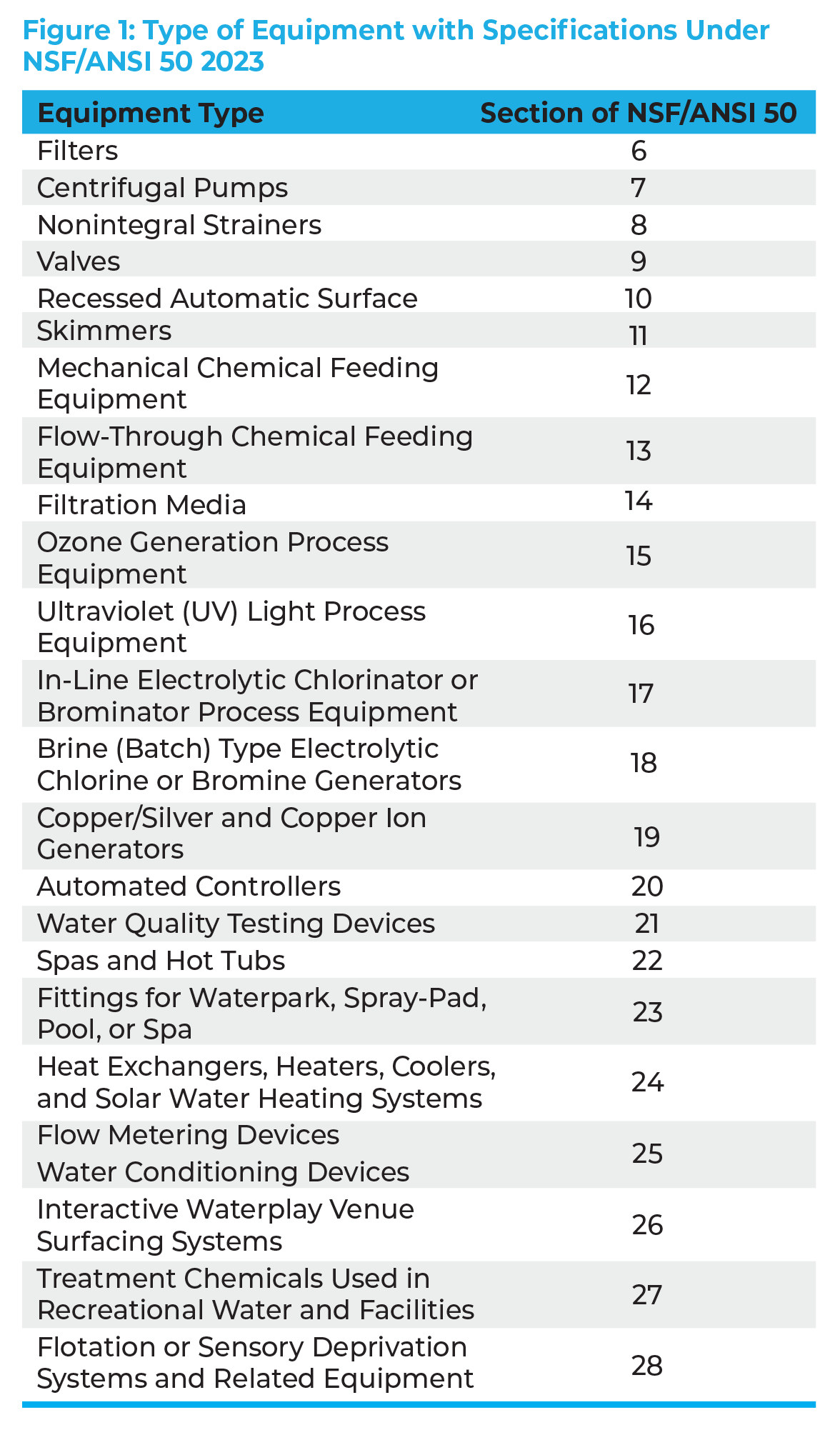 Requirements for water quality testing devices (WQTD) were added in 2009. WQTD include test strips, chemical kits, and probes used to monitor the quality of recreational water. Criteria exist for devices and kits used to evaluate pH, free and combined chlorine, free and total bromine, hardness, alkalinity, cyanuric acid, total dissolved solids, and salinity. These criteria include both accuracy and precision of the measurements obtained. Shelf life of reagents and components of testing devices is also addressed. There are requirements set forth for the operation and use of these testing devices, as well as marking of the device or kit itself.
In 2010, a new requirement was added for ultraviolet (UV) systems used to treat Cryptosporidium. This change was to allow the use of test data from product evaluations for drinking-water applications to be used in the evaluation of recreational water UV systems. The update simplified the evaluation process for UV system manufacturers serving both the drinking-water treatment market and the recreational water treatment market, and reduced redundant testing.
In 2019, the standard became NSF/ANSI/CAN 50, as it was first accredited by the Standards Council of Canada as a National Standard of Canada, in addition to its existing status as an American National Standard through the American National Standards Institute (ANSI).
Also, 2019 saw the addition of Section 26: Interactive waterplay venue surfacing systems. Section 28: Flotation or Sensory Deprivation Systems and Related Equipment was added in 2021 to expand the coverage of the standard to these types of systems.
Leveraging Industry, Regulatory, and End-User Experience and Knowledge
NSF/ANSI 50 is developed by the NSF Joint Committee on Swimming Pool and Spa Equipment. Similarly, the NSF Joint Committee on Drinking Water Treatment Units is responsible for the NSF/ANSI Drinking Water Treatment Unit standards. Each committee includes a balanced distribution of the appropriate experts with relevant backgrounds for the technical and regulatory issues pertinent to the products in question.
These committees will continue to develop the standards and ensure they keep up with evolving technology and regulations. This evolution keeps the standards relevant and effective in supporting end-user safety and providing a platform for manufacturers to demonstrate the fitness of their products.
About the author


Rick Andrew is NSF's Director of Global Business Development–Water Systems. Previously, he served as General Manager of NSF's Drinking Water Treatment Units (POU/POE), ERS (Protocols) and Biosafety Cabinetry Programs. Andrew has a Bachelor's Degree in chemistry and an MBA from the University of Michigan. He can be reached at (800) NSF-MARK or email: [email protected]