United States  
Biden-Harris Administration's New State Funding Distribution for Replacing Lead Pipes  
The U.S. Environmental Protection Agency (EPA) is dedicating $6.5 billion in critical water infrastructure funding to make drinking water and communities safer. The EPA also released a new needs assessment that shows a 32 percent increase in the backlog for financing better water services. This year, the states with the highest number of dangerous lead water pipes are getting the most funding. Florida now leads the country in that statistic, with an estimated 1,159,300 lead service lines. Illinois comes in second with 1,043,294. Starting in fiscal year 2023, this updated allotment formula will be used to distribute the Drinking Water State Revolving Fund Base Appropriations, the Bipartisan Infrastructure Law (BIL) General Supplemental, the BIL Lead Service Line Replacement, and the BIL Emerging Contaminants funds.  
Amanda Moore Assumes WQA Presidency and New Directors Elected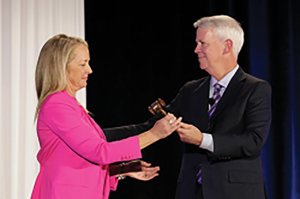 Amanda Moore, CWS, vice president of Atlantic Filter Corporation, will serve as Water Quality Association (WQA) president for 2023-2024. She accepted the gavel from outgoing President Jim Stern, executive president of A.O. Smith Corporation, during the 2023 WQA Convention & Exposition.  
WQA has a 24-member board of directors with eight directors, including Moore, serving as the board of governors. Serving as officers this year are Vice President Judd Larned of Culligan International; Treasurer Mike Mitchell of PUR Water Filtration Products; and Secretary Greg Reyneke, MWS, of Red Fox Advisors. Eight new directors were seated:  
Irma Bishop, MWS, Hall's Culligan Water.

Mike Dragoo, Clack Corporation.

Doug Haring, MWS, CI, CWR, Clack Corporation (re-elected).

Larry Gottlieb, ResinTech, Inc. (re-elected).

John Griesbach, MWS, Diamond H20 (re-elected).

Shannon Murphy, Aquamore USA.

John Tengwall, EcoWater Systems North America.

Candice Wentling, MWS, Certified Action.
IAPMO Publishes 2024 Editions of Uniform Plumbing Code and Uniform Mechanical Code  
The International Association of Plumbing and Mechanical Officials (IAPMO) has published the 2024 editions of the Uniform Plumbing Code and Uniform Mechanical Code in both hard-copy and electronic versions, completing a three‐year consensus development cycle accredited by the American National Standards Institute (ANSI).  
The codes are developed using IAPMO's ANSI-accredited consensus development procedures. This process brings together volunteers representing a variety of viewpoints and interests to achieve consensus on plumbing and mechanical practices.  
Pace® Opens Center of Excellence for TCLP Analysis, Expands Lab Services in Northeast  
Pace Analytical Services has opened its new Toxicity Characteristic Leaching Procedure (TCLP) Center of Excellence in St. Louis. TCLP testing is used to determine whether there are hazardous compounds present in the waste.  
The newly dedicated facility provides several benefits for businesses seeking to meet regulatory standards for TCLP testing, such as time and cost savings and rush services when needed. Pace® also offers synthetic precipitation leaching procedures testing, which is performed on soil samples and determines the presence of potential contaminants in groundwater from land application of waste. Pace® added capacity for environmental testing in the northeast U.S. with the acquisition of Alpha Analytical. Pace® provides environmental testing and analytical laboratory services to consulting firms, government agencies, manufacturers, and others in support of regulatory requirements, site assessments, remediation, product testing, environmental disasters, waste management, and more. The acquisition of Alpha Analytical has also allowed Pace® to expand its forensics and sediment testing services.  
AWWA's Steve Via Recognized by Virginia Tech as Distinguished Alumni  
The Charles E. Via, Jr. Department of Civil and Environmental Engineering at Virginia Tech recognized Steve Via, federal relations director at the American Water Works Association (AWWA), among the five inductees into its Academy of Distinguished Alumni. Via joins the group of 156 members and was chosen from a pool of more than 12,000 civil and environmental engineering alumni. The other four inductees are Bill Burgos of University Park, Pennsylvania; Jon B. Fripp of Arlington, Texas; James W. Patteson of Fairfax, Virginia; and Yunlong Zhang of College Station, Texas.  
2023 WQA Survey Shows Overall Concern Grows for Household Water Supply Quality  
The 2023 Water Quality Association Consumer Opinion Study revealed that consumers report being far more concerned about the quality of their household water supply this year than in any previous year they have been surveyed. Survey results also indicated that while the overall perception of household tap water safety is high, safety concerns remain. More customers are taking a larger role in improving their home water quality through the use of water-treatment products, and they are more knowledgeable about the types of products available.  
EPA Announced Proposal to Improve Public Awareness of Drinking-Water Quality  
The U.S. EPA announced a Notice of Proposed Rulemaking that would strengthen the Consumer Confidence Report (CCR) Rulemaking annual drinking water quality reports with important public-health information more accessible to residents and businesses across the country. The CCR, sometimes called an Annual Drinking Water Quality Report, summarizes the previous year's information about the local drinking water. The EPA's proposal would support public education by more clearly communicating important information in water-quality reports and improving access to the reports. When finalized, the EPA's proposal would:  
Improve the readability and clarity of water-quality reports.

Enhance risk communication.

Encourage modern electronic-delivery options.

Clarify information regarding lead levels and efforts to reduce lead in drinking water.

Provide a translation for customers with limited English proficiency.

Require reports to be issued twice a year for systems that serve 10,000 or more people.
Wood Bros. Industries Opens New Location in Indianapolis  
Wood Bros. Industries has expanded by opening a new location in Indianapolis on March 1, 2023. Family-run since 1972, Wood Bros. Industries specializes in supplying and distributing quality water-treatment products wholesale to the trade.  
WQA Announces Leadership Excellence Awards


 During the 2023 WQA Convention & Exposition, 11 individuals and one company were honored with the WQA's annual Leadership Awards. The 2023 Hall of Fame award, the highest honor bestowed on a WQA member, given for a lifetime dedication and service to the industry and association, went to Don McGhee, MWS, president of Hydro Systems, Inc., who served as WQA president in 2016-2017. The WQA Lifetime Member Award, which recognizes exemplary service to the association, was awarded to Diana Grace, the executive director of the Texas Water Quality Association, and Mark Felton, manager of a group of Culligan franchises in Northern and Central California. WQA's Excellence Award, given to WQA member companies that excel in their operations, innovation, customer service, or community service, was awarded to ResinTech, Inc. of Camden, New Jersey. Other awards presented during the convention include the following:  
The Key Award, which honors members who demonstrate the highest quality of leadership within their company, industry, and various associations, went to Michael Mormino, vice president of sales and marketing at ENPRESS LLC.

The Ray Cross Award, recognizing WQA members whose pioneer spirit and unwavering commitment made a notable difference in the water-treatment industry, was presented to former WQA President Toby Thomas, president and CEO of Kinetico, Inc.

The Regents Award, presented to individuals who have made significant contributions at the state or local level, was awarded to Scott Schiesser, MWS, CI, CWR, CCT, director of sales and marketing for Driessen Water Inc.

The Award of Merit, in recognition of exceptional service to the water quality improvement industry, honors Beth Allison, marketing director, North America, for Kinetico Inc.

WQA's Honorary Membership Award, given to someone outside the water-treatment industry with meritorious contributions to humanity through research, education, or exemplary service, went to Michael Schock, a recently retired chemist with the U.S. EPA Office of Research and Development.

The Next Gen award, given to individuals age 40 or younger who have demonstrated a commitment to the betterment of the water-treatment industry, was presented to Derek Packard, CWS, president of Packard Culligan.
IAPMO Hires Cambia McLeod as Vice President of Industry Relations and Business Development  
The IAPMO Group has hired Cambria McLeod as vice president of industry relations and business development. McLeod is an industry expert in product compliance with 17 years of experience in the plumbing industry, connecting stakeholders and working to guide compliance, assess risk, and support global market access.  
CLEANR Teams with GKD on the Development of a Disruptive Microplastics-Filtration System  
GKD Group, a mesh filtration manufacturer, and CLEANR, a developer of advanced microplastics-filtering technologies, have teamed up to help washing machine manufacturers meet new and emerging regulations aimed at eliminating plastic microfiber pollution in global waterways, ecosystems, and food chains. GKD Group and CLEANR will collaborate on the development, engineering, and manufacturing of solutions that efficiently filter microplastics from residual, commercial, and industrial washing machine wastewater.