By Rick Andrew
In last month's column, "Testing Activated Carbon Systems for Total PFAS Reduction," we explored the recent updates to NSF/ANSI 53, which included requirements for testing a new claim for reduction of total PFAS. Prior to the updates, there had been requirements for testing reduction of perfluorooctanoic acid (PFOA) and perfluorooctane sulfonate (PFOS), but not requirements for testing reduction of total PFAS.
This month, we will build on that information and describe the update to NSF/ANSI 58, which now includes requirements for testing reduction of total PFAS by point-of-use (POU) reverse osmosis (RO) systems. This broad claim of reduction of total PFAS has tremendous value because of the clarity it provides for end users that the treatment will be effective no matter which PFAS compounds may be present in their drinking water.
Updates to NSF/ANSI 58
At the May 2018 meeting of the NSF Joint Committee on Drinking Water Treatment Units, the committee unanimously voted to establish requirements in the NSF/ANSI Drinking Water Treatment Unit (DWTU) Standards for reduction of PFOA and PFOS by activated carbon, anion exchange resin, and POU RO systems. A task force began work on the requirements and testing methodologies.
By 2019, the requirements, including test protocols, for evaluation of POU RO systems for the reduction of PFOA and PFOS were added to NSF/ANSI 58. Subsequently, the task force continued development work in PFAS reduction, focusing on a more comprehensive test protocol that could support a broad claim of PFAS reduction.
To support this development, the entire class of PFAS compounds, including chemical structure and properties, was evaluated to establish a mixture of compounds that can be used to assure reduction of any PFAS compounds that might be present in drinking water. This new test protocol and claim were published in the 2022 version of NSF/ANSI 58.
Test Method for POU RO Systems for PFAS Reduction
The basic test methodology for PFAS reduction by POU RO is the same as for other chemical contaminants tests under NSF/ANSI 58. Two POU RO systems are operated for a weeklong test, which typically includes 13 sample points at which samples of the contaminant challenge water and the treated water from the two test systems are collected. These samples are collected under a variety of operating conditions designed to simulate different modes of real-world operation.
For systems with an automatic shut-off valve and storage tank, some samples are collected after the storage tank is completely emptied and refilled, and some are collected after the storage tank is partially emptied and refilled. For all types of systems, there is a 48-hour stagnation period to fully test the system's performance after a period of not being used. Putting together the full protocol and range of conditions being tested results in a robust evaluation of the ability of any POU RO system to consistently provide effective treatment. 
NSF/ANSI 58 specifies testing POU RO systems for PFAS reduction using the total dissolved solids (TDS) reduction test water. This water is prepared according to Figure 1.
Sodium chloride is added to this water to achieve a concentration of 750 ± 40 mg/L TDS. PFAS is added to this water to achieve the target concentrations. 
Total PFAS Reduction Claim  
There are two approaches in the standard to establish reduction claims for PFAS compounds. The first method is to make a mixture of seven PFAS compounds with the influent concentration of 2,160 parts per trillion (ppt) total PFAS, made up of the compounds and concentrations described in Figure 2. The system being tested must reduce the concentration of these compounds by 99 percent to the effluent concentration of 20 ppt.  
The second option is to reduce individual PFAS compounds from their respective influent concentrations to their individual health advisory effluent concentrations. Two PFAS compounds, PFBS (perfluorobutanesulfonic acid) and PFDA (perfluorodecanoic acid), are excluded from the individual contaminant reductions because their occurrence level is less than their health advisory level.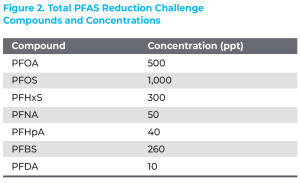 See Figure 3 for the requirements for the average influent challenge, maximum effluent concentration, and U.S. Environmental Protection Agency methods for these PFAS compounds. 
PFOS and PFOA will be added gravimetrically in a ratio of five parts PFOA to 10 parts PFOS by weight to achieve the total influent concentration for PFOA and PFOS. 
Data Transfer Protocol  
NSF/ANSI 58 Section 7.3 includes requirements for a data transfer protocol (DTP) whereby specific contaminant-reduction data generated by the testing of a membrane element in a surrogate POU RO system may be transferred to a candidate POU RO system that meets certain criteria. This DTP is specifically for POU RO systems with an automatic shut-off valve and storage tank. PFAS reduction is not eligible for this DTP as described in the standard.  
Performance Data Sheet  
User instructions are a key component of the NSF/ANSI DWTU Standards, as they ensure that users are aware of how to install, operate, and maintain the systems, as well as understand the capabilities of these systems.  
As a result of the addition of the total PFAS reduction claim, the user instructions requirements in NSF/ANSI 58 mainly affect the performance data sheet. The additional details regarding the PFAS reduction claim, including the substance, influent challenge concentration, and maximum permissible effluent concentration, must be added to the table of contaminant-reduction information in the performance data sheet.  
Continuous Evolution  
The NSF/ANSI DWTU Standards are constantly updated, modernized, and expanded by the NSF Joint Committee on Drinking Water Treatment Units to meet the evolving needs of stakeholders. PFAS contamination of water has become a major issue over the last decade, and the committee has responded by adding requirements to NSF/ANSI 58 as they have been developed by the PFAS reduction task group. The addition of these requirements helps manufacturers provide equipment to end-users that they can confidently rely on to be an excellent solution to the PFAS contamination problem, which is detected in more and more water supplies across the United States and beyond. 
Rick Andrew is NSF's director of global business development, water systems. Previously, he served as general manager of NSF's Drinking Water Treatment Units (POU/POE), ERS (Protocols), and Biosafety Cabinetry Programs. Andrew has a bachelor's degree in chemistry and an MBA from the University of Michigan. He can be reached at 1-800-NSF-MARK or by email at [email protected].