By Deborah Stadtler
The Water Quality Association (WQA) and National Ground Water Association (NGWA) held their Water Resources Congressional Summit on March 22-23, 2023, in Washington, D.C.
The event allowed attendees to hear directly from policymakers, researchers, and other organizations in educational briefings, along with small group meetings with congressional represen­tatives and staff, to raise awareness of drinking-water challenges. This congressional summit focused on important topics such as PFAS, lead service line replacement, and groundwater contamination.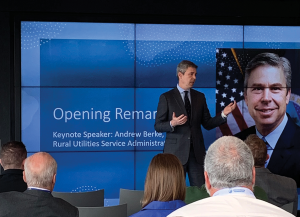 Funding Needs for Rural Projects
Keynote speaker Andrew Berke, administrator of rural utilities service at the U.S. Department of Agriculture (USDA), opened the summit by discussing how his department is funding water, electric, and telecommunications projects for rural areas of the U.S. The agency's goal is to help Americans living in these areas improve their quality of life through increased funding—$9 billion was spent in 2022—and local decision-making.
Next, critical issues in the water-treatment industry were dis­cussed by a panel including Ted Stiger, chief of external affairs and policy officer at the Rural Community Assistance Partnership; Tom Bruursema, associate executive director of technical programs for WQA; Ben Frech, public relations and government affairs manager at NGWA; and Bill Simpson, director of legislative affairs at the National Rural Water Association. More support and funding for rural projects were called for, as many Americans rely on wells for drinking water.
In Virginia alone, 22 percent of residents (1.6 million people) rely solely on private wells as their primary source of drinking water. The water-treatment industry is also dealing with a shortage of workers, particularly in the well-drilling segment. Efficient irrigation and managed aquifer recharge were men­tioned as examples of good water policy.
Panelists stated the importance of forming and maintaining connections with local and federal legislators. Relationships at the city and state level are vital, as many projects involving groundwater are decided at the local level.
State and Local Trends
Kristen Hildreth, senior legislative director of natural resources and infrastructure at the National Conference of State Legisla­tures, reviewed state legislative trends addressing topics such as:
Lead: testing, notification, disclosure, and lead service line (LSL) replacement funds.
PFAS: legislation, testing, maximum contaminant levels (MCLs), funding, and alternative water sources.
Private wells: well drilling, testing, and remediation.
Water affordability and assistance.
Water quantity: drought response and groundwater use.
In a panel discussion of state and local issues, Judy Sheahan, assistant executive director for the environment at the U.S. Conference of Mayors; Alan Roberson, executive director of the Association of State Drinking Water Administrators; and Hild­reth emphasized the gap between funding and the need for spending on water infrastructure. Discussion also centered on how to balance reducing energy usage with the need for energy-intensive water treatment methods, such as granulated activated carbon, reverse osmosis, and ionization to treat for lead, PFAS, and more. Disaster recovery after water lines and wells are damaged or contaminated was also a concern.
Hildreth encouraged meeting with and educating state legislators. With fewer staff, state legislators rely upon associations for education and guidance.
PFAS Regulations
PFAS and the new U.S. Environmental Protection Agency (EPA) proposal for the first National Primary Drinking Water Regula­tions (NPDWR) on PFAS were hot issues with attendees eagerly listening for information.
Currently, the Drinking Water Contaminant Candidate List (CCL) includes contaminants that are not regulated but known to occur. The CCL helps to prioritize what needs more research and data. The Unregulated Contaminant Monitoring Rule (UCMR) provides scientifically valid data on the occurrence of contam­inants suspected to be present in drinking water but have no health-based standards set under the Safe Drinking Water Act.
Three questions are asked before contaminant regulation is considered:
Are there adverse health effects caused by exposure to the contaminant?
Based on the CCL and UCMR, how much of the contaminant is in public water systems (occurrence and frequency)?
Can regulations help improve the situation?
An analysis is also conducted to determine the costs associated with regulation compliance.
On March 14, 2023, the EPA published a proposal for the first NPDWR for six PFAS. Once the proposal is published in the Federal Register, a 60-day comment period will begin.
Almost every state has issued guidance on PFAS, and 12 states have enforceable regulations. There are 18 bills related to PFAS being tracked at the state level and an increase in grants for PFAS remediation and testing. NSF/ANSI standards establish point-of-use (POU) and point-of-entry (POE) effluent criteria that are consistent with or below EPA levels for all drinking water health contaminants. Two standards already exist regarding PFAS: NSF/ANSI 53 and 58.
A panel featuring groundwater experts also discussed PFAS and its treatment. David Lipson, principal hydrogeologist at HRS Water Consultants; Seth Kellogg, PG, principal of Geosyntec Consultants; and David Henrich, vice president at Bergerson Caswell, started by reaffirming how the EPA's proposed MCL is a huge accomplishment and happened very quickly.
POU and POE solutions are effective and cost-efficient for treating PFAS. Water-treatment professionals should encourage state leaders to utilize those solutions instead of more drastic methods, such as getting rid of wells and connecting rural households to utilities.
Remediation and treatment of PFAS are different concepts to keep in mind. Remediation might mean cleaning up an aquifer, whereas treatment is purifying the water after it comes out of the ground. Concerns about remediating aquifers and groundwater systems and disposing of spent media from PFAS treatment can be addressed once the MCL is established.
Awards for Drinking-Water Leaders



A highlight of the summit was when David Rouzer, congressman from North Carolina, accepted WQA's Drinking Water Leadership Award in person. Wisconsin senator Tammy Baldwin wasalso honored with a Drinking Water Leadership Award. In addition to their work to improve access to safer, healthier drinking water across the country, both Rouzer and Baldwin have championed the Healthy H2O Act, which would authorize a new USDA grant program to cover the costs of water-quality testing and the purchase, installation, and maintenance of POU and POE water filtration systems certified to address health-based contaminants found in drinking water.
Monitoring Groundwater
Joshua A. Joseph, Jr., deputy associate director at the U.S. Geo­logical Survey (USGS), closed the educational briefings of the summit with a summary of the work of the Water Resources Mission Area at USGS. The Water Resources Mission Area aims to observe, understand, predict, and deliver water science to the nation. USGS operates the National Groundwater Monitoring Network, a system across federal, state, local, and tribal agencies with 45 total data providers over 20,000 sites. USGS also runs the Climate Response Network, whose purpose is to portray the response of groundwater systems to short- and long-term climate variations nationwide.
Congressional Meetings
Day two of the summit featured small groups of attendees holding 59 meetings with congressional leaders and staff to share information on PFAS in drinking water, the Healthy H2O Act, and other topics, such as LSL replacement and modernizing FIFRA (Federal Insecticide, Fungicide, and Rodenticide Act) compliance.
Attendees were encouraged to establish personal credibility and connections with legislators for follow-up. Leaders and staffers typically do not have deep technical knowledge to apply to complex policy issues, so water-treatment professionals should be ready to offer education and technical support. In the end, it's about working together to achieve better drinking-water outcomes for everyone in the U.S.
About the Author
Deborah Stadtler is owner and publisher of Water Conditioning & Purification International Magazine