By Kaitlyn Longstaff

Vista Water Group (VWG), founded in 2019 by Jim Chandler, is a single member LLC that is 100 percent family owned. Chandler, along with his sons, aims to create and provide reliable, certified, innovative backflow-prevention products for plumbing, water-treatment, and specialty markets. VWG sells its products in the plumbing and water-treatment market in the U.S. and Canada. Its primary product offerings are certified, dual check backflow preventers from 1/4-inch NPT through 1 1/2-inches NPT, including 1/4-inch NPT and 3/8-inch NPT beverage checks and single and multi-port air gap and non-air gap drain fittings.
Vista Water Group provides innovative backflow-prevention solutions to help commercial, residential, and small industrial customers achieve compliance with national and local plumbing codes conveniently and cost-effectively. The company continually improves and expands its product lines and introduces new products to help its customers. Chandler said he spends his time "on creating new products and getting them produced and certified, while my sons handle sales, marketing, and operations."
Creating Vista Water Group
Chandler grew up in Ashland, Ohio, and attended Kent University. His undergraduate degree focused on biology, chemistry, and conservation. He later obtained his graduate degree in higher education administration and business.
"I decided to pursue working in the water industry when a local company, F.E. Myers Pump Company, wanted to sell its water-treatment division," Chandler said. "My brother and I purchased the division in March 1980 and began selling the Myers product line to wholesale distributors in the plumbing, pump, and well industry while also creating and patenting some new technologies, like the ProvectrTM Water Treatment System."
After continuing to grow the company, Chandler and his brother ultimately made the decision to sell it to Amtrol in March 1988. After the sale, Chandler started several non-water-related companies, but in 2000 he started Vista Research Group (VRG), a company dedicated to creating high-quality, high-purity water for the dental industry.
During this time, Chandler developed and patented products "including those designed to control the growth of bacteria in dental delivery units, ultra-pure water for sterilizers and auto­claves, and an automatic thermal reduction cooler for sending super-heated wastewater from autoclaves safely to an ordinary drain." Vista Research Group is also where he created and patented the DrainHub/DrainDock and VistaCheck/VersaCheck backflow preventers.
In 2019, Chandler sold most of the assets of Vista Research Group to Crosstex International, which is now owned by Steris Corporation. After selling VRG, he made the decision to start another manufacturing company, Vista Water Group, featuring the DrainHub/DrainDock and VistaCheck/VersaCheck backflow preventers. In addition to those products, Vista Water Group also sells the new VIAgap vertical inline air gap.
Chandler said that "all are now available to the plumbing, water-treatment, and specialty markets since backflow prevention is a huge focus by local building and plumbing codes in virtually every state, city, country, and province throughout the U.S. and Canada."
Facing Challenges

Chandler reflects that even though he has over 43 years in water-treatment and water-related businesses, "it always takes time to get a new company and its products into existence." Wholesalers in both plumbing and water treatment are now requesting VWG's products for their dealers, "which is very gratifying," he said. Vista Water Group is also penetrating specialty markets where backflow prevention and protected drain discharge is now required.
To overcome current and future challenges, Chandler stated, VWG's plan "is to continue using good old grassroots selling in addition to strategic advertising, creating a significant online presence, and focusing on incredible customer service, like same- and next-day fulfillment of our products."
Looking to the Future
For now, Vista Water Group is focused on making its backflow-prevention products widely available to the plumbing, water-treatment, and specialty markets. It has already been approached to provide specialty water-treatment products in the future, an offer VWG is considering.
"So far in the short history of Vista Water Group, we have been able to create a full line of products with patents and patents pending and trademarks, and [we] are 100 percent certified to strict plumbing standards and certified by Quality Assurance International," said Chandler.
What Can Customers Expect?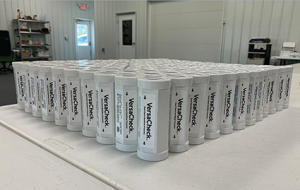 With the VWG product line being relatively new, having been introduced in just the last two years, a major benefit is the materials of construction, featuring either 100 percent durable, white PVC or hard coat anodized aluminum. Both are resistant to corrosion, rusting, and scaling caused by hard water; are 100 percent lead free; and meet California Health and Safety Code 116875, according to Chandler. The PVC and hard coat anodized products include the same materials used in marine products that come in contact with seawater and in aerospace, including in commercial aircraft, space vehicles, and space stations.
Both the PVC and hard coat anodized VersaCheck dual check backflow preventers weigh one-third as much as typical brass and stainless-steel models and are also 100 percent lead free. The internal parts of the PVC and hard coat anodized units are 100 percent identical and interchangeable. Even the DrainDock, DrainGap, and VIAgap drain fittings can be used for contact with potable water since they are all certified to NSF 61 and NSF 372 standards.
All products have been tested and are certified by Quality Assurance International to national standards, including ASME A112.18.1/CSA B125.1, ASME A112.18.3, ASSE 1024, ASSE 1032, NSF 61, NSF 372, and California Health and Safety Code 116875 for the dual check backflow preventers; and ASME A112.1.3, ASME A112.18.2/CSA B125.2, NSF 61, NSF 372, and California Health and Safety Code 116875 for the air gap and non-air gap drain fittings.
What's on the Horizon
Chandler says the water conditioning and purification industry has a very bright future. "Current water-treatment technologies are excellent, but there will be room for many new products and technologies in the future," he added. "Our aging water infrastructure, the insufficient number of water-treatment plants, the continued growth of urban and suburban population centers, and regulation for quality water nationwide is creating a massive demand that will need new approaches to technology and possible decentralization of water treatment to more point-of-entry and point-of-use products."
About the author


Kaitlyn R. Longstaff is associate editor at Water Conditioning & Purification International Magazine. She studied English at Southern New Hampshire University and Publishing at The George Washington University. She can be reached at [email protected].