By Joe Haynes
While many people consider the cheapest option to be the simplest answer, when selecting a water well drill, the upfront cost should never be the only deciding factor. A drill that achieves a high return on investment (ROI) will withstand challenging soil conditions time and time again, and be backed by quality support from its manufacturer. Before making a purchase, consider environmental conditions, drill quality,and manufacturer service.
Location
Start by determining the soil conditions the drill will encounter. Water well drillers face major expenses when drills can't meet the challenges of a project's location. For example, pulling a poorly manufactured drill over rough terrain can damage the equipment, resulting in delays and costly repairs.
Beyond drill quality, the drill type—whether mechanical or hydraulic—should be suited for the soil conditions it will most frequently work in.
Mechanical drills provide the necessary power and versatility for drilling in sand, clay, and loamy soils. These machines typically drill to depths of 100 feet to 200 feet, tackling the scope of most geotechnical and water well projects. Mechanical drills have few moving parts, making them easier for less-experienced drillers to operate while minimizing the risk of accidental damage. Additionally, mechanical drills tend to be lightweight and portable, so one or two individuals can easily load one onto the back of a truck or utility vehicle and unload it, allowing the drill to access more challenging locations.
Mechanical drills, however, are not suited for every project. To drill deeper and power through hard rock, a hydraulic drill should be used. These machines achieve depths of 300 feet to 400 feet and are generally the go-to for crews that consistently drill deeper than 150 feet. To generate as much as 5,000 pounds of push-down force in rugged rock formations, look for a drill rig with an anchoring option and a bypass flow switch. With these added capabilities, crews can more efficiently reach clean water.
For transportation purposes, consider whether the drill will benefit from being mounted on a trailer. Although trailer-mounted models generally cost a bit more than standard hydraulic units, they provide a simple and reliable transportation solution. Some trailer-mounted rigs include space for hauling drill pipes and other equipment. Additionally, trailer-mounted drills are typically quicker to set up than their free-standing counterparts.
Construction
Drills from different manufacturers often appear quite similar. However, a closer look will help determine if a unit is built to last. Some manufacturers entice customers with low prices but avoid discussing quality. When calculating ROI, keep in mind that low-quality drills typically have shorter service lives and little to no resale value compared to higher-quality models.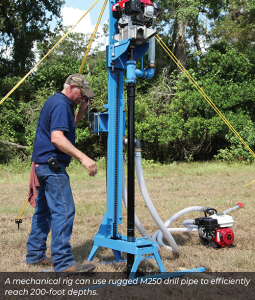 Look for heavy-duty, welded-steel frames and thick drill pipes, for example, to ensure the drill can withstand challenging conditions. Some manufacturers cut corners by using thinner steel. This can cause the frame to bend or twist while driving, or wear prematurely due to corrosion in hot, humid climates. In addition, look for manufacturers that use drill pipe two inches in diameter and connections made of heat-treated alloy steel. Lower-quality drills often use 3/4-inch or one-inch pipes intended for less intense applications.
Drills that incorporate features to simplify maintenance make extending service life easier. For example, an easily accessible adjustment screw and locking nut minimize downtime when removing slack from the drive chain. Conveniently located greasing points also save a significant amount of time during routine greasing and maintenance checks. If maintained properly, a quality drill can last from five years to 20 years.
Support
Trust takes years to build and only seconds to lose. A reputable manufacturer wants customers to succeed and has a track record to prove it. The last situation a drill crew needs is a project standstill with no one to back up the crew. Look for manufacturers that provide training manuals, videos, and 24/7 technical support. Some manufacturers go so far as to offer training sessions at their facilities, which is a great way for inexperienced drillers to gain hands-on experience before beginning a project.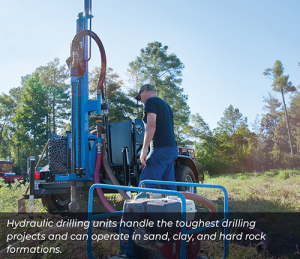 Remember, even quality drills will need replacement parts. To prevent downtime, choose a manufacturer that keeps replace­ment parts in stock and offers fast delivery.
Finally, take a close look at the manufacturer's warranty. One of the best ways to determine a manufacturer's confidence in its products—and its commitment to service and support—is by reviewing its warranty policies.
Once research is complete, start crunching the numbers. Given the work location and plans for the drill, determine if saving a few dollars today will pay off in the long run. But remember, getting the most drill for the dollar goes beyond the initial price tag.

About the author
As president of Little Beaver and Lone Star Drills, Joe Haynes works with a team of engineers to develop digging and drilling solutions, including earth drills, mini trenchers, water well drills, and horizontal boring kits. He has more than four decades of experience in the drilling industry and is committed to providing long-lasting solutions to customers around the world.
About the company
Lone Star Drills are innovative additions to the Little Beaver family of products that are designed to be a convenient, powerful solution in areas with minimal resources for transportation and operation. Twelve models are available, and they are ideal for use in a variety of applications, including water well drilling, soil sampling, geotechnical testing, and auger drilling. For more information, contact Lone Star Drills at [email protected].