By Wes Bleed

The Water Quality Association's weekly podcast, WQA Radio, recently passed 300 episodes, representing more than six years of podcasts featuring association members, water treatment experts, and those in related industries. The podcast has seen continued growth among water treatment professionals, including listeners outside the United States.
Podcasting, in general, is still a growing medium. As of the end of 2022, more than 400 million people around the world were estimated to listen to podcasts. We listen for information, entertainment, or a little of both. Podcast formats vary from interviews or panel discussions to highly produced documen­taries or dramas.
If you're not familiar with podcasting, you can think of it like a radio show. A podcast (the name combines Apple's "iPod" with "broadcast") normally has a brief introduction, followed by the program content and a close. The length of many podcasts is between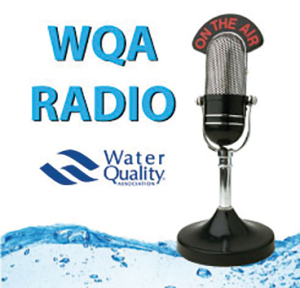 10 and 30 minutes, but there are no time constraints in the digital world. Some podcasts run for one to two hours or more.
We named the Water Quality Association (WQA) podcast WQA Radio because of its similarity to the call letters of a radio station. Former WQA President Don McGhee was the first official podcast guest in 2016, although we did not for­mally launch the weekly format until early 2017.
Subsequent guests have included each new WQA president and vice president, WQA Executive Director Pauli Undesser, staff from WQA and the Water Quality Research Foundation, as well as WQA members and experts from related industries, such as the National Groundwater Association and the International Bottled Water Association.
At first, some WQA members were not sure what to make of the new program. It took a while for people to become aware of the show and to begin to listen regularly. But, little by little, the number of listeners began to grow, and in 2022 we exceeded 20,000 program "listens" during the year (to be clear, we can never be sure if someone actually listened to or merely down­loaded the podcast).
The unique quality of a podcast is its immediacy and portability. Most of us access a podcast through our mobile devices. We can listen on a walk or in the car. When you subscribe to a podcast, each new show automatically drops into your podcast player. Subscribers receive a notification each time a new podcast is available. New episodes of WQA Radio are posted each Wednesday.
We have found that offering a podcast is a great way to communi­cate with members. We see it as a member benefit because so much of the content is geared toward helping our dealers and manufacturers understand important topics, trends, and regulatory issues. We provide updates on pending legislation and share new resources available from WQA to help grow their business.
WQA Radio is especially helpful for those who may not have the time to read a lengthy report but can take time to listen to a conversation about it. Having a guest on the podcast answer questions is like sitting around a table and listening to an in­formative conversation.
Our podcast also adds personality to the association. We say that WQA is the "leading voice of the water treatment industry." The podcast is one of the ways the voices of our members can be heard, literally. We hear from committee chairs, task force members, and section leaders to gain their insight and hear updates on important matters facing the industry. We talk about how they're dealing with water treatment challenges in their state or how they're working to improve their company culture. This connects the listener to other members between our annual WQA Convention & Exposition each spring and our Mid-Year Leadership Conference in the fall. Each interview or discussion is an opportunity for members to gain new insight into the water treatment industry and for us to help them promote better water quality around the world.
WQA Radio has been an effective tool to repurpose other content from WQA's programs, webinars, and education. Each year, we're able to feature special segments from the WQA Convention & Exposition (coming up April 18-20 in Las Vegas), such as remarks from the Hall of Fame and Lifetime Member Award recipients at the Opening General Session, or from the WQA Business Boot Camp (this year on April 17, one day before Convention). This allows members who are unable to attend those events another opportunity to hear from their friends and colleagues and stay better connected through the expertise and experience of presenters.
Finally, we use the podcast as a way to feature many of our speakers ahead of Convention, allowing them to explain the overview of their presenta­tion and why it would be important for someone to attend their session.
Podcasting may not be for everyone, but our podcast is certainly an additional tool to connect with members and those interested in learning more about WQA or the water treatment industry. Many companies would be wise to consider podcasting as a way to reach potential customers or to strengthen existing relationships. The changing digital landscape means that many people who couldn't before can now easily host their own "radio" show, no longer dependent on transmitters and radio towers to broadcast their message.
If you've never listened to WQA Radio, we invite you to do so and hear it for yourself. Just go to WQA.org, and look for the latest podcast in the News Stream section of our home page. Then, if you like what you hear, subscribe so you never miss a show.
About the author
Wes Bleed has served as marketing and communications director for the Water Quality Association since 2016. He oversees WQA's communication to members and those outside the association through WQA.org, news releases, email, advertising, podcasts, and videos. Bleed has extensive experience in the media, with more than 30 years in broadcast journalism, political communications, public relations, and marketing.
About the organization
WQA is a not-for-profit trade association representing the residential, commercial, and industrial water treatment industry. WQA's education and professional certification programs have been providing industry-standardized training and credentialing since 1977. The WQA Gold Seal certification program has been certifying products that contribute to the safe consumption of water since 1959. The WQA Gold Seal program is accredited by the American National Standards Institute (ANSI) and the Standards Council of Canada (SCC). WQA publishes a consumer-friendly website, BetterWaterToday.org.