By Kaitlyn R. Longstaff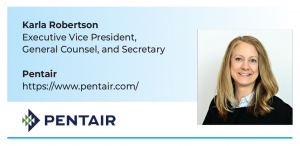 Pentair delivers smart, sustainable solutions through its energy-and resource-efficient products and solutions, working to create a better world for people and the planet. More specifically, Pentair provides residential and commercial filtration solutions that deliver higher quality and greater-tasting water; pool products that use less energy and fewer chemicals; membrane technologies that aid industries in reducing, reusing, and recovering water; and sustainable gas solutions that transform waste into value for manufacturers, farmers, and global food and beverage industries.
For background, Pentair has approximately 11,250 global employ­ees that offer solutions and services to customers in over 150 countries. Pentair serves a variety of customers in residential and commercial, food and beverage, industrials, and infrastructure verticals. Karla Robertson, Pentair's Executive Vice President, General Counsel, and Secretary, has also taken on the role of Pentair's first Chief Social Responsibility Officer (CSRO). With Pentair's focus of creating a better world, Robertson states that she joined the company in 2017 because she "wanted to be a part of putting this purpose into action."
Pentair's Chief Social Responsibility Officer
Robertson has always been driven to work to make a positive societal impact. Before beginning law school, she worked in public interest on behalf of victims of domestic violence. After experiencing first-hand the importance of driving an impact, she continued to weave social responsibility into her legal career. Before joining Pentair, Robertson worked as an attorney at a law firm, as an in-house employment counsel for a large retail corporation, and as an in-house counsel at a food and beverage wholesaler and retailer.
After joining Pentair in 2017 as General Counsel, Robertson recognized an opportunity for an expanded role stating, "my scope quickly grew—through close partnership with the Board of Directors and Executive Leadership Team on governance-related topics, which naturally included environmental, social, and governance issues (ESG) that a CSRO typically oversees."
Before Robertson took on the role of CSRO, Pentair lacked a formalized ESG program. By leveraging her legal background, Robertson was able to bring an understanding of evolving risks and regulations critical to creating an ESG program. By opening the doors on the importance of having an ESG program, and how it aligns with Pentair's purpose, Robertson was appointed to the role of CSRO and now takes the lead on Pentair's ESG program. Understanding the importance of water as our most essential resource, Robertson shares that she is "proud to be advancing Pentair's sustainability strategy to improve and positively contribute to our business."
Pentair's Environmental, Social, and Governance Issues Plan
Before enacting its strategy and Social Responsibility Strategic Targets, Pentair completed an ESG Materiality Assessment in 2020. The survey was conducted to "better understand ESG areas of business opportunity and risk, the broader context within which our company operates, and the priority ESG actions that we should take to further refine our strategy and communication," said Robertson. Identifying these priorities was key to Pentair's continued leadership and ability to deliver products and solutions that help people and the planet thrive.
Currently, Pentair is focusing on carbon reduction, water with­drawal reduction, product design for sustainability, supply chain, and inclusion and diversity. The company is differentiating itself with its focus on water as life's essential resource combined with its ESG strategy.
In 2021 Pentair announced its Social Responsibility Targets, and early in 2022 it shared the progress that has been made for those targets:
In highlighting its progress in Carbon Footprint Reduction, Pentair reported that its total scope of 1 and 2 GHG emissions decreased 11.8% in comparison to the baseline from 2019.
When it comes to designing for sustainability, Pentair en­hanced its product innovation process for increased focus on environmental stability with the development of a product sustainability scorecard that is now featured as a standard component in its product commercialization process.
In line with its progress for a more responsible supply chain, Pentair enhanced its Supplier Code of Conduct, placing a greater focus on social and environmental issues and how suppliers manage ESG risks in their operations and supply chains. Pentair has also launched an enhanced Supplier Code to its global supply base.
Robertson states that Pentair will "continue to monitor and assess the evolving disclosure landscape so that we are well prepared to respond as requirements and frameworks continue to evolve." The current framework of Pentair's ESG program helps to ensure it will be able to consider future hurdles before they reach them.
Pentair's Innovation and Resource-Efficient Solutions
Product innovation is at the core of Pentair's business as it works to further assess, design, and commercialize its products for environmental sustainability; create solutions that require fewer resources; and transform waste into value. With the development and release of the product sustainability scorecard, Pentair's enhanced product innovation process now includes a product sustainability rating as an equally weighted factor in its commer­cialization decisions. Further, Pentair is continuing to develop a standardized process for aggregation of product sustainability achievements to disclose customer energy, water, and chemical savings made possible by the use of its products.
With a focus of delivering energy- and resource-efficient products and solutions, Pentair is continuing to innovate with sustainability in mind. Currently, 70% of Pentair's solutions support water efficiency and help to reduce, reuse, and recover water (based on total 2021 sales of Pentair's brands meeting this definition, as a percentage of total revenue). Pentair also provides drinking water filtration products that help consumers eliminate the use of plastic water bottles.
Water treatment solutions offered by Pentair include water softeners that regenerate based on water usage, a product line of whole-house water filter systems that do not use electricity or wastewater, and a UV disinfection system that requires minimal energy to run. Its GRO High Recovery membrane products, as well as the Freshpoint 3-Stage RO system, offer increased efficiency and produce less wastewater as compared to more traditional RO membranes on the market.
Doing Well by Doing Good
Pentair released its Corporate Responsibility Report earlier in 2022, in which it highlighted the progress that has been made towards advancing the positive impact it has on people and the planet. It also announced and completed the acquisition of Manitowoc Ice. "This strategic acquisition that allows Pentair to enhance and deliver total water management offerings to an expanded network of channel partners and customers," says Robertson.
Doing well by doing good is a long-standing tradition at Pentair, one it continues to show through philanthropic efforts with the Pentair Foundation. Pentair is helping to transform the ways in which safe drinking water is sustainably delivered in developing countries, including through Project Safewater, Pentair's holistic approach to providing safe water solutions in communities throughout the world.
Robertson said that it is Pentair's people that continue to inspire and energize her and her work. "Our employees continue to help us deliver on our commitments and make progress towards our targets. It's through our employees' efforts that Pentair can truly deliver a positive impact for customers and the world."
Looking ahead, Pentair plans to continue with its existing strategy and to drive progress on its social responsibility strategic targets. With a focus on becoming an employer of choice, Pentair will continue to advance diversity and inclusion. "We are excited about our future and continuing to put our purpose into practice for people around the world today and for future generations," Robertson concluded.
About the author


Kaitlyn R. Longstaff is associate editor at Water Conditioning & Purification International magazine. She studied English at Southern New Hampshire University and Publishing at The George Washington University. She can be reached at
klongstaff@wcponline.com.