North America
New Standard Provides Test Method for Carcinogens in Water
A new ASTM International standard was released in July 2022 for a test method for finding low concentrations of nitro­samines, a suspected carcinogen, in water. The standard, known as D8456, was developed by ASTM's water committee. Nitrosamines can be found in water, foods, vegetables, and dairy products. This new standard functions as a move forward in sustainability for this form of water testing and directly relates to the United Nations Sustainable Development Goal #6 on clean water and sanitation.
U.S. House Passes PFAS Actions in New Defense Bill
The National Defense Authorization Act (NDAA) for Fiscal Year 2023 will include several amendments that are aimed at limiting PFAS contamination. These amendments include the publishing of the EPA's water quality criteria and testing for PFAS in some schools' drinking water. The NDAA must still pass through the Senate and White House before going into effect. The Environmental Working Group applauds the bill's passage yet the American Chemistry Counsel opposes the bill based on concerns regarding the NDAA's amendments and language.
Pace® Obtains EPA Approval on Method for Detecting Dioxins and Dibenzofurans
Pace Analytical Services announced that the EPA has approved the Pace Analytical Method PAM-16130-SSI for detecting dioxins and dibenzofurans through state-of-the-art gas chromatog­raphy mass spectrometry (GC-MS/MS). Following the EPA's approval, this method will be recommended for inclusion in the approved method list under the Clean Water Act. In the interim, approval for the use of this method in measuring dioxins and dibenzofurans in wastewater may be gained from regional authorities on a facility-by-facility basis.
Winsupply Purchases First Source Electrical, Adds Drone Delivery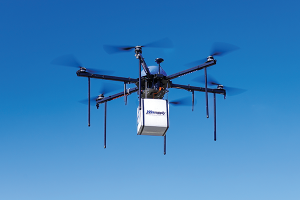 Winsupply Inc. has completed the pur­chase of First Source Electrical. Based out of Houston, TX, First Source is a full-line distributor of commercial, multi-family, residential, and low-voltage electrical supplies. In addition, Winsupply will be offering drone delivery backed by Drone Express. The first drone delivery took place August 12. This delivery will be of an exclusive NIBCO product from the Winsupply Distribution Center in Mia­misburg, OH, to Centerville Winsupply. This historical three-mile drone flight not only marks Winsupply's consistent delivery of a wide range of products weighing under five pounds, but also shows dedication to innovation.
New Standard Provides Method for Detecting Petroleum in Drinking Water
Water committee D19 of ASTM has approved a new standard that will help ensure compliance with drinking water quality requirements, minimize environ­mental impacts, and protect public health. The new standard was published as D8431 and is based on the HORIBA A-TEEM spectroscopy technique. The standard was developed to be used in treatment plants for drinking water as a first line of defense for detecting petroleum product spills, tracking attenuation over time, and preventing contaminant uptake. This new standard was designed to be faster and more streamlined than its predeces­sors. The effort behind the creation of standard D8431 directly relates to the United Nations Sustainable Development Goal #6 on clean water and sanitation.
Duperon Awarded ISO 9001:2015 Certification, Hires Steve Macomber
Duperon Corporation was awarded the International Organization for Standard­ization (ISO) Certification for its systems and processes under ISO 9001:2015. Duperon is a screening and solids handling equipment manufacturer that has been in operation for almost 40 years. This certification was obtained from the company's first ISO audit, in which they completed with zero findings. The ISO 9001:2015 certification sets the standard for a quality management system (QMS). This certification is earned by companies when they continually exhibit their ability to consistently provide products and services that meet customer and regu­latory requirements.

Duperon welcomed Steve Macomber as a new business development manager. Macomber brings 25 years of industry experience spanning across the engineer­ing industry, including six years with Black & Veatch and more than 18 years working for equipment manufacturers in the screening, dewatering, and thick­ening sector.
Evoqua Water Technologies Completes Acquisition of EPICOR, Inc.
Evoqua Water Technologies has acquired the privately held EPICOR, Inc., a manufac­turer of powdered ion exchange resins and resin/fiber mixtures for the power industry. EPICOR is based out of Linden, NJ, and has supplied specialty resins for power stream system treatment for 50 years.
CIPH President and General Manager Ralph Suppa Announces Retirement

Ralph Suppa, President and General Manager of the Canadian Institute of Plumbing & Heating, has announced his retirement. CIPH greatly flourished under Suppa's leadership. Suppa dedicated 35 years to CIPH and will be retiring from his position on December 31, 2023.
EUROPE

De Nora Recognized with 2022 Water Europe Innovation Award

Industrie De Nora S.p.A has been recog­nized in the 2022 Water Europe Innovation Awards, being named the best in Water Technology & Infrastructure category. This recognition was given to De Nora for its sludge ozonation application in advanced sewage treatment. This tech­nology is not only suitable for municipal and industry use, but also improves the process efficiencies without using harmful chemicals. The sludge ozonolysis, a simple plug-in process, does not leave a residual which allows unreacted ozone to revert back to oxygen and be utilized by micro­organisms in the aerobic reactor.
Gruppo Pedrollo Wins the 2022 Leonardo Da Vinci Award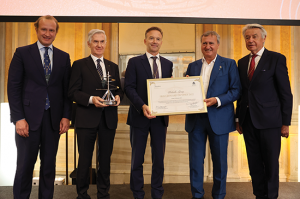 In June, the 11th Leonardo da Vinci award was given to Gruppo Pedrollo; this award was presented to Giulio Pedrollo, the group's Managing Director, by the mayor of Venice, Luigi Brugnaro. The Leonardo da Vinci award is designed to enhance the exceptional ability of family-owned enterprises and to aid in the transmitting of their heritage and values to future generations.
ASIA
BSN Publishes Revision of Indonesian National Plumbing Fittings Standard
Badan Standardisasi Nasional (BSN) has published SNI 122:2022, Fitting Supply for Domestic Purposes. Initiated by Asosiasi Plambing Nasional (APIN), the standard's development was carried out by Technical Committee 77-02. The development of this standard was partially funded by a grant provided by USAID/ANSI Standards Alliance program. The product scope for this standard includes 15 types of faucet products and consists of design, quality, and performance requirements for these faucets.