By Emma H. Peterson

Benjamin Franklin Plumbing Tampa was founded by former owner Scott Vigue in 2006 after operating for 17 years as "The Prince of Plumbing." Benjamin Franklin serves most of west-central Florida including Hillsborough, Pinellas, Pasco, and Polk counties and specializes in residential plumbing services. While the company proudly offers Honest Water filtration products, it also has its own line of softeners in order to fit anyone's water treatment needs and desires. Benjamin Franklin is known to solve just about any issue thrown its way, with a drain team that is proficient in cabling, descaling, and jetting residential drain systems, plus a full line of Rheem and Noritz water heaters.

Operations Manager James Mullis has been with the company for 11 years and has nothing but praise for his team. He prides Benjamin Franklin on stressing the importance of educating customers. Employees are continuously trained on water treatment and the best offerings. "For us, it is just our culture that technicians are a part of from day one," Mullis said. "We are almost a water treatment company that does plumbing, it's truly that important to us. It is engrained into our belief system."
Mullis has strong roots in plumbing; you might even say it was his destiny. His father and grandfather were both plumbers, so he was raised with its influence his whole life. Naturally, he decided at a young age that there was "no way in hell" he would follow the same path. Mullis graduated from college with a bachelor's degree in communications and a passion for sports broadcasting, but when that dream job never presented itself, he went to work for his father's plumbing business. Upon meeting his now-wife of 15 years, Mullis decided it was time to branch out from the position he held at his father's company and look for something bigger in plumbing. He began working at a different plumbing company where he made good money, enough to start warming up to the idea of plumbing being passed down yet another generation. Mullis left that company and started working for a small plumbing business where he comfortably stayed for 6 years.
When Mullis joined Benjamin Franklin in 2011, they were a company that offered water treatment. "I quickly learned that 'the water broke it' and started to learn more and sell," he said. In his first five years, Mullis was a plumber in the field and became a field supervisor. In the last six years, he became the company's operations manager and continues to hold that title today.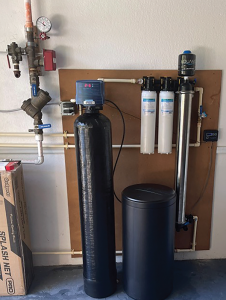 Mullis believes that with proper training, the plumbing industry should be leading the water treatment industry. "We are invited into people's homes every day to fix problems. Why in the world would we not take that opportunity to talk to them about water treatment, which is ultimately what broke it?" he said. Mullis said he wants all the plumbers at Benjamin Franklin to have water treatment at the forefront of their minds, especially when "80 percent" of the problems they encounter have to do with it.
"A customer calls because they have a toilet running, but it wasn't
the toilet that was the problem, it was the water quality that made the toilet go bad and so calcium built up in the water drain," he said. Benjamin Franklin also commonly encounters hard water and chloramine issues where they are located in Tampa, FL.
The company is branded by its dedication to giving the ultimate solution, thanks to the expertise and experience of its plumbers. Taking the time to understand a problem deeply and finding the absolute best way to fix it is the core principle of Benjamin Franklin. "What we do is strive to explain what water broke, what we are here to fix, and the safety of having filtered water in today's world," Mullis said. He admits that it can be difficult at times to educate customers on the true importance of water treatment, especially when they are not calling for water treatment specifically.
Benjamin Franklin has been pleased to offer Honest Water filtration products when dealing with a "water broke it" situation. "We believe, with the certifications Honest Water has, these are the best products in the industry. It is also quite versatile and allows us to be able to meet most customer's needs financially and performance wise," Mullis said. "For those customers that want soft water, we do offer a softener that pairs quite nicely with the Honest Water system." The company offers Honest Water filtration both with and without the polyphosphate hard water solution.
Mullis finds that the biggest challenge the company faces is hiring qualified technicians. Benjamin Franklin has shifted its focus to having a strong apprentice program and growing its own people. Above all, the company is on the lookout for great people that are willing to work hard to be successful. "With it being so hard to find technicians, we also make sure we focus on quality over quantity. It's not about running a lot of calls, it's all about giving great customer service and running every call to the best of your ability," he said.
As far as future endeavors, Benjamin Franklin is determined on reaching more customers and providing them with that consistently amazing experience that comes with the highest standards of quality. "With our newest ownership group and future expansion plans, more customers will be able to experience the same benefits that our Tampa customers do," Mullis said. "Sure, we want to add the very best people we can find, but at the end of the day, we want to continue to perfect what we do and gain more customers through giving amazing service."
About the author

Emma H. Peterson, author of WC&P International's corporate and dealer profile series, is a student at the University of Arizona, majoring in journalism, with a minor in natural resources. Throughout her college experience, she has developed a following for her photography and photojournalism endeavors. After graduation, Peterson intends to broadly expand her creative/ feature writing and photography prospects, as well as pursue her personal interests in skiing and rock climbing.