Nothing demonstrates the strength of a company like the people who hold its roots. Healthy Water Solutions from Culligan Water was established earlier this year as a partnership between two high-school friends, Rich Johnson and Dave Cone. Johnson had always been with Culligan, while Cone was in the corporate world, but being regular gym buddies and crossing paths in the work sector kept their friendship strong.
Johnson is a third-generation dealer who has worked for Culligan almost 25 years. Growing up, the company had always been a staple in his life. As a kid, he worked for his dad doing route and plant duties. He went to college at Augustana University in Sioux Falls, SD. After a couple of years, he went back to work for his dad, eventually buying him out in 1997. Cone had been a happy Culligan customer for years. His professional background revolved around managing businesses within the technology sector. Cone was CEO of an automation company for six years and held several other similar positions in weighing equipment both in retail and industrial. Johnson earned BS Degrees in business marketing and engineering as well as an MBA.
The pair had long discussed the possibilities of owning a business together, so when the opportunity came to buy the Mankato, Madelia, Jackson and Redwood Falls dealerships as well as a bottling plant, there was no hesitation. With their mutual passion and love of the quality of Culligan products and serving local customers, they were proud to announce Healthy Water Solutions on April 1, 2020. (Within the partnership, Cone can best be described as the numbers guy while Johnson is the out-front guy.) Working together has made them realize their strengths more than ever before.
When the pandemic hit, the partners nearly backed out. They had no idea what was to come of their new expansion in the midst of a worldwide panic. There were many safety precautions put in place to ensure the protection of both customers and employees. They created a policy and procedure to ensure consistency and ongoing safety for all, at every one of their locations daily. "Thus far, we feel we have provided a safe working environment for all. Many of these added precautions and steps will continue even after COVID, as they are simply good business procedures," Cone said.
Like most of the industry during this time, they have had to modify routes, given the significant number of business closures. And yet, to their surprise, the company has been busier than ever. They have been especially grateful for the involvement of Culligan International, for its assistance and support. The company continues to innovate with products that truly make a difference in the lives of customers. This, combined with class-leading training, allows Johnson and Cone to provide the level of service their customers have come to expect from Culligan water dealers.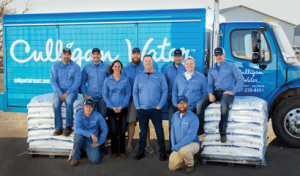 Healthy Water Solutions serves nearly all of southern Minnesota with a focus on Mankato, Madelia, Fairmont, Jackson and Redwood Falls. The company's mission is to help people find a pathway to a healthier life through the consumption of good, clean water. With a focus on both residential and commercial applications, Johnson and Cone provide a wide range of products that include water softeners, iron filters, drinking systems and a full range of bottled water coolers. They are currently in the process of adding deionized (DI) water solutions. The company serves a customer base that has extremely high levels of iron, coupled with very hard water.
Culligan (as a whole) offers many products that when bundled properly, can remove nearly all water contaminants that can contribute to a wide array of health issues. Johnson and Cone's best-selling product is the industry-leading Culligan HE water softener, which produces average salt and water savings of nearly 46 percent, as compared to competitors' models.
Their bottling facility uses environmentally friendly, returnable, five-gallon bottles. The company provides bottles to their dealerships to service local customers, as well as many other Culligan dealers across the Midwest. The facility is governed by the US Department of Agriculture, US FDA and Culligan water-bottling guidelines, to ensure their customers are provided clean, healthy water at their homes or businesses.
In the new year, Johnson and Cone are ready to continue to serve their customers in their awesome communities. "I plan to become involved in various organizations that are relevant/related to our industry, as well as local business development organizations within the counties we so proudly serve," Cone says. Their plan is to continue to grow the business through natural market expansion, as well as through the acquisition of additional Culligan dealerships.
There is much to come for Johnson and Cone. Currently they are working to launch a full array of advanced, high-technology, eco-conscious products from Culligan and they are always on the lookout for new opportunities to expand. "Being in an industry that focuses on providing solutions for improved health makes coming into the office everyday a joy. We have a great team in each location who share our same values. They are dedicated and eager to serve our customers with the same conviction that we have. They are really interested and as motivated as we are to do their part in finding solutions for our customers water needs," Johnson says. "We have lots to do yet!"