Everyone can think of a time when their family was in close quarters, with very little privacy. A family road trip, a holiday weekend or the most evident situation today, being confined by COVID-19, seeing kids move home and parents working from their bedrooms comes to mind first. The one thing that is true about these family affairs that can be both stressful and frustrating, while also being filled with bliss and laughter, is that they are short-lived. It all passes, until the next time.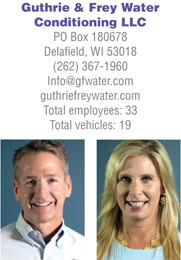 There is one exception to this scenario: working with family members. Rob Frey from Guthrie & Frey Water Conditioning, LLC knows a thing or two about that. Guthrie is his mother's maiden name and Frey is his father's surname, which together proudly presents the family's roots. But for the joys and struggles encountered while working for and with siblings, spouses and parents, he would not have been able to shape the successful business he runs today.
Frey's father started the well pump business Guthrie & Frey Inc. in 1974 in Wales, WI. After spending his younger years in the family business, Rob pursued and obtained a degree in biology and ultimately got a full-time job selling microscopes in the medical field. Four years after graduating college, his father offered him a position. Frey always knew he wanted to join the family business, so he was happy to accept the offer. In 1997, Frey had one associate named Bruce Zivney who played a pivotal role in transitioning his father's establishment toward the water treatment industry. "I have always wanted to own a business," he says, "Water treatment was an industry that I was somewhat familiar with since I grew up in the well and pump business. I also knew there was a market and that it wasn't as weather-dependent as the well and pump business."
Between Frey's connections and existing relationships and Zivney's technical experience, they cultivated new branches of business. Once Guthrie & Frey became more reputable as a water conditioning company, the rest of his family joined in to help them continue to develop and flourish. Frey's brother, Zack, continued to work with their parents on the well pump side of the business and Frey's wife and co-owner, Sue, joined the water treatment business in 2000 as their advertising representative. Their industry expanded and so did they, ultimately developing another full-service location in Mequon, WI.

Today, Guthrie & Frey serves both residential and commercial clients throughout the southeast region of Wisconsin. "The vast majority of what we do is iron/odor treatment, water softening and drinking water systems," Frey says. "Occasionally we'll install UV systems but most of what we do is treat for aesthetic water quality issues." They are headquartered in Hartland, with a branch office in Mequon. The well pump division and its nine associates continue to operate out of Wales. "Since the well pump division is limited to our clients on private wells only, water treatment gives us exposure to both private well and municipal water clients," Frey says. "There's a synergistic relationship that generates a lot of referral business and brand recognition. The most rewarding part of the business is that it is always interesting."
Guthrie & Frey Water Conditioning, LLC added a new family member to the team recently, their 24-year-old son Scott. "He's been wanting to be a part of the business since he was 17," Frey says. "We wanted him to work for someone else for at least a year after he graduated college, just so he could see how someone who is not family would deal with him," he chuckled. As a licensed plumber with big drive, Frey says: "We are really optimistic that this is his thing." And just like that, it is looking like the family chain will prevail.
Having more family members in a business than could be counted on one hand may sound like a headache, but Frey loves every minute of it. "It was hard in the beginning, with just me, my mom, dad and brother; but after branching off, it became much easier," he says, "Working now with my wife and son is 99.9-percent great; we complement each other in terms of skill." Everyone sticking to their own specialty within the business has made everything run smoothly. And if things do get a little tense, Bella and Vinny, the company's official furry door-greeters, might step in and break it up. Through it all, Frey says working closely with family members is overall "working great" and he feels blessed.
Aside from family matters, Frey is proud of the talented team he has built over the years. They are all licensed plumbers with many other qualifications. "I have a JPRA, WQA, MWS and a small operators license. Many on the team have some or all of these certifications. We have a combination of in-house and manufacturer-provided training. All of our field technicians are licensed by the state," he says. In order to be a part of the team at Guthrie & Frey, a positive attitude, aptitude, good character and being physically capable are all you need. "Skills can be taught. If we like you, we'll invest whatever it takes to give you the skills you need," Frey says. When someone of the younger demographic wishes to join, they are required to have their plumbing license and so the company invests in training them in the craft by a senior team member. It is a cycle that keeps on giving.
Despite mostly smooth sailing, every company faces obstacles. Frey says: "Our biggest challenge is the expansion of surface water into areas previously supported by municipal wells with a much higher hardness level. The wastewater side is also a challenge relative to chlorides. Finally, finding people who want to learn a trade isn't as easy as it once was." Other than hurdles the company may come across during work, they have also faced many challenges presented by COVID-19, but still manage to come out on top. Looking towards the future, Frey is enthusiastic about where he sees Guthrie & Frey going.
"At this time, we do not intend to diversify but rather to expand our client base and continue to improve on our systems to existing services," he says. "Sue and I are both 50 years old and intend to work for another 10-20 years at some level or another. I'm hoping our son joining the business represents a succession plan but if not, I'm hoping to transition a powerful brand with great market share to someone in the form of a sale."
With many youthful new faces and a son fresh in the business, Frey is confident that even after he moves on from Guthrie & Frey his legacy will carry on much past him. As far as the water industry as a whole, he also has high expectations. "I see a bright future for the industry. In our area, treatment is typically a need and there always seems to be a new point of focus; for example, arsenic," he says. With so many new opportunities arising, it is impossible to not be excited about what the future for the water conditioning industry holds. In any event, it is clear that the Frey's will always have each other's backs!