By Mike Flenniken
The International Association of Plumbing and Mechanical Officials' (IAPMO) charitable foundation IWSH (International Water, Sanitation and Hygiene Foundation) harnesses the skills and expertise of water-industry professionals, organizations and manufacturers to support critical water, sanitation and hygiene initiatives worldwide. IWSH has played a key role in the Community Plumbing Challenge (CPC) since being formed in 2016 and is also working with Healthabitat O/S to bring handwashing facilities, toilets and wastewater treatment systems to two schools in Nepal.
The focus of the latest CPC collaboration was the Navajo Water Project, an initiative of the US-based nonprofit organization DigDeep that was among the 2018 recipients of the US Water Prize. The initiative's goal is to help ensure that every American has clean, running water forever. The St. Bonaventure Indian Mission and School in Thoreau, a small town in Northwestern New Mexico, hosted this CPC event from October 22-26, 2018, following a series of meetings between DigDeep and IWSH organizing teams, plus preparatory visits to the area earlier in the year.
CPC Navajo Nation represents the first time a Community Plumbing Challenge has been hosted in the United States, following projects in Nashik, India (2015); Diepsloot, South Africa (2016); and Cikarang, Indonesia (2017). IWSH officials are hopeful it signals the beginning of increasing IWSH involvement in helping tackle the growing water and sanitation issues that affect the health and safety of more than 1.6 million American citizens.
"We're here to give life-changing experiences and bring water and sanitation to people who haven't had it for years," said IWSH Managing Director Dain Hansen. "But also with that, we're giving them the skills to be able to do that themselves in the future, so they can do this long-term. We've partnered with St. Bonaventure, we've partnered with DigDeep, we've partnered with Navajo Technical University."
"This has been an incredibly rewarding, yet challenging, week," said IWSH Project Manager Grant Stewart. "Many families are living without running water and sanitation. The few that do have access to well water, in several cases find that water is so contaminated that it is unusable. Therefore, this year, we were forced to use many different approaches to provide adequate access to water and sanitation: repairing homes and connecting them to utility water, installing 1,200-gallon water cisterns and connecting homes to safe wastewater systems. This required a wide range of products and skill sets, which is why it is so gratifying to see the entire industry step up to help a community in need."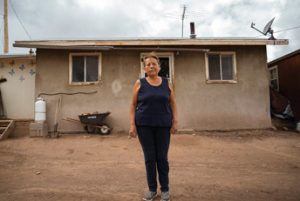 Prewitt, New Mexico resident Marie Jones has never had running water in the house her father built, despite repeated pleas for help. But thanks to IWSH's most recently completed CPC event, clean and filtered running water is now only a turn of the faucet away. "I'm so happy and excited with the water," said Jones, who frequently takes care of her grandchildren. "I'm just so thankful, because I don't know how I would have done this. Now I won't be depending on somebody to get water for me and water in a bucket doesn't last long."
Jones' home was one of 10 nominated by DigDeep for CPC Navajo Nation. None of the homes had adequate sanitation systems, running water or safe electrical systems. By the end of an intensive week, they all had been connected to a wastewater system, nine of the 10 now have running water inside the home and all have a safe electrical system. A multi-disciplined team of more than 25 skilled tradespeople traveled from throughout the United States and as far as away as Australia and South Africa to perform the work.
Jones' sister and next-door neighbor, Angie Yazzie, was also a beneficiary of the project. She still lives in the house her grandfather built, along with her daughter and two granddaughters. She also frequently cares for her grandson while her son is in school. Yazzie said St. Bonaventure installed a water tank behind the house about two years ago that allowed them to use the kitchen sink, but they still had to use an outhouse that was on the property. "It's hard in the winter days when we go," she said. "It's really cold to walk over there. So, I'm just happy that there's a restroom for us now."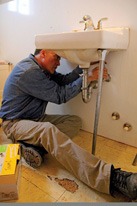 Baca-Prewitt Chapter President Cecil Lewis, Jr. explained that new sanitary facilities in these households will give many local children a better opportunity to pursue their education. "A lot of our youth miss out on schooling due to no restrooms," he said. "There's usually about three to nine people in one house. Illness comes upon them because they don't take care of themselves because of lack of water."
Cindy Howe, DigDeep's Project Manager for the Navajo Water Project, joined the organization in May after 10 years with St. Bonaventure. She is well acquainted with the residents' plight and said many have been promised clean water and safe sanitation for years, only to see those promises go unfulfilled. Howe said as a result, the first thing DigDeep has to do is gain locals' trust, followed by encouraging them to participate in the process by preparing their properties and making sure they meet with Navajo Tribal Utility Authority (NTUA) officials when necessary. "This project has made a big difference in a lot of people's homes and families and I'm very happy to be part of it," she said. "I'm hopeful this will continue and it sounds like it might. So, I'm very happy for that."
Loretta Smith, whose home was the most remote of the 10 selected for the CPC project, was overjoyed. She lives next door to her brother and nephew (who also had work done on their home) and regularly takes care of her grandchildren. Because of the remote location, rather than being connected to the water system, both homes use cisterns provided by the Office of Environmental Health. Previously they had to hand-carry the water from barrels in the front yard; thanks to the CPC, they are now able to access that water using indoor fixtures. Volunteers also dug leach fields and installed septic systems for each home's bathroom, meaning the residents will have indoor plumbing for the first time. "We've never been helped like this before," she said. "It's nice and it's perfect. I was happy when they came around here. I'm glad that they're here. They keep asking me how I'm going to feel when they finish it. I tell them, 'I'll jump up and down!' "
Randy Lorge, Training Manager for UA Local 400 Plumbers & Steamfitters in Kaukauna, WI, also participated in the three previous international Community Plumbing Challenges. Lorge, who recently joined IAPMO as Director of Workforce Training and Development, said the Navajo Nation CPC was unlike anything he had ever experienced. "In all my travels to overseas countries helping deliver safe water and sanitation systems, I have never seen conditions as upsetting as I did this week on the Navajo Indian reservation," he said. "It was one of the most exhausting but worthwhile weeks of my life. I am so proud I was able to be a part of the Community Plumbing Challenge once again—this time, in my own country—and to have the opportunity to work with other like-minded plumbers from not only the United States but around the world."
The CPC week began with a welcome ceremony and a special roundtable meeting: Water and Sanitation Crisis in America: Government & Industry Working Together for Solutions, hosted at the Thoreau Chapter House. US Sen. Martin Heinrich (D-NM),as well as representatives from the offices of US Rep. Ben Ray Luján (D-Santa Fe) and US Rep. Michelle Lujan Grisham (D-Albuquerque), attended the welcome ceremony and roundtable. In addition to focusing on issues concerning tribal lands, the roundtable looked at problems facing the more than 1.6 million people across the US without access to clean water and safe sanitation.
Residents had the opportunity to show their appreciation during a community forum at the Baca-Prewitt Chapter House, during which Prewitt residents Regina Vandever and the aforementioned Loretta Smith, whose homes were both recipients of CPC project works, led preparation of a dinner for all of the volunteers and other local residents. Several more of the CPC's beneficiaries took to their feet to thank the volunteers during the emotional event. "We hope that there are people in the room tonight, who are involved in the CPC for the first time, that will join us for the next CPC, as well," IAPMO/IWSH Project Manager Seán Kearney said at the forum, "and we really hope that we've begun something important here, in our collaboration with DigDeep this week, that will continue into the future."
In situations such as CPC Navajo Nation, water filters play a vital role in ensuring the potability of water between the cistern and the tap, removing potentially harmful bacteria, chemicals and debris. "We were honored to participate in this project to help bring access to clean drinking water to the Navajo Nation in Thoreau," said Ryan Prince, Principal Program Manager– Water Appliances for G.E. Appliances. "It is the mission of G.E. Appliances, a Haier company, to enable happiness and well-being in every home and assisting residents with this basic human need through our water-filtration systems is core to our purpose."
Australian NGO Healthabitat has also been a key IWSH partner in the design and ongoing development of the CPC program since its inception in 2015. For CPC Navajo Nation, Healthabitat Project Manager Dave Donald oversaw a Housing For Health survey-fix program with a team of local community representatives and residents in the days leading up to the event. This survey helped capture detailed information on hardware defects and risks to the general health of family members in each home, which was then used to better plan and prepare renovation and upgrade works scheduled for the CPC project week.
A subsequent CPC Navajo Nation recently took place in the Navajo Mountain region on the Arizona-Utah border. Water sector companies and organizations that would like to support future CPCs are encouraged to get in contact via info@iwsh.org, where further ideas or comments are greatly welcomed.
Acknowledgements
The Navajo Nation CPC was sponsored by LIXIL/American Standard; the International Association of Plumbing and Mechanical Officials (IAPMO); Plumbers Local Union 412 (New Mexico and El Paso, Texas); the Piping Industry Progress & Education (P.I.P.E.) Trust Fund/NITC; United Association of Journeymen and Apprentices of the Plumbing and Pipe Fitting Industry of the United States, Canada (UA); World Plumbing Council; Reliance Worldwide Corporation/Sharkbite Plumbing Solutions; Plumbing Contractors of America/Mechanical Contractors Association of America (PCA/MCAA); Plumbers Local Union No. 400 (Kaukauna, WI); Plumbers Local Union No. 12 (Dorchester, MA); Plumbing Industry Climate Action Centre (PICAC); Plumbers Local Union No. 68 (Houston); Plumbers Local Union No. 78 (Los Angeles); American Society of Plumbing Engineers (ASPE); Milwaukee Tool; G.E. Appliances, the PHCC Educational Foundation; Plumbers Local Union No. 798 (Tulsa, OK) and Thrivent Financial. Among the donations received for the project were 12 water filtration systems and more than 60 replacement filters from G.E. Appliances.
For more information
Water Is Life, a short highlights documentary explaining the story of CPC Navajo Nation and the diverse group of participants involved, may be viewed online at https://youtu.be/PzUtYpg5J34. For more information about CPC Navajo Nation, please visit the project website at www.commplumbing.org or email info@iwsh.org.
Photos courtesy of Courtesy of Geoff Bilau/IWSH
About the author
Mike Flenniken is an award-winning staff writer, Marketing and Communications, for the International Association of Plumbing and Mechanical Officials (IAPMO). Prior to joining IAPMO in 2010, Flenniken worked in public relations for a group of southern California hospitals and as a journalist in writing and editing capacities for various southern California daily newspapers.
About IWSH
The International Water, Sanitation and Hygiene Foundation (IWSH) harnesses the skills and expertise of water-industry professionals, organizations and manufacturers to support critical water, sanitation and hygiene initiatives worldwide. It does this by tapping into more than 100 years of industry experience to develop local infrastructure, improve governance and create conditions for better public health and economic outcomes.