What began as a mechanical engineering assignment in college led Paúl Redrován to establish his own water treatment company in Quito, Ecuador. "I´m a mechanical engineer and during my final semester, one of the professors asked me to specify an RO system for a fruit-processing plant. At that time RO was unknown in Ecuador and it was almost like a mystery," he said.
"At the same time, I also started to work as a freelance vacuum-cleaner salesman, where I learned a whole lot of sales techniques. Since RO technology seemed the ultimate water purification solution and I had gained some experience in sales techniques, it occurred to me that maybe I could sell RO water purifiers to household owners.

"I started to look for companies to work with. I did my search based on brands that had some kind of recognition through the WQA or NSF certification programs and, luckily for me, Culligan paid attention to my request. There was another young man (I was 25 at that time) trying to better the international presence of Culligan and he was willing to give me a chance, even though there was already another distributor in Ecuador. This is how it all started," Redrován said.
Today Culligan Water Projects S.A. is thriving. "I'm the General Manager and my wife, Soledad, is the Office Manager. We serve the entire country of Ecuador and we do residential, commercial and industrial markets." They have 26 employees.

"The motivating factors were the desire to own a business and along the way I discovered the world of water has many, many, many things to be considered in order to keep getting customers and keep a good reputation. We have been in business for 14 years and I always say that this is pretty much my first job; I've held the position of General Manager all this time. The most rewarding thing about our business is that we get to take care of the health and businesses of our customers through providing excellent water quality with excellent water treatment equipment."
The name Ecuador is Spanish for the equator, which runs through the country. In fact, in Ecuador you can straddle the equator with one foot in the northern hemisphere and the other in the southern hemisphere. The capital (Quito) sits high in the Andean foothills (at 9,350 feet) at the base of an active volcano. The largest city, Guayaquil, has a population of 2.2 million and is in the southwest region on the Pacific Coast. The Galapagos Islands are roughly 700 miles off shore, where Redrován has a small number of customers.
The logistics of serving an entire nation that's roughly the size of Colorado can be daunting. "We only have one office in Quito but we serve all our installations throughout Ecuador. We have a household-service coordinator and an industrial-service coordinator who need to book the next week´s agenda by Thursday or Friday at the latest. That way we can plan the route our service guys have to take outside the city. For example, Ambato is two hours away from Quito, so we may arrange for one guy to serve seven to 10 household customers and probably two light-commercial installations. We likely have three to four days of work and one for travel. For doing filter changes in Quito, we use motorcycles. For salt changes we have a truck that delivers the bags, then the service guys (on motorcycle) do the change. When the truck is not delivering salt, it´s getting material for our industrial installations.
"In the household market we encounter problems by region. Some places have low-hardness waters and the concern is drinking-water safety. Others have high-hardness waters and also drinking-water worries. In the commercial and industrial markets, we've done pretty much everything: softening, carbon and sediment filtration, ultrafiltration, deionization, large-scale RO systems, large UV units, ozone, chemical dosing. Our well waters have a lot of silica, which is bad for RO systems. In certain areas we have ugly minerals (like arsenic) due to proximity to volcanos. The area between the coast and the highlands has a lot of iron and manganese. At this point we want to expand our residential sales to serve the main cities of our country, continue to improve our way we do projects and implement an online selling platform." While business is good, Redrován said, "One continuous challenge is financial. Many customers don´t pay on time and suppliers collect their money before we even have the goods at our warehouse."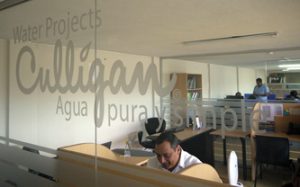 Other challenges have been more technical. "Recently we had to size a deionization system on our own. Culligan provides deionization equipment up to a certain size and this brewery wanted us to restore some tanks they had in order to have a dealkalization + DI system. We had to learn what´s behind the scenes on demineralization and faced some problems with resin. We received resin that imparted odor to the water and after many trials we decided to change it for a food-grade resin and the problem was resolved. Once every issue was taken care of, the system worked beautifully. Another bad situation was to start up and stabilize a UF system that would plug very badly after two to four hours of operation. We had to investigate possible causes and find solutions. After performing many tests, we were able to use a coagulant chemical that helped us keep the membranes in good shape.
"Because of the kind of jobs we do, training is an everyday thing. We usually use part of Mondays to do meetings in which we cover some technical aspects of installations or projects. Just recently we hired an operations manager to properly structure a way of training for the service tech guys, projects people and maintenance coordinators, so we all have the same level of knowledge. WQA certification is kind of difficult for us since the entire study material is in English and our first language is Spanish."
Looking to the future, Redrován said, "I see that the water industry has to align more to the current global tendency of being more environmentally conscious. Technologies not only have to solve problems, but help customers find applications where technologies produce savings and benefit the environment." Redrován and his wife have every intention of being part of the future of water treatment and feel confident they will be able to meet any and all challenges that come their way, now and in the future.