By Donna Kreutz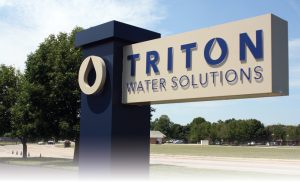 Dustin Findlay works in two worlds: one is the family-owned well-drilling business that dates to 1932 and the other is the Triton Water Solutions company established in 2016 to provide water treatment services. Both are in Lafayette, IN, a community of some 70,000, roughly 63 miles northwest of Indianapolis and 105 miles southeast of Chicago.
"Our well drilling company had installed a few softeners here and there over the years, but we realized that there was huge potential to do more, with a large-city water market that was untapped. We felt that we could leverage the great reputation that Dilden Brothers Well Drilling had earned over the years and market to the existing customer base. We knew that to truly be successful, Triton would have to be its own company, separate from the drilling company. Otherwise, we would wind up right back where we started, dabbling in water conditioning when the well-pump service/install schedule allowed us to," said Findlay, who co-owns Triton with his father Wayne.

"The most rewarding part of the business is being able to fix water that people have dealt with for years under the assumption that it's just the way well water is," said the younger Findlay. "People are like wow, finally somebody presented a solution to a long-term problem they didn't think would ever be fixed. Then they tell all their friends and neighbors."
Strategic planning plus serendipity
As soon as they started planning the new company, "all these things were just falling into place," Findlay said. "We agreed that to be successful, we needed to find the right person to help shape and mold the company. This person had to have plenty of experience in water treatment, a good knowledge of running a business, strong morals and integrity and finally, be a 'good fit' in general. This was a tall order." They had met with several people but no one stood out. Then Findlay was talking to an advertising rep who said he knew just the person. The next day, Cory Kennel called. He had 17 years of experience in the water treatment industry and was exactly what they wanted in a service manager. "We found our guy."
Then Kennel and Findlay were trying to decide on a name for the company, not liking any of the options they had in mind. Kennel's wife, Kori, was watching The Little Mermaid with their two young girls when the character King Triton came on the screen. "What about Triton?" she asked. The name of the mythical god of the sea not only fit a water company perfectly, but Findlay's young son had just written a paper on the planet Neptune, including its moon Triton. The company now had its name.
And finally, they needed a place to do business. Originally the plan was to use an empty office at Dilden, but the distributor they chose to work with (Hellenbrand) urged them to have a storefront as their competitors did. "We looked at existing properties, then decided to build. We had agreed upon a deal for the land and plans were drafted. As we were ready to start, a surveyor pointed out an access problem. They would have to build close to a traffic roundabout. "We'd only be able to turn right into or right out of the parking lot. There were no left turns. That was a deal breaker.
"That happened on a Thursday. The next day we were sitting around wondering 'what are we going to do now? What's plan B?' And we didn't have one. Then a realtor we had worked with earlier called us mid-day with a new option. She said a bank was going up for sale but wasn't on the market yet. It was still open for business so we couldn't look around the inside. They were going to tell the employees they were shutting the branch down that afternoon. We drove around the building and made an offer, sight-unseen on the inside. It's a much better location, a prime location. It's fantastic that we lucked into this."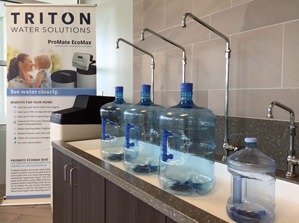 Strong market potential
Findlay's father and uncle acquired the Dilden well drilling company in 1985 from the family who founded it nearly 40 years earlier. "We drill wells for probably 95 percent of the builders around here." Findlay sees that as a golden opportunity. "Once we convince them to put water softeners in these homes, we should be good to go! We realize the huge potential of our market."
Their timing is excellent. The Indiana State Department of Health recently started randomly selecting people for free water tests, looking for bacteria in wells. "The first arsenic system we put in was the result of a free test that came back with arsenic in the water. That was the first time we'd heard about the testing program." It also helped that before obtaining an FHA or VA loan, the home's water supply must be tested for arsenic, lead and nitrate.
"The most common treatment problem we encounter is hardness. We consistently see about 25 to 30 gpg. On the well-water side, we are seeing more and more cases of arsenic and nitrates. Compounding this problem is consumers' general lack of awareness of the presence of these elements. Other common well water problems are iron and sulfur bacteria. This is usually pretty easy to treat with ozone. But with iron bacteria you have to know what you are looking for. The water softener may show no iron, yet there is iron bacteria coming through. If you're not familiar enough with well water, you don't always know how to treat it. We're better equipped to handle well water. We can chlorinate wells; that also will kill the bacteria. There are just more ways we can handle it. The other thing in water treatment is all these systems require certain flowrates. You need to know how strong a producer the well is and how to deal with a low-producing well."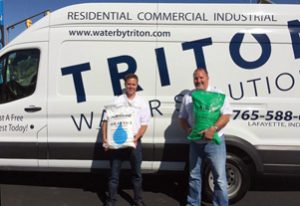 Locally owned advantage
Triton is the only locally owned water treatment company in the area and the only one tied to a well-drilling company. "The market's lack of well-water expertise created an easy point of entry to the market. We also realized none of the major players in the market were locally owned, an attribute that we feel heavily influences purchasing decisions. The community of Lafayette is so connected. There's a big push to 'buy local'. It's also a huge help that dad's been in business for 30 years. He knows a lot of people. It immediately gives them a true sense of trust. We are very aware of our unique position in the market."
Open since August, Triton has already grown to five employees and two service vehicles. "As we add more service techs and sales people, we must maintain the same level of quality, so training is a very important part of that growth. Our main supplier, Hellenbrand, is amazing when it comes to various types of training. They're always willing to help us out, whether it's related to their product or not."
The biggest challenge is marketing. "We never had to market the well-drilling company like we have to market Triton. There is more competition and we are now marketing to the entire community, not just the well-water consumer. We've invested heavily in brand awareness through our website and search engine optimization. We've done radio advertising and will do TV shortly. We love going to trade shows to get out in front of people and raise awareness."
The future looks bright to Findlay. "I see water treatment becoming even more important to consumers, as they become more conscious of their water quality and its impact on their health and quality of life. This can only be a good thing for the industry. I hope the industry continues to innovate and evolve, and in turn, make water safer and healthier for the consumers."