By Donna Kreutz
Three decades ago Cameron Tapp began designing ozone generators in his garage in San Luis Obispo, CA. Marc DeBrum joined Tapp 19 years ago and together, they grew ClearWater Tech. "Cameron was determined to understand the power of the little molecule called ozone. He had an aspiration to provide a 'green' product long before the rest of the world new what green was," said DeBrum, Sales Manager and Applications Engineer. Cameron would build a few generators and take them to the San Francisco Bay Area and sell one, two or three at a time, then come back with the money he made and build a few more. We have one of the first units hanging up in a conference room with a plaque from 1986. Slowly he added in new personnel—other engineers to help him grow his designs." Tapp was determined to turn out well designed and constructed ozone units that would provide better water disinfection than other alternatives available. He saw that ozone could be Mother Nature's perfect purifier: an environmentally friendly alternative to chemicals.
Today, Tapp is President of the company and still innovating ozone system designs used around the world. He is a visionary entrepreneur with experience in construction, who studied viticulture in college. "Winemaking is still his passion today—in his time off," DeBrum said. ClearWater Tech designs, manufactures, sells, installs and services nearly 200,000 units on six continents. The company serves pools, spas, wineries, breweries, ready-to-eat food manufacturers, zoos, aquariums, laundries, resorts, aircraft and other applications. DeBrum learned the business from the ground up. "I've held many positions here, from manufacturing to service, working with engineering staff, design, selling, training and sales." Now he also travels the globe to start up new distributors, install equipment and train service techs.
Slow, steady expansion worldwide
ClearWater Tech expanded slowly and systematically. "Our core philosophy is excellence in design and product development, highly skilled applications engineering and quality manufacturing, followed by technical service and support," DeBrum said. "Our paramount role is as an innovator and leader in the ozone industry.
"Basically we've always gone where the business is, where the customers are asking for the equipment. We provide a great product and great service. People come to us.
"Many have found us through trade shows, ads and also the papers we've written. I've written for WC&P International and other publications. So has Cameron. This helps us grow the business by showing the reader base that we have the knowledge and the understanding of the process, application and science. This identifies us as a leader in the industry and that's gone a long way for us.
"Our goal is to see ozone applied correctly, installed correctly and serviced correctly so customers have a product they are happy with that meets their goals. Regardless of whether it's in Vietnam, United Arab Emirates, Germany or here in the US, our goal as a company is to make sure the customers get what they asked for. Part of that is to question them: what is the problem, what are your goals, what do you want to achieve by installing a system? If filtering is all they need, there may be no need for ozone, so we tell the customer that filtration will do the job. We aim to solve their problem—regardless whether they need our product or not."
ClearWater Tech is still based in San Luis Obispo, but instead of a garage, the 38 employees operate out of a 17,000-square-foot facility. The company is now part of Aquion, Inc., located in Elk Grove Village, IL, which manufacturers and markets premium water treatment equipment and solutions that serve markets around the world.
Environmentally friendly water treatment
"When we started, our core market was the pool and spa industry: UV ozone. Then we moved on to work with the Water Quality Association, getting involved in problem, potable, drinking and bottled water," DeBrum said. "Today, our core markets are still pool and spa. Another is commercial laundry. Ozone is used to disinfect linens. Because it works with cold water, it also reduces heating costs, energy use and chemicals. There's a great return on investment for that market application."
Ozone (O3) is naturally occurring, another molecular form of oxygen. It is highly reactive and readily breaks down organic matter. DeBrum said, "Ozone is the most powerful oxidizer and disinfectant commercially available that can be safely used in water treatment. It is an environmentally friendly alternative to chemicals. Ozone can oxidize material in water 3,200 times faster than chlorine and and even more so versus bromine."
Customers like these effective chemical-free solutions
California vintner Ryan Deovlet found the ozone system "a great investment for the winery—fantastic and easy to use for disinfecting tanks, barrels, floor and drains."
James Magnanti of CaroMont Health (NC) reported that "since installing the ozone system, we have saved $45,000 per year in utility costs, as well as reducing our water consumption by over a million gallons per year. Our linen is cleaner and brighter than ever."
The former Director of Facilities at Grand Hyatt Kauai Resort & Spa, wrote, "I am a true believer in the power of ozone. Any resort concerned with saving energy and chemical costs has to look at ozone. The great part is we are truly becoming 'green' as well."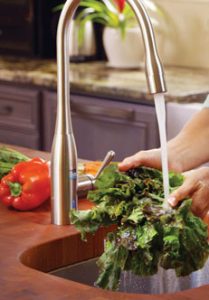 New applications and products
DeBrum said, "Our latest innovations include ozone systems for disinfecting potable water storage vessels onboard commercial aircraft and for agri-food and fish processing. Our newest product is a gorgeous, nickel-plated, high-end kitchen faucet with a built-in ozone system. Now you can have hot and cold water plus ozone disinfection at your fingertips to clean and disinfect fruits, vegetables, fish, meat and poultry, killing bacteria and extending shelf life. The ozone system also can be used to clean surfaces and disinfect the kitchen without any kind of chemicals—you are simply using ozone that reverts to oxygen. The system connects to a small box where the ozone gas is generated. It's ready to use and there's nothing to replace or refill. This product came out the middle of last year and is doing very well."
This new product is also being used in Saigon, Vietnam at a large private school that provides three meals a day to 1,500 children. "We just installed 20 of these units at the school to pre-rinse and pre-clean all the fruits and vegetables for the kids to eat—all disinfected with ozonated water," DeBrum said. ClearWater Tech partners with the local distributor to provide products to orphanages where disinfection and clean drinking water are needed. A percentage of the product sales support this program.
Looking ahead, DeBrum said, "From an ozone manufacturer's perspective, the water conditioning industry is looking for new applications and products that are innovative, allow them to add on to their product line and increase revenue. The latest ozone applications for water conditioning are outside the norm, including using ozone to disinfect softeners on backwash, to enhance the function of iron-filtration systems and for indoor air-treatment ozone systems. Under Cameron's leadership, ClearWater Tech will continue to innovate and design ozone systems that will help promote a healthier lifestyle, promote sustainability through the markets we serve and provide education within the ozone market place. There are a lot of ways ozone can go. The applications out there are vast."