By Donna Kreutz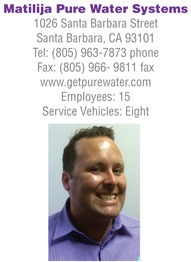 Matthew Raley grew up in a family of firemen and he wanted to be one, too. Fresh out of high school, he took a job at Matilijia Pure Water Systems to earn money for college. He definitely liked the business. "I got hooked," he said. "But I was still young and wanted not to miss the opportunity to follow my dreams, so I took a little sabbatical to make sure."
He became a fireman. For four years. He found the reality of a fireman's life was not for him—including the 24-hour shifts for 10 or 12 days in a row, the increased risk of dying from a heart attack and the higher-than-average divorce rates. "It was not everything I thought it would be. And I was newly married." Once again the owners of the Matilijia Pure Water Systems (Don and Kimberly Shackelford) called and asked him to return to work for them. This time he did just that, and runs the downtown Santa Barbara,  CA-based company.
"Each day brings new challenges and new successes," Raley said. "We are helping enrich lives by providing safe, clean water. We provide a product that people really do benefit from and need. We're not selling a remote-controlled helicopter. What we're selling, renting, providing our customers with is a quality-of-life improvement. Santa Barbara has a lot of great things, but unfortunately we have horrible water, some of the worst in the US. We have water that is full of calcium, magnesium, chlorine. Our water is very corrosive, very damaging to water heaters, fixtures, clothes."
High-quality products are key
"Our Matilija team knows how to deal with it. We know how to treat it. We know how to take care of it and do it correctly. When it comes to water, you don't want to have anything done incorrectly because water damages things very quickly and it's very costly. You want to get it done right the first time," he said. "We aren't the cheapest and we're not the most expensive. We offer good value. We don't skimp on equipment. There's a lot of product out there from cheap to quality stuff. We want the best. We go to WQA conventions looking for the best quality products for our customers." Matilija is the exclusive Watts dealer in the region. "We're pretty proud of that."
Matilija's dedicated, hard-working employees receive extensive in-house training, "which is why we are able to provide superior customer service. Currently, five members of the team are in the process of becoming WQA certified. The company serves customers from north of the Los Angeles County line to the San Ynez Valley and inland to Ojai. In addition to residential customers, Matilija has a wide variety of commercial clients, including the Coast Guard, restaurants, hospitals, vineyards, ranches, country clubs, resorts and retirement facilities.
Co-owner Kim Shackelford said, "Matt learned every aspect of the water conditioning business from the ground up." Matt agreed. "I didn't know much. I dedicated most of my time to learning everything I could, working with people, asking lots of questions, looking up things on the Internet."
Aggressive marketing, community outreach
Matilija's unusual name (pronounced ma-TIL-e-ha) comes from the Matilija Creek where, many decades ago, the company's founders discovered a natural spring and started bottling and delivering the water. The Shackelfords acquired the business in 1986, including the bottled water division in Ventura and the water treatment division in Santa Barbara.
In 2013, "we had the opportunity to sell the bottled water division (which we pretty much perceive as a dying industry) and consolidated in Santa Barbara," Raley said. He was running the Ventura division at the time. That's when he was promoted to General Manager and began working to grow the Santa Barbara business. "I brought up a lot of my team from Ventura. We've been together awhile. We're pretty solid.
"Santa Barbara is a small town so our biggest and best growth is from word of mouth. And now we have our trucks." The colorful Matilija trucks serve as eye-catching moving billboards in town and on the highways. "They're all decaled and wrapped from bumper to bumper. That cost a good deal of money but people notice them everywhere. We were the first and now we've started seeing other companies doing their trucks."
Raley also started community outreach, joining the local chamber of commerce and Better Business Bureau, volunteering at various charity events and donating water stations at school functions. He uses social media, posts videos and photos to the Matilija website three times a week and places Google ads.
He also uses two tried-and-true traditional methods of marketing: the Yellow Pages and telemarketing. "I thought the phone book was a dying breed. I was surprised to learn that wasn't the case. They create a separate phone number so they can track your calls. We receive two calls a day through the phone book—that's 60 calls a month that we convert to customers.
"We also do focused telemarketing to previous customers. Our data base is fairly old. We have a full-time telemarketer who calls people who've gotten a water system from us years ago. We call up and say let us come out and check the equipment and they usually do need something."
Free in-home evaluation
Personalized customer service is Matilija's hallmark. "We try not to presume that we know what your needs are over the phone. We insist on coming to the home for a free test of the water and to look at the plumbing and hookups. That separates us from other companies. We focus on doing it right and that benefits the customer.
"We're in an industry that's growing and I like that. We take what we do pretty seriously. As a result of all the efforts of the Matilija team, the company has been growing rapidly. Our business was up 13 percent last year. The drought continues; the lakes, the underground wells are drying up so the water quality has gone down. Some customers are calling us who, prior to the drought, did not need our services. It also has become apparent that having an efficient water softener is key to water conservation. Our quality units have programmable options that can take the regeneration cycle from 80 to 100 gallons (302.8 to 378.5 liters) of water down to 20 gallons (85.7)."
Raley, a California native, has been in the water industry going on nine years, including his time at Matilija before his stint as a fireman. "I feel like I'm starting to actually learn what it takes to be successful," he said. "A lot of our success comes from running the company like a fire station; keep the trucks washed, the tools in a specified spot, the property cleaned up. I find organization is the key to business in a lot of ways. I'm very meticulous. I didn't go to college to be a business major and run a multi-million-dollar company; I took from what I learned at the fire department. That's contributed to our success immensely."