By WC&P Staff
From our humble beginnings to where we are today, I'm very proud of our accomplishments," says Glenn Gruett. "We are certainly fortunate to have very good people working here. This is truly a family business and I want to maintain that feel, for employees and customers alike, for the next 50 years." Water-Right, Inc., a leading manufacturer of water treatment equipment, is celebrating its 50th year in business. Founded in 1963 by Glenn Gruett, it has been an industry leader in treating problem water for two generations and currently sells throughout the world with its proprietary products and services. Glenn's sons, Kurt, Greg and Guy, handle the day to day operations with never-ending advice from their father. "My father is still very active in the operations of MineralRight, but we run Water-Right," explains Kurt. "Without our father's fire, drive and determination, we certainly would not be here as we are today. Water-Right is only one component of the many different businesses that we have under this umbrella. MineralRight, a zeolite manufacturer, is a very important part of what we are. WaterCare and CustomCare (both recent acquisitions) have really added to our Professional Level Dealer Network, while Clean Water Testing, (a state-certified laboratory) and Water-Right Services (our own retail division) have really helped us to learn and better understand the needs of our dealers."
In 1986, a manufacturer was purchased that had produced a zeolite crystal for Water-Right. The plant was moved to Kansas and Mineral-Right was formed. To this day, Mineral-Right remains the only synthetic zeolite producer (Crystal-Right™) in the world for water treatment. Crystal-Right is not only an ion exchange softening media but also filters iron, manganese, iron and sulfur bacteria, raises pH and sanitizes itself after every regeneration with the use of the company's patented chlorine generator. "Mineral-Right, the zeolite plant, was huge for me," explains Glenn. "I basically risked everything we had to get that operation up and running. It truly is a rags-to-riches story.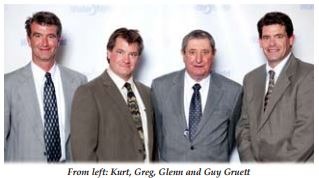 With the success of Mineral-Right, that in turn helped Water-Right. We now had something unique to sell, and we still do today."
Water-Right purchased Clean Water Testing, a state-certified lab specializing in comprehensive water testing services for residential and commercial customers in 2003. Soon after, Clean Water Testing was moved to a new location, inside Water-Right's Clean Water Center, a retail center serving local customers. In 2010, Water-Right acquired WaterCare, a third-generation company owned by the Granger family of Manitowoc, WI. Bill Granger and his son Ethan continue to provide support and knowledge to dealers as part of the Water-Right organization. Under the company's restructuring, WaterCare exists as a division of Water-Right and continues to carry the WaterCare product lines. In the spring of 2012, Water-Right held its inaugural Professional Level Dealer Network convention in Appleton, WI. The theme of the convention was Moving Forward Together and both Water-Right Evolve dealers and WaterCare dealers came together from all over the United States to do just that. The convention was a success and plans are underway for the next Professional Level Dealer Network convention in 2014. The latest business initiative, which took place on Dec 31, 2012, was the acquisition of CustomCare Water Technologies, a custom-engineered, commercial and industrial water treatment systems company based in Neenah, WI. With the CustomCare addition, Water-Right gains the people and knowledge to expand in the commercial and industrial water treatment markets. Under the company's restructuring, CustomCare will now exist as a division of Water-Right. CustomCare will continue to carry their current product lines and will aid Water-Right and WaterCare in the commercial and industrial markets.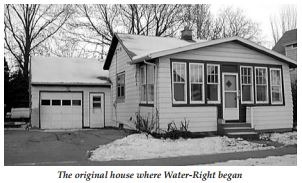 Today, Water-Right and its associated businesses support a nationwide network of wholesalers, distributors and water treatment professionals, including a growing international business. The corporate headquarters are in Appleton, WI, where a future expansion is being planned for later this year.