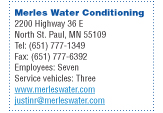 "It was something that I felt was necessary to help people improve their water quality for their homes and businesses in the area," Merle Regnier said many years ago. "I wanted to provide something that made a difference. A guy I knew had a Laundromat that sold water softeners. I fixed his washing machines and he eventually trained me in on his processes, fixing them, and the benefits of soft water. I learned how to sell them and that's when it took hold."
So began Merles Water Conditioning in 1959. Merle Regnier understood the need for a solution to the area's hard water problems and used his connections to provide for his family and community. His extraordinary drive and excellent work ethic naturally lent itself to the demands of a growing business. Merle's reputation as a businessman of high integrity grew with the water softening and treatment industry and the business expanded its residential and commercial service to encompass the entire Twin Cities area. The family-owned and operated company found success in helping alleviate water problems found in the North St. Paul region of Minnesota. Regnier instilled in his sons and grandson the importance of maintaining that reputation. His sons, John, Joe and David continued his vision into their future in the industry, and passed it on to grandson Justin, the company spokesman and Sales Manager.
The business is composed of several family staff members. Joe's wife Jeanette is company secretary and scheduler. She also takes care of payroll, accounts payable and receivable. Jeanette handles a very large workload and is everyone's helper. John, Joe and David Regnier are all active, working owners. Joe and David are in charge of the Service Department and Dave oversees the Sales Department. Gary Kirchner, Service/Installer since 2002, is a priceless asset, who brought Merles a wealth of water conditioning experience and is extremely devoted to the success of the company.
To keep abreast of changing technology and customer needs, the staff attends weekly meetings for educational purposes, as well as periodic service/sales and miscellaneous training seminars. Each member also adheres to a company philosophy that was forged in the early years. The official statement says, "We are proud to be service-oriented and solution-driven. Our clients' needs come first. As a family-owned, independent company, we select manufactures based on our clients' needs and the industry's advances in technology. We believe in maintaining flexible ties with many brands and companies, so that we can consistently provide the best support for our clients. Over the course of our 50+ years of business success, we have worked with virtually every system available, allowing us to bring you the best in water-treatment services and support."
"Keeping up with the times and technology will help us avoid falling prey to the 'stubborn old dog' mentality in the industry, which tends to stifle progress," Justin said. "Consumers want innovation and efficiency and that requires learning new things. One of the best tools I have is delivered to me free every month, WC&P magazine. Not everyone in our office has the time to read the magazine, so I try to make it a point to educate myself and teammates on at least one relevant article per month."
Addressing regional problems
Merles staffers primarily encounter hardness and iron issues. Local municipalities have an average hardness of 18 grains, upwards of 30, and private wells very commonly have over five ppm of iron, upwards of 20 ppm. The toughest challenges are high iron, manganese, iron bacteria, hydrogen sulfide and tannins. The company's best selling products have been efficient water softeners, iron filters and drinking water systems. The variety of water treatment issues keeps the staff busy but filled with a sense of gratitude and pride. "For me personally, it's the hardship cases that we come across and are able to help that makes me the happiest, versus the large account landed or any amount of revenue earned," said Justin. "I believe it is the sincerity you find with everyone at Merles Water Conditioning that contributes greatly to our success. People like us and trust us."
"We work hard everyday to provide our Twin Cities residential and commercial clients with the peace of mind that grows out of a partnership rooted in solutions, technology and support. What keeps us going is the common desire for success. Each of us here has our strong points and we've learned how to bring them together as a team. Because of the success in this industry and the heavy need for improved water quality, Merle's Water Conditioning has strived to provide great improvements for our customers' quality of life, while saving them money. It's not hard to continue doing what we do with the great reward we receive from our work. The Twin Cities region is a very competitive market and home of some major manufacturers. Setting yourself apart from the competition and being able to express this difference to every customer has been a key component to our success."
Through the lens of the past
"There have been a number of interesting situations that occur when being in the water business for over 50 years," said Justin. "Problems such as downturn in the economy and related problems, where stress is high, always come to mind, but they come and go. In my opinion the most impacting situations, which would be considered the worst every time they happen, are job failures. Our failures have been limited, but when they do happen, they weigh hard on everyone. We know our customers have invested good time and money with our company, expecting everything to go well. The most important thing is to do the right thing and solve the problem diligently. When this is done, it reassures our customers that they made the right choice in choosing us, because when there is a problem we take care of it. The best situations happen every time we gain another satisfied customer. We all know that a bad reputation travels faster than a good one."
One of the biggest challenges for Merles happened as a result of a forced location change due to road construction. The company went from subleasing to constructing its own building. That had a substantial impact as well as being an inconvenience to customers who knew the business location for decades. Merles continued to promote through advertising and providing its well-known customer service. "Looking back on the situation, we realize that when you treat your customer right, they will hang with you through the tough times as well," Justin said.
Based on past history and experience, the Regnier family plans to stay in business another 50 years. "When I read and hear the statistics about bottled water consumption, it always brings to light to the large desire for clean water that's out there," said Justin. "This trend will not soon end and will continue to grow. I do see hurdles for businesses in the future, with the ever growing accessibility to information on the internet, with do-it-yourselfers and the big box store product availability, as well as the continuous introduction of regulations and negative buzz regarding softening through alternative device advertising. For the industry as a whole, I would say the importance of fighting for our products and what has been proven to work is essential. For a small business trying to compete with these factors, our diversity, which covers everything from the quality of our products, the technology we offer and the service we provide, will always be our number one attribute."