By Denise M. Roberts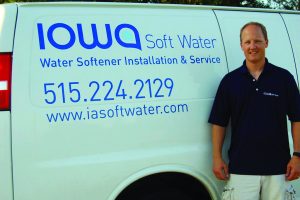 Terry J. Riley is not your usual water treatment business owner. In fact, you might say he had to come down to earth to find out what water treatment was really all about. Multi-task on several levels, which is required by his 'day job' as a commercial
airline pilot, has helped him meet the increasing demands of being a water treatment dealer. He knows he made a great career choice. Helping people is what makes him tick and providing safe and reliable water treatment solutions for a wide variety of problems is what matters most. "There's always something new to learn; it keeps things interesting and challenging, every day."
Riley wears many hats every day: service technician, sales rep, bookkeeper, purchaser (and many other tasks that might not get mentioned on a regular basis). His staff includes Dennis Jones, Lead Technician; Tom Wheeler, Vice President of Business Development; Brent Hanson, also a technician and Riley's wife Pam, who helps out with many things, including bookkeeping and accounting, sending reminder post cards to clients, helping around the shop and supporting Riley's efforts on all levels. In addition, daughters Kathleen and Lauren also help out with the client reminder cards. Riley hires additional personnel whenever possible, when he can find sound, qualified people.
As a Hellenbrand dealer since 2009, the company sees a variety of problems in its service area of central Iowa and the surrounding area, including hard water, clear water iron, hydrogen sulfide, chlorine and tannins. Several products are standout performers for Iowa Soft Water: the Promate 6 Iron Curtain for iron and hydrogen sulfide removal; the Promate 6 softener for hard water; the Promate 6 DMT, which both softens water and removes chlorine; the Millenium series RO for drinking water and the Always Fresh system for both residential and commercial drinking water applications. "In our opinion, these are the best products on the market," says Riley. In addition, the company benefits through training offered by Hellenbrand and Riley will soon seek WQA certification.
From air to ground
Six years ago, when Continental Airlines announced a merger with another airline, Riley told his wife Pam he wanted to find something else, something that allowed him to work for himself. Water treatment was an accidental career move that has worked out quite well. The challenges have been greater and it was definitely a departure from flying an airplane. Riley didn't realize just how complex water treatment could be until he jumped in with both feet. A personal friend introduced him to Fred Larrison, an independent water treatment dealer for more than four decades, and Riley started his new career with that company. Water treatment was not what he expected. He felt it would be as technical as being a pilot, but it turned out to be more like trying to get a Ph.D. in chemistry. After three years of training with Larrison, Riley was ready to purchase the firm.
Keeping clients and keeping them happy

"I've remained in the industry because I really enjoy it," Riley said. In his short water career, he's encountered many routine issues, and some very complex ones. Riley's worst treatment situation involved a residential customer's problems with tannins, hydrogen sulfide and iron in a well. "The resolution required multiple treatment options and the customer has been well pleased with the results for more than 18 months," said Riley. "What I find most rewarding is taking care of our customers, knowing we are providing them with a great product, and having them come back and tell us."
He continues to look forward with a positive view to greater things for Iowa Soft Water. "Our five-year goal is to become one of the leaders in the water treatment industry in central Iowa," Riley says. "Our 10-year goal, for me, is to see my kids come in and help continue the operation." He'll get some help with company growth in the next couple of weeks. The Iowa State Fair (August 11-21) will find Riley and his staff ready and waiting for the crowds, for the duration of the event. They will take turns manning the booth and promoting the water treatment industry, providing information on water treatment systems, featuring equipment and giving demonstrations. A million plus visitors will take part in this nationally known fair, giving Riley access to a tremendous number of prospective new clients for Iowa Soft Water.
It may get too busy to fly if Riley's efforts to gain market share and become the top dealer in the area continue to be successful. He might even consider opening another shop at some point in the future, maybe only a short flight away from his home base of operations!