By Denise M. Roberts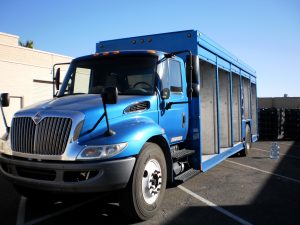 Family-owned and operated AquaPure Hydration Companies has experienced the same ups and downs that many businesses have encountered over the past couple of years. In spite of the bleak economy, the firm has emerged with a brighter perspective and more diverse business model. The husband and wife team of Jim and Amy Garrett, Operations and Office Manager, respectively, arrived in Tucson shortly after the original Central Arizona Project (CAP) water direct delivery fiasco. "What was supposed to be the answer to existing water problems caused more quality issues than anticipated, which created a great demand for both bottled water and water treatment," said Jim, the company spokesman. Although the treated Colorado River water left the municipal treatment plant as clear, potable water, its chemistry was different from the ground water Tucson Water had always delivered. This resulted in old deposits dissolving from the distribution pipes. By the time CAP water reached consumers, it was aesthetically unpleasant, to put it mildly.
The three biggest issues with the local water are chlorination byproducts or trihalomethanes (THMs), hard minerals and isolated areas with VOCs, which have contaminated the aquifer from old dumps or industrial waste. Garrett is currently Co-Chair of the Broadway/Pantano superfund site Community Advisory Board for the Arizona Department of Environmental Quality, with funding from the Water Quality Assurance Revolving Fund, which is overseeing remediation of PCE contamination that originated from an old landfill. AquaPure Hydration uses a lot of reverse osmosis, cation exchange and carbon filtration to address these issues.
A broad range of services
The Garretts started in 1994 with the opening of their first franchised retail water store under the WaterMart, Inc. brand. Over the next 10 years, they grew the operation to ownership of three stores with 30-40 employees and nearly 40 stores reporting to them in Arizona and Nevada through a master franchise agreement. Unfortunately, the franchisor, went bankrupt and released all franchisees from their franchise agreements, overnight turning the Garrett's six-figure investment into a worthless piece of paper. They remained convinced that there was a future in pure water, but lost confidence in the retail water store business model. It took nearly seven years to pay off all the remaining debts from the franchise deal but the Garretts refused to give up. In 2005, they sold their three retail stores, then opened a bottling plant and water treatment contracting business.
Today, the AquaPure Hydration team serves southern Arizona and the Phoenix metro area for water treatment systems. "We offer both residential and commercial service and new systems. We also deliver large-package (three-and five-gallon) purified bottled water and alkalized-antioxidant water in metro Tucson in addition to offering custom label 16.9-oz bottled water for delivery throughout metro Tucson and for shipment elsewhere."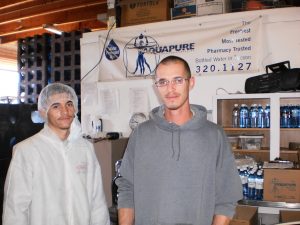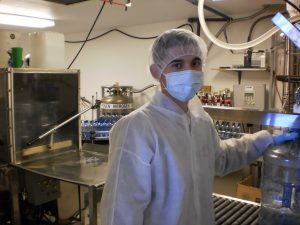 Garrett believes there's more to business than just providing consumers with the best treatment options. "The most rewarding part of owning a small business is the ability to offer good jobs to young people, mentor and develop them and see them grow and achieve," Garrett said. "A number of our former employees have worked for us all the way through college and two have even completed Master Degree programs." To keep abreast of industry changes and maintain an industry edge, Garrett achieved WQA CWS-1 certification and now provides internal service tech training based on WQA training materials. "It means we can offer the best service and technology possible and find new ways to meet the needs of our customers. I tell our employees we are in the trust business and that means saying you're the best isn't enough. Our clients have to believe it and know that we'll follow through on our promises."
Shifting gears
The choice to diversify early resulted in a 60-40 (bottled water-filtration and contract maintenance) model that has proven very successful. AquaPure Hydration has grown steadily in home-office delivery, private label water, water treatment contracting, system rental, refurbishment and orphan system service. Over the past 18 months, offerings of reverse osmosis and bottleless (POU) water coolers to residential and commercial customers were enhanced by concentrating on service rather than the declining sales market.
"We're experiencing rapid growth through commercial business-to-business contracts for both packaging of bottled water and servicing of commercial water treatment systems for equipment manufacturers or food service chains," said Garrett. "Acquisition of three such contracts in the last year helped us achieve greater than 50-percent growth in 2010. Two packaging contracts will place bottled water products produced in our plant on the shelves in nearly 1,000 locations by the end of 2011. Additionally, we have developed a network of affiliates in seven states and can provide the high-quality, standardized, water treatment system service procedures both manufacturers and major chains demand throughout our region."
Changing with the industry
Consumers are becoming more aware of water scarcity and now have more specific and pointed questions about water treatment options. Customers considering RO tend to ask more about water wastage while softener questions center on salinity and scale removal. "We're looking into scale removal technology now," said Garrett. "We know people are more concerned than ever about the environmental impact as well as the health aspects of water treatment systems. We want to have the right answers for our clients."
Garrett sees bottle-less coolers becoming more of a trend, due to cost, storage and handling. He believes commercial contracts are increasing because of three primary factors: cost, environmental conscience and convenience. "It's going to increase over the next couple of years as many commercial customers begin to take aim at environmental issues. We made a commitment to become more responsive to those issues by shifting to non-BPA bottles last year. At this point, we've replaced about 50 percent of our current bottle stock and will continue our replacement-through-attrition program until we have removed the older bottles from our processes."
Looking forward, Garrett sees more changes on the horizon. "Municipalities everywhere are broke. Critical upgrades to municipal water treatment and distribution systems are not being made and won't any time soon. This atmosphere is creating huge opportunities domestically for POU water treatment systems. We should expect there to be more approvals of POU systems for treatment of SDWA regulated contaminants." All things considered, keeping pace with the evolving landscape should present even more opportunities for this small but innovative company.