By Jim Lauria
McGuire invented his water purification system as part of New Life International's worldwide ministry, founded by his parents.
More than 800 New Life International water purification systems have helped communities in distress around the world.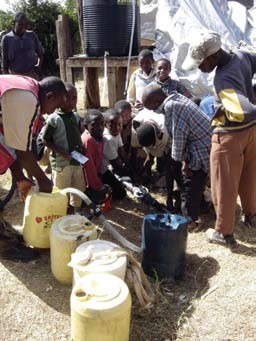 As a youngster, Duvon McGuire nearly died from a Giardia infection while living in Ecuador with his missionary parents. As a college student volunteering in Indian hospitals to aid poor families, a young girl died in his arms. The perils of unsafe water have long been very clear to McGuire, who went on to study parasitology as part of a pre-med program. "I've had some unfortunate experiences with death that have made the plight of the under served in the developing world very real to me," he says. "They drove me toward a vision of those in the developing world having a quality of water that the rest of us wouldn't mind drinking if we were there. I wanted to turn around and give them tools to make their water safe."
Unsafe water has been blamed for 80 to 90 percent of the ailments in the developing world, says McGuire. He points out that waterborne disease has far-reaching effects that are both physical and social. "Kids who drink purified water can do better in school because they're able to focus on their work, not burning up with fever or worried about peeing blood on the floor," he says. "And in countries like Kenya, people are killing each other to settle old scores that have to do with ailments people had developed that were blamed not on disease, but erroneously on the belief their neighbors bewitched them. With 80 to 90 percent of the disease due to unsafe water, you have an endless supply of people looking to witch doctors for reasons why they're sick, who's responsible for why they're sick, personal protection, and how to send a 'return-to-sender' curse to make the bewitcher back off."
The challenge is worsened by the extremely complex life cycles of many waterborne pathogens, as well as the delayed onset of symptoms of many diseases spread by water, that are difficult for many people—especially uneducated people—to understand.
Simple purifier
In 1992, McGuire set off on his life's work: to create a simple, reliable water purification system that could be easily transported to disaster areas and the very poorest corners of the earth, giving needy communities a chance to purify their water. He focused on using a 12-volt battery to power the conversion of common table salt into chlorine gas and sodium hydroxide. The chlorine is mixed with water for disinfection; sodium hydroxide can be used as a disinfectant, or potentially to make liquid soap.
Duvon McGuire developed a water purification system powered by a hand pump and car battery that filters and chlorinates water anywhere in the world.
McGuire's water purification apparatus was a perfect fit for New Life International, the humanitarian outreach organization his parents, Byron and Yvonne McGuire, founded in their hometown of Underwood, IN, to continue their missionary work. In 1998, McGuire began bringing water treatment tools to the poor by transporting 33 of his purifiers to Honduras to help the communities ravaged by Hurricane Mitch. New Life International quickly earned a reputation for excellent technology and its network of dedicated people on the ground around the purification system is built to travel. At just two feet (0.6 meters) long and 20 pounds (9.07 Kg) in their travel cases, most units are simply checked as luggage by aid workers heading to disaster areas. On-site  setup revolves around hooking up a reaction chamber, a deep-cycle 12-volt battery, a small water pump and some simple tubing to a local water tank. The purifiers are in use in 67 countries around the world, including a suite of over 100 units sent to supply needy areas in Haiti after the recent earthquake.
Dedicated volunteers have brought McGuire's water purification system to communities in need around the world, including this village suffering from violence after Kenya's recent elections.
Multi-stage approach
The organization's disaster-relief system also includes 100- and 25-micron manual disk filters, which, like the rest of the system, are sturdy and easy to maintain. The coarser filter protects the finer one, using depth and filter cake to remove a significant amount of suspended material. McGuire notes that the manual pumping action creates a small backflush with each stroke, extending the interval between cleanings.
New Life International's water purification kit can be packed in a two-foot-long container and checked  as luggage by volunteers offering aid to distressed communities anywhere on the globe.
The principle is the same in a refugee camp as it is in any state-of-the-art water treatment system: a multi-stage approach to purification that uses filtration to make downstream processes more efficient and effective. "The filters are not fine enough to filter bacteria or viruses, but they do a good job in the first pass of getting a lot of junk out of the water," McGuire explains "Ideally, I want to clear up the water so we're less apt to make disinfection byproducts, and so the chlorine goes a lot farther, we get higher levels of chlorine in the treated water, and we get a longer residence time to disinfect water in the tank. With cleaner water, all the right things line up in favor of killing bugs."
With filtered water, one pound (0.45 Kg) of table salt can disinfect 10,000 to 70,000 gallons (37,854.11 to 264,978.82 liters) of water at a rate of 50 gpm (189 L/m). The system is used to treat 10 percent of the volume of stored water, which is returned to the tank to disinfect the rest of the water supply with its load of excess chlorine. McGuire says the cost of operating his purification system runs about one cent per person per day on the high side, and can be worked down to one dollar per person per year if  infrastructure (such as tanks) is already available.
Challenges
The low cost and high reliability of the New Life International system compare quite favorably to alternative sources of pure water, McGuire says. "Simple payback compared to bottled water is maybe one to two days," he says. "In a Haiti-type situation, where people are throwing bottled water out of helicopters, the payback could be measured in hours or minutes." The salt-based system also doesn't revolve around using, or creating, mounds of plastic water bottles, McGuire adds. Still, the organization faces challenges in the world aid community. Current thinking emphasizes the use of indigenous materials and low-tech solutions, part of a philosophy of sustainability. McGuire strongly disagrees, pointing out that many of the 2,000+ systems he has built and distributed worldwide have been in service for years.
"Sustainability often has to do with the quality of materials and quality of workmanship," he says. "If  you've got something made from bamboo and elephant grass, sure you can repair it—but why does it need to be repaired in the first place? I hear what they're saying, and understand what they're saying, but if we truly value the health of these people, we have to do more than just give them worm medicine every six months or use ineffective local technology. Let's run ourselves out of the business of having to hand out Cipro."
McGuire continues to build his system, train dedicated professionals from around the world in its use, and solicit donations and sponsorships  from people and organizations eager to share clean water with people around the world. He's also at work on a new system. "My parents started New Life International with a dream of new life—of ending the violence, the lack of peace that afflicts so many people around the world," he says. "If we start with safe water, that's going to take away 80 to 90 percent of the sickness. People will be able to work better, communities will be more resistant to disaster, and countries are not as likely to become aid basket cases. Safe water is a way of helping people out of that smoldering disaster that starts with waterborne illness."
McGuire's water purification system includes two degrees of filtration and a sidestream chlorination system that uses electricity and table salt to disinfect entire tankfuls of water.
About the author
Jim Lauria is Vice President of Sales & Marketing for Amiad Filtration Systems, a manufacturer of clean technology water filtration systems for agricultural, industrial and municipal applications. He holds a Bachelor of Chemical Engineering Degree from Manhattan College and has over 20 years of global experience as a business executive in the water treatment and process industries.
About the system
Among the components included in the system are Amiad's manual disk filters. For more information on New Life International's water technology, visit www.waterfortheworld.com.
All photos in this article are courtesy of New Life International.