By Denise M. Roberts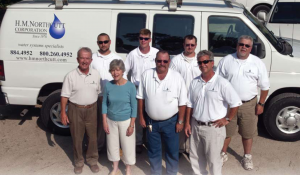 H.M. Northcutt Corp.
1111 Chuck Dawley Blvd.
Mt. Pleasant, SC 29464
Tel: (843) 884-4952
Fax: (843) 881-8528
Website: www.hmnorthcutt.com
Email: [email protected]
Employees: Eight
The H.M. Northcutt Corp. was started in 1970, as a sole proprietorship by Houston M. Northcutt. He previously worked for McCall Brothers Well Drilling & Water Systems out of North Carolina as their South Carolina representative, and later served as manager of the town of Mt. Pleasant's water and sewer system. When Northcutt started the firm, he was a one-man operation with two part-time employees, John Taylor and Frank Howard, both of whom worked with him during his tenure with Mt. Pleasant. Northcutt's focus was working with several small water and sewer systems in eastern South Carolina and other regional municipalities. He also had a small but busy well-drilling operation. Being a well-respected and trusted member of the community, many homeowners and small commercial establishments began calling Northcutt with a variety of well, pump and water quality problems. This helped launch the unintended (but welcomed) residential and small commercial water treatment part of the business that still exists today. At one time, H.M. Northcutt Corp. was responsible for operation and maintenance of some 40 water and wastewater systems.
Houston's son Charlie, now head of the company, began working with his father in 1975. He took on the task of growing the maintenance and service aspects of the business and the well-drilling operation. Northcutt credits working these operation and maintenance contracts with giving him a hands-on crash course in the water and wastewater treatment industry. His mother, fondly referred to as Miss Mary, called one evening to tell Charlie that his father had the flu and asked if he could go to the office, just to take calls. " I had just sold a little retail operation and had no problem with my mother's request. The next thing I know, I'm on the road with a tool box working on pumps, bar screens, chlorinators and all things water and wastewater."
The company installed the very first RO system in South Carolina on an island development just south of Charleston. They have installed many more since then, for everything from drinking water to kidney dialysis and a variety of other applications. With small water and wastewater systems being eliminated by municipal water systems expansion in the mid-1980s, Northcutt began expansion of equipment sales and service, concentrating on chemical feed pumps of all varieties and associated equipment. He also purchased a well rig and had a crew keeping that equipment busy. The well-drilling business brought in additional work, such as water treatment and pump installation. Much of the equipment for water and sewer systems across the Carolinas is also used on some of the company's own maintenance and service contracts. "Having hands-on experience with equipment  in the field gives an advantage when selling to our customers," Northcutt said.
Shortly after his father's passing in 1983, Northcutt brought his mother into the business as secretary and bookkeeper. She worked for the firm until she retired at 87. (Even in retirement, she is still going strong at 91.) Paul Conover, who was working for one of the local sewer districts, was hired in 1991. "Paul has been and still is an invaluable asset to the growth of our business," says Northcutt. "He's a superb technician and can handle any service and installation, from electrical to mechanical."
In 1994, Christopher Cross approached Northcutt in search of employment. "At that time, we weren't really looking for anyone and I told Chris that I would keep him in mind", Northcutt said. "I kept playing that job interview with Chris over and over again in my head and I just had to call him back. Chris was a motivated, prepared individual that I knew would really benefit the company in some fashion, so I hired him". That turned out to be one of the smartest business decisions Northcutt ever made.
In 1999, all of the company's stock was purchased by a Pennsylvania company. Northcutt was excited about growing the business with the extra capital and manpower now available after the buyout. "What we learned from that experience was that just because a company has a big name with millions of stockholder dollars to put to work doesn't mean that they can't be as bureaucratic and wasteful as any government entity." Northcutt, Cross and Conover bought the stock back in 2002. Today, the team also includes Chuck Ambrose, David Coates, Joel Farmer and Mike Cox, all of whom have backgrounds in some facet of the industry. Terry Wood, a long-time backup for Miss Mary, was hired full time upon her retirement.
As far as the future for the H.M. Northcutt Corp., a representative for one of the supply houses that has been calling on them for many years put it most succinctly. He said that when it comes to a water or wastewater project, there is nothing this team won't tackle and do it well. They have been busy of late with several different projects some of which include complete rehabilitation of potable water wells on military bases in South Carolina and Georgia; installation of a water recycle system for a truck wash at a solid waste company; installation of a 1,000-gpm well, hydro-pneumatic tank and chemical treatment of a housing development; a 14,000-gpd RO system for irrigation; a new calcium hypochlorite feed system developed by Arch Company, which Northcutt has previously installed on several public water wells for customers concerned about gas chlorine and tired of the headaches with sodium hypochlorite, and several POU systems for homeowners and business.
The staff at H.M. Northcutt is excited about the future of the business. Every day is a new challenge and they enjoy dealing professionally with their customers, no matter the need. Houston Northcutt would be proud of his son. The longevity and breadth of the company's success is a sure sign that this hard-working family continues to honor both the memory and the spirit of its founder.