By Rick Andrew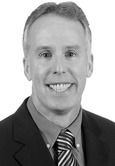 Rick Andrew
Operations Manager
DWTU Program
NSF International
789 N. Dixboro Road
Ann Arbor, MI 48105
[email protected]
Phone: (734) 913-5757 ,Fax: (734) 827-7140
A regular columnist for WC&P, Rick Andrew serves as Operations Manager for the NSF International Drinking Water Treatment Unit (DWTU) Certification Program, located in Ann Arbor, Michigan.
Andrew also in involved with marketing and the oversight of technical and project management staff at NSF, to assure sound product certifications in accordance with standards and policies and provide excellence in customer service.
Having previously served as Technical Manager of the DWTU Program, he has focused on aspects of standards requirements and application of these requirements to specific products. Mr. Andrew earned a Bachelor of Science degree in chemistry and also an MBA from the University of Michigan.
Personal Perspectives
How did you get started in the water conditioning and purification marketplace? What was your first job in it?
I worked in the related field of environmental chemistry and process chemistry, dealing with treatment of groundwater and process water for about 12 years. In 1999, I moved into POU/POE by becoming a Certification Project Manager with NSF.
How/why did you start/maintain your professional involvement?
Being a chemistry major as an undergrad and being very interested in analytical chemistry, water analysis and treatment was a natural fit for me. I've grown my professional interests to get deeply into POU/POE standard requirements, as well as specializing in evaluation of products against the standards.
What are you most proud of in your profession?
Being able to take complex, densely worded and awkwardly structured standards and explain them in common sense terms to people who possess technical understanding of the products, but limited understanding of these standards.
What are you least proud of in your profession?
How truly complicated the standards are, which makes the process of certification to those standards very complex. It is difficult to apply the standards correctly because of the intricacy of it all. Most manufacturers, even those who are actively certified, are hard pressed to understand it all, which is a big concern for me.
What gives you the most joy in your professional life?
Bringing enlightenment to those who seek understanding.
What do you dislike most in your professional life?
Most people in the water treatment industry, including me, have so little time to dedicate to improving the standards. The process of standard development and improvement is one that relies on volunteer efforts, but in this day and age of cost controls, few people have the time to commit to these efforts, so it is difficult to make progress.
If there were three portraits on the wall behind your desk, not of family, who would they be and why?
Brett Favre, because he embodies toughness, creativity, durability, integrity, productivity and leadership. Thomas Edison, because he was a great inventor and tinkerer who never ran out of ideas. Vincent Van Gogh, because he had unique vision and because his self-portraits are really cool.
If you were not in the water conditioning and purification industry, what would you be doing?
I would be either a financial advisor or a fitness coach.
Why would you do that?
Personal finance and fitness are my hobbies and interests outside the world of POU/POE.
Polish up your crystal ball…what will be the three most important issues in our industry within the next five years?
Industry consolidation, salinity and globalization.