By Marieke Leenhouts, AquatechCommunications & PR Manager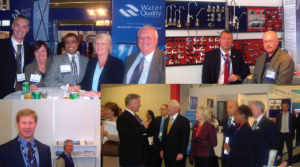 Aquatech Amsterdam 2008 was more international than ever before, as it attracted close to 19,000 visitors from 133 countries. The world's leading trade exhibition on process, drinking and wastewater took place from September 30 to October 3.
Over 53 percent of the visitors came from outside the Netherlands. A significant growth in visitors was also seen from representatives of local and national governmental institutions from Holland and abroad.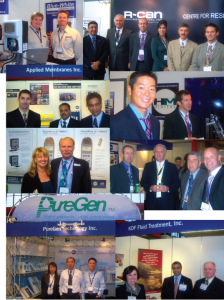 The number of visitors from Germany, France, Eastern Europe and the Mediterranean countries increased as well, while less travelled from the US this year. A total of 74 percent of all attendees were final decision makers on products and services. In addition, 850 exhibiting companies from 47 countries were represented by 4,200 employees at the exhibition.
Industrial spotlight
This year's special focus was on industrial sectors that consume large amounts of water, such as the chemical, paper, food and textile industries. In cooperation with the International Water Association (IWA), Amsterdam RAI organized an exceptionally well-attended industrial water conference.
Speakers from around the world came to discuss a wealth of innovative solutions. The spotlight for industrial water this year also featured special presentations at the AquaStages on the exhibition floor.
The future of water technology

During the opening ceremony, captains of industry from numerous corporations and organizations discussed how the speed of water technology innovations could be increased. The CEO discussions clearly indicate that while desalination will increase, the major global trend will be water recycling.
Paul Reiter, Executive Director of the International Water Association (IWA), underlined the need for these innovations as climate change, population growth, global urbanization and increasing prosperity result in ongoing demands for water. "The water sector will not be able to handle this demand using the current technologies," Reiter stated. "The main issue now is how we can quickly bring new technologies onto the market that allow us to produce more drinking water".
Membrane filtration was highlighted as a water technology of the future. While traditionally used in the treatment of drinking water, membrane filtration is now increasingly being used in wastewater treatment.
A large number of membrane bio-reactors (MBRs) were exhibited at Aquatech. Though more expensive than conventional aerobic treatment, this technology is being seen by many as an interesting option due to its compactness and the exceptional purity of the effluent.
Plan to mark your calendars for future Aquatech global events. These include:
Aquaterra, Second World Forum on Delta & Coastal Development February 10-12, 2009, Amsterdam, the Netherlands; WQA Aquatech USA 2009: March 17-21, 2009, Chicago (IL), USA; Aquatech China 2009, June 3-5, Shanghai, China; and
Aquatech Amsterdam 2010, September 28 through October 1, 2010, Amsterdam, the Netherlands.