By Denise M. Roberts

M.W. Fontana, Inc.
5 Yale Avenue
Claymont, DE 19703-2975
Tel: (302) 792-0657
Email: [email protected]
Website: www.mwfontana.com
Employees: Six
Vehicles: Four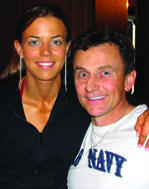 When Michael W. Fontana purchased his business in 1985, he continued a tradition of branching out into specialty services. The firm was originally started in 1895 by E. C. Evans, providing plumbing, heating and pump services. Evans loaded his equipment and materials on horse-driven wagons and spent several days at a time working at the DuPont Estate mansions.
E.C.'s son Stewart launched Evans and Evans, which became the largest mechanical contractor in Delaware, after serving in WWII. He offered HVAC, plumbing, pump-well work and water treatment services. Evans covered all bases: commercial, residential, institutional and industrial projects were all in his realm of expertise and he continued offering his services to the estates. Evans employed up to 125 union employees until he chose to downsize to a mere 10 in 1969.
A new generation
From 1970 through 1973, Michael Fontana was a competitive weightlifter who believed in the power and curative aspects of water. That belief helped paved the way for his later entry into the water industry. Fontana studied environmental engineering at the University of Delaware in 1975. He moved on to shipfitting and heavy steel fabrication, becoming a first class shipfitter. Fontana helped build the first ecological tankers that traveled to the Alaska pipeline in the late 1970s.
He and completed apprenticeships in plumbing/pipefitting, AC and refrigeration and sheet metal, then taught plumbing and pipefitting for three years in a night school setting. Fontana is a certified member of the Refrigeration Service Engineers Society, studied under David Paul and received his degree in industrial water treatment and high purity water from San Juan College.
After working for several mechanical contractors, Fontana met with Evans in 1982 to seek a superintendent job. Evans wanted someone to take the company over in the future so Fontana started rebuilding it, maintaining the small size but retaining the expertise to do anything that was challenging and profitable. "Our trade and service marks, 'the next best thing to water' are the core of the company's philosophy," Fontana proclaimed.
Water treatment focus
Water treatment was one area of experience the company could successfully market but Fontana felt they needed to take it to a much higher level of expertise in all facets of water treatment. In 1987, he joined WQA and went on to earn CWS-1 certification. Fontana later joined the Association of Water Technologies (AWT) as well and became one of the organization's first 100 certified water technologists.
M.W. Fontana expanded its offerings from acid neutralizers, softeners and cartridge filters in a primary 25-mile radius to consulting, installing and servicing as far west as Huntington, WV, north to Wells, ME and south to Pompano Beach, FL.
"We have designed and shipped units to Korea, Greece, China and now have repeat business from Bartol Research/National Science Foundation at the South Pole," said Fontana. "We have business partnerships with different trade groups in which we utilize their employees and design, then build and layout the job under our supervision and licenses. Since our professional services are many, each day may require a different trade: plumber/pipefitter, electrician, pipe fabricator, sheet metal shop. We have access to consultants that are the top in their field to assist us when the need arises.
Going south
"For the South Pole project, we designed a specialized, skid mounted RO unit for a team of astrophysicists studying neutrino particles. The system produced purified water that was degasified for Chernokov Detectors (subatomic particle cameras) in the gravity-filled tanks (two detectors per tank). Their project required high-purity water for optically clear ice that, when produced, looked like six feet of glass!
"It was an amazing project with amazing people! This year's team included Dr. Hermann Kolanoski, Particle Physicist and Professor at Humboldt-Universität zu Berlin and leading scientist in DESY Zeuthen. Dr. Thomas K. Gaisser, Particle Physicist and Professor and Leonard Schulman, P.E., both from the University of Delaware's Department of Physics & Astronomy. They have been part of the research team since the beginning. We still work closely with the group and receive Christmas cards from the South Pole each year."
Intellectual property
Amtrak steam boiler water treatment system
designed and manufactured by Fontana
Fontana is not content with one aspect of treatment or design and invention. He holds a patent with six claims for treatment of recirculating cooling water (cooling towers) that removes and prevents white rust, a common problem with galvanized metals. The company does a lot of boiler water treatment using its professionally formulated BWT 100 and reverse osmosis feed water. Amtrak is one of the firm's largest clients.
Rocco and Dominic
He created a formulation for a very 'green' cooling tower water treatment, proprietary formulations for steam and hot water boilers and hot and chilled water loops and a special formulation for the former Hercules Betz Dearborn fountain at its headquarters in Wilmington, DE.
The fountain features massive four-foot diameter marble balls that rest on a marble pedestal. Water flows up and makes the balls rotate. They had severe iron and mineral stains that were removed with a Fontana product that was harmless to the environment or wildlife and slowly cleaned the marble like new. A continuous-feed product was also created for urinals to dissolve the clogging salts. No stoppages have occurred in the four years Fontana has offered his products and services.
"We've even done water consulting work for their engineers for corrosion problems in their potable water piping, which uses municipal water and worked on a high purity water system at Betz Dearborn's headquarters in Trevose, PA. We installed instrumentation that would page the tech on duty if the water quality for their research facility fell below a given quality level."
Yet another offering is portable softeners and mixed bed deionizers, manufactured of 316SS for sport fishing yachts. Sold at a slightly higher price than PVC models, they have two-thirds more capacity. These have also proven very successful and work well in tight spaces, such as small crawl spaces and apartments.
Moving to the future
The company's wide range of services is supported by Fontana's mother Veronica Fontana and his daughter Laura. Veronica has been the Secretary / Treasurer for 23 years while Laura is the newly elected Vice President (in absentia while finishing her Doctor of Veterinary Medicine at Virginia Tech).
A very special young man works as a shop boy, cleaning up, getting things and putting things away. Brandon Vandegrift, 19, has Down Syndrome. Because he lacks verbal skills, his mother (a teacher of special needs children) and older sister taught him sign language when he was very young so he could communicate. Fontana and his employees have also learned sign language, specifically 'I love you' and 'I want to work.'
"Even though Brandon isn't a blood relative, he's like a son to me," Fontana claimed proudly. "He is very inspirational to all who meet him and a perfect example of 'it's not how bad a hand life has dealt you, it is how well you play the hand'. Brandon is a card shark in the game of life.
"Brandon's best friends are our twin labs Rocco and Dominic, our 'Labranos' who provide security, 'lab' test everything and head the entertainment committee. They even have their own email account ([email protected]).
Water wisdom
Fontana offered the wisdom of the great martial artist, Master Hee Il Cho as his guiding principles. "The basics are a puzzle. Once you know them, you never need to think of them. If you don't know them, you can never get past them. If you know them, they are nothing. If you don't know them, they are everything. Take the time to make them nothing."
Supported by his firmly grounded family and beliefs, Fontana holds a positive view on the future of the company. "Never let arrogance get ahead of your knowledge. Everything can be done better, with less impact on the environment and without gouging the end user. We'll continue to market the 50+ products that I've created over the last 20 years and sell them internationally. So many products, so little time!"