By Gary E. Battenberg
The successful operation of a water conditioning service department requires focused attention and planning for profitability. Thoroughly understanding the cost of doing business, particularly the cost of maintaining the service department, is crucial in helping to determine how and where money is being spent.
The key to managing a profitable service department is ensuring that timely installation complements the sales effort, followed by prompt and efficient service scheduling. Technicians and installers must be trained in the most advanced installation methods and diagnostic techniques available. This combined effort will foster a strong referral program, which is essential to the continued growth and health of your company.
Start-up
If you are just starting to lay the groundwork for a new water conditioning business, consider the timeline involved in setting up a dealership and its operations. In addition to obtaining all of the necessary business licenses and/or permits in your community and state, getting started includes building requirements, business forms, office supplies and ordering the right equipment for your market. Staffing requirements include the personnel responsible for hiring and training a sales force, as well as structuring sales and rental commissions and addressing issues from attendance and appearance to performance, payroll and perks. Then there are the accounting practices that will assure a prompt return on investment, including reporting, financing and taking advantage of hardware and software specifically tailored to your business needs. All this and much more is involved in setting up shop; it generally takes about six weeks to finalize the details associated with the successful launch of a water conditioning business.
The paper trail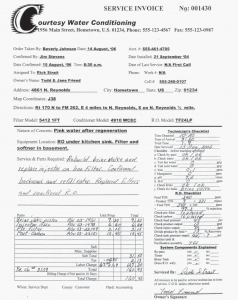 While all that is going on, serious consideration must be given to building a solid service and installation department through proper management. This will include training a service manager in the proper installation and maintenance of all of the products you sell. Additional considerations include installation and service orders. These should include checklists for the installer and service technician to follow to ensure that the customer receives the finest service available. Tools and equipment, inventory control, vehicle maintenance, service operation worksheets and service profit and loss statements must be taken into consideration.
Skills and training
In states where permits are required, it may be necessary to hire a licensed subcontractor to handle your installation and service work to maintain code compliance. The benefit here is that your service manager will be trained to install water treatment equipment utilizing proper pipe joining technique as well as the correct way to interface the drain lines to the sanitary system to avoid cross connection. That discipline will then be transferred to new employees as the service department grows.
While the performance of your sales department is certainly critical to the success of your business, that of your service department may ultimately play an even greater role. Once the sale has been made, it is the performance of this team that will shape your customers' decision to continue working with you…or to look elsewhere for continued support.
The cornerstone of your water conditioning business is both your outstanding products and the quality of the service given to your customers. The way in which you provide prompt, efficient and courteous service will make the difference between an average dealership and an outstanding one. Excellent service fosters a strong loyalty to your company and will encourage thoughtful customers to refer your dealership to other potential customers. This will virtually eliminate the 'revolving door' syndrome with salesmen because the high conversion rate of referrals gives them a sense of security and a feeling of stability with your company.
Using forms wisely

The accompanying forms are provided as model documents. Use them to develop your own internal forms, or to modify your existing ones. Using forms like these improves performance while maintaining efficiency and discipline throughout your company.
These forms are modeled after the program developed for an actual dealership's installation and service departments and personnel. They provided a 'track to run on' for installers and service technicians, while at the same time establishing a communication component by creating an information stream for the administrative arm of the company. Straight-line communication creates seamless momentum and eliminates the crisis management that can be a net drain on company profitability. If you've gone paperless, create forms like these in your mobile PC system.
Set prices
Before you can determine the billing cost of an installation or service call to your customers, you'll need to find out what it's costing your company. Using a worksheet like the one here for each employee will enable you to do just that. Be sure to update these worksheets when an employee receives a raise or additional vacation pay, or when your insurance costs rise. Keep it a true record of actual costs.
Installation
Slightly more than a quarter of the installation order form is identification: yours and the new customer's. Every paper your personnel may ever leave with a customer should feature your logo, name and full contact information. That way, no matter what paper your customer grabs out of their file (or kitchen junk drawer) when they have a problem or question, they'll have your contact information right at hand.
The customer's information should include map coordinates for your staff, along with directions. Today, many dealerships' service vehicles are equipped with GPS systems and other personnel have this handy feature through their cell phone provider. That does not eliminate the need for directions on this form! In areas of under development, maps often don't include the newest streets. In older areas, place name changes, road mergers and the like may not yet be noted in the electronic references. Your sales person reached the customer's home and knows exactly where it is – by sharing that information on this form, your service department saves time and fuel.
Couple of items to note: the pre-installation analysis on this form is a sales person function; it both verifies that the right equipment is being installed to treat the water and enables the installation technician to compare and analyze the results with the new equipment in place. The installation procedure is a checklist that will enforce the best practices with each and every installer. Listing the equipment installed on this form means the dealership has real-time inventory figures available.
The complimentary form your employee will fill out will be an inventory requisition. Before leaving your facility, he should have everything he will need for every installation he is performing that day. Having a second employee sign off on any inventory removal provides a check-and-balance system that limits both error and misappropriation.
Service
The top half of the service order form is created from the information the dealership entered into its database from the installation order. A checklist here serves the same 'best practices' purpose as the other one. Here, it is part of the technician's problem solving/trouble shooting procedure. Note that the form asks the technician to once again explain the parts of the system to the customer. Each visit should increase your customer's comfort and familiarity with their equipment. This employee will also need an inventory request form and the same standards apply as above.
Results
A good form provides process, procedure, documentation and information. It becomes an actual dialog between the different aspects of your business, providing real time information that installation, service, inventory and administration can use to increase your success.
About the author
Gary E. Battenberg is the National Technical Director of Hague Quality Water International and a member of WC&P's Technical Review Committee. He can be reached via telephone 614 836-2115 or via email [email protected].
About the company
Hague Quality Water International is one of the leading manufacturers of residential water treatment equipment in the world. The company is dedicated to producing the highest quality and most efficient conditioning products in the industry. Their products include customized, patented, whole-house water treatment systems, a full line of water filters and RO drinking water systems representing over 40 years of engineering expertise.  Contact Hague Quality Water International, 4343 S. Hamilton Road, Groveport Ohio 43125; telephone 800 848 3564 or visit the website, www.haguewater.com