A family affair
The business maxim of finding a need and filling it has never been more apt than for the Land family of Philadelphia, Pa. In 1926, Maurice Land founded the Wissahickon Spring Water Company, tapping spring-fed Wissahickon Creek. The Indian name roughly translates as 'running water from the creek'. Since then, the family has been meeting both personal and business needs for pure, tasty bottled water in Pennsylvania, New York and Delaware.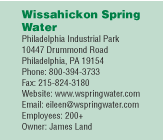 In the early days, dad, mom and the five children worked from their home, cleaning and sterilizing bottles and filling them from the natural springs. With his early success selling and delivering glass jugs of fresh water to households and small businesses, Land was able to purchase his first delivery truck. He became one of the area's first water bottlers, providing route sales and personalized customer service.

While working these routes, Land depended on his wife to run the business end of the growing family enterprise. In the 1940s, as demand for their product grew, they were able to hire the first non-family employee.
The next generation comes of age
After completing business studies at LaSalle College, son James Land was brought into the company, succeeding his father in 1961. He took the reins with one full-time employee and an annual revenue of about $45,000. In spite of the hazards and pitfalls of running a small business, Land made an early decision to move the enterprise out of the family home. New quarters would allow for growth, expansion of bottling and enhanced distribution of their product.
Today, this Chairman and CEO says there are 200 employees and an annual revenue of $45 million. Noting the company's growth, Land quips, "Not too bad for a guy who ain't gifted." Often found in the plant by 3:30 a.m., he oversees operations and monitors the preparations of route sales staff and over-the-road haulers. The drivers are regularly in their trucks by five a.m. "I love to see a motivated employee and I have tried to set that example," he says.
Success can be attributed to an intense work ethic, hiring and motivating employees, good business timing, selling a great product and a willingness to take appropriate risks. Land has expanded capacity to meet the needs of distributors and private label customers while continuing to offer personalized delivery service to families and local businesses. Wissahickon operates 34 routes delivering bottled water to thousands of customers, including private label distributors and large grocery chains. "We're split almost 50-50 between business/home delivery and our wholesale customers. Our private label wholesale clients and the bottling business are going full-tilt as evidenced by our recent purchase of a soft drink bottling plant," he notes.
It is no accident that Wissahickon Spring Water has recently taken over that soft drink bottling operation. "The company now uses non-refillable plastic containers from the bottling plant, a hybrid cross between a dairy operation and a soft drink bottler," Land says. "We can assure customers that our product is handled hygienically and we provide pure, good tasting spring water."
After leading the company for 45 years, Land is beginning to take time off to enjoy the fruits of his labors. James (Jay) Jr. has recently taken over the key company leadership post as President and Chief Operating Officer, while son-in-law Ted Hertz is General Manager in charge of routes, sales and customer service. Land now seeks opportunities to give his time and talent to others less fortunate.
Water as medicine in Peru
In 2004, Betty Scanlon left Wissa-hickon Spring Water to join the Sisters of Mercy, a religious group dedicated to helping the poor. She contacted Land about the northern area of Peru, where a two-year drought was making life dangerous for the villagers. Lack of potable water had always been a problem for the region but it was becoming a life-threatening situation for people in the rural village of Rinconada. The closest water supply was a distant riverbed at least 30 minutes away. Women dug down in the dry bed until a little water would rise up in the hole. They scooped the muddy water into plastic cans on donkeys and hauled it home to their families in the village. Further, the meager supply of water was contaminated and responsible for many of the illnesses that afflicted the villagers, especially the children.
Characteristically, Land asked, "How can I help?" Sister Betty, now Program Director of Boston-based Medicines for Humanity, explained the need for development of a clean potable water source. Her agency typically provided vulnerable children with access to basic medicines and healthcare, not water systems. Financial backing was needed to jumpstart this ambitious project.
Land invested the needed capital for equipment and lent his considerable water expertise to the planning process. Plans included digging a well, then creating a village pharmacy and training volunteers from the village to manage the enterprises with the goal of building long-term sustainability. "I thought the plan was thorough and well thought out," remembers Land. "The need for clean water resonated with me for obvious reasons!"
He was extremely pleased by the plan's inclusion of provisions for establishing a means for well maintenance through a system of affordable user fees. "Medicines for Humanity was committed to making sure its initiatives had staying power by working in collaboration with the community. A system was devised to charge a small fee for both the water and the medicines. This means they will be available, now and in the future," he said.
Positive results, personal rewards
At the opening and dedication of the new well, Land broke a bottle of champagne over the wellhead. The moment the valve was turned on, fresh flowing water appeared, something of a miracle for the people of Rinconada. There was no need for a translator as Land held up a commemorative plaque amid cheers of "Viva Señor Land! Viva Wissahickon!"
About the author
David Sauer is Director of Development for Medicines for Humanity. He has more than 20 years' experience in health care management. Sauer holds two masters degrees: one in social work from Catholic University of America and another in public administration from Syracuse University.
About the organization
Medicines for Humanity is a Boston-based not-for-profit organization dedicated to saving children's lives in impoverished communities worldwide. The agency helps local healthcare partners implement effective health initiatives for children and become self-sustaining organizations. Anyone interested in donating to projects sponsored by the organization may contact the author via email at [email protected] or visit the website www.medicinesforhumanity.org.