By Nate F. Searing
Point-of-entry water treatment was an unheard of technology 100 years ago. Bottled water was little more than a novelty with salesmen peddling mineral waters of dubious origins as cure-alls. Emmett J. Culligan was still 20 years away from operating a small, storefront water softening business and it would be five decades until the Water Quality Association's first impromptu meetings. Yet one hundred years ago, Puritan Water Conditioning Inc., was born.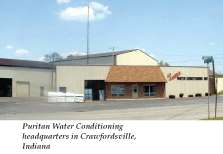 "We have a really amazing history," says current Puritan owner Dale Hockersmith. "Puritan has seen or been a part of most everything that has happened in our industry in the last 100 years."
In 1905, Johnson Manufacturing of Crawfordsville, Ind., developed a revolutionary new product, a water softener it called the Puritan. Selling the Puritan through his own storefront, and later providing the product to stores in neighboring towns, Johnson helped to make Puritan one of the oldest names in the industry.
Within a few years, Johnson sold the company and its name was changed to Puritan Engineering Corporation. The manufacturer began aligning itself with independent dealerships and has done so ever since, while providing an expanding line of eponymous water conditioners and accessories.
In 1958, Puritan Engineering Corporation changed its name to Puritan Manufacturing Corporation to better reflect its core services, while expanding its product line to include commercial/industrial water treatment and conditioning products for area schools, hotels, factories and car washes.
Today, the company is officially Puritan Water Conditioning Inc., a name bestowed by Hockersmith when he purchased the company, but often simply known as Puritan Water Treatment Systems. About 80 small- to medium-sized dealerships nationwide carry the Puritan line, providing their products to an estimated 15,000 consumers annually.
"We haven't grown as large as those companies that have thousands of dealers all over the world, but we've always concentrated on providing the very best products and services and we seldom lose a dealership once they join the Puritan team, unless they retire," Hockersmith said.
Though their network of dealerships is focused primarily in Indiana, Kentucky and Michigan, the Puritan name can be found on systems from California to Maine. A primary difference between Puritan and its competitors is that all of the dealerships are independent and they will never franchise the Puritan name.
Celebrations for Puritan Water's centennial have been focused during this month, but not because it's the actual birthday of the company or the Puritan water conditioner. It is the month back in 1965 that he started with the company. "It's my way of celebrating all the rich history of the company, from its birth to its latest version."
Hockersmith joined Puritan Water in 1965 as a delivery driver and installer. Five years later, he moved into the company's manufacturing facility to serve as shop manager.
In 1975, he purchased a local dealership and began selling Puritan products. Under the name Dale's Puritan Sales, he began purchasing additional portions of the manufacturing business and within six months, the entire company belonged to the former shop manager and installation technician.
Since he took over at Puritan Water, the company has steadily expanded its product offerings from water conditioning into the realm of drinking water technologies and bottled water delivery. Through a network of dozens of independent dealerships, Puritan now offers salt delivery, five-gallon bottled water and coolers, under-sink RO equipment and its famous line of conditioners.
"Over the last 25 years, the drinking water products have really overshadowed the softener side of the business," Hockersmith said. "More recently, bottled water has started to become the big seller and our best way to get our foot in the door with new customers."
Conclusion
In looking back at the history of Puritan Water, Hockersmith said the company has succeeded by taking a relaxed approach that no one else in the industry has tried. With an eye for slow and steady growth, the company rarely tries to update or revamp its water conditioner line which guarantees that older units can always be easily repaired. In fact, Hockersmith said several of his current local customers have been using the same Puritan system since he purchased the company almost 30 years ago.
"We don't have any interest in selling the company, franchising, buying up new products or creating some radical new product line. We've managed to forge ahead simply: by making a really great product and selling it through and to really great people. I think we'll keep doing that for another 100 years."