Introduction
It's the last week of 2004 and Steven J. Wiley has just received a new Christmas present for his dealership, Hague Quality Water of Greater Philadelphia: a bright new logo. Each of the trucks in his service fleet is being adorned with the graphic and will soon be on the road serving one of 1,500 customers in Philadelphia, Pa., and the surrounding New Jersey area.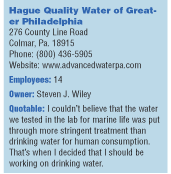 "We're doing pretty good for a company that's only been around for about five years, huh?" Wiley said.
Wiley's dealership predates his affiliation with Hague, which commenced in 1999. Its origins stretch back into the late 1980s, giving him a perspective on the industry unlike most other "new" dealers.
Background
Wiley graduated from Temple Univeristy with a degree in marine biology. While working for a pharmaceutical company in the 1980s, he was instrumental in the development of a series of revolutionary water purification technologies for use in the commercial fishing and aquaculture industries. His name is still attached to four separate patents that together were utilized by the company to help protect fish from a variety of waterborne diseases and contaminants.
Through his involvement with water technologies and because of his expertise in this field, Wiley routinely gave speeches and wrote technical articles on his company's work, bringing him into closer contact with POU/POE manufacturers and others in the purification sectors of the market.
"I'd see a lot of the same faces at conferences and a lot of this technology overlaps from that (aquaculture) industry to applications in the drinking water world," Wiley said.
In the late 1980s, Wiley began moonlighting with drinking water technologies, investigating the effectiveness of a variety of POU products and developing his own POU/POE sales strategy.
It was 1992 when the marine biologist made the switch from aquaculture to drinking water. While visiting a friend at a local water dealership, Wiley discovered their drinking water testing lab was substandard and feared that the results were putting their customers at risk.
According to Wiley, the restrictions placed upon the pharmaceutical company for its aquaculture research by the U.S. Food and Drug Administration were far more stringent than the Environmental Protection Agency rules for drinking water.
"I couldn't believe that the water we tested in the lab for marine life was put through more treatment than drinking water for human consumption. That's when I decided that I should be working on drinking water," Wiley said.
As he inched toward an independent dealership, Wiley rigorously tested a bevy of POU/POE products and ultimately settled on selling a POU system from the Amway Corporation.
"I knew a lot about water purification, but learned very quickly that there's a big difference between doing research and selling," Wiley said.
A dealership evolves
Prior to 1996, Wiley was firmly established as an independent dealer of Amway filters, struggling to grow in the Philadelphia area. A. Wiley's Water Filtration Systems Inc., was a one-man operation, expanding its offerings each time Wiley found a new product that met his rigorous personal testing standards.
One day, Richard Slimmer asked Wiley to install a Hague water system in his home. The two had been friends since Wiley's days in the pharmaceutical industry and Slimmer was the president of a manufacturing firm in that arena.
"I had heard a lot about Hague over the years," Wiley said, "but I never paid much attention because I thought anything that was so fundamentally different than the technology I was used to couldn't really be true."
Wiley now says his desire to become a Hague dealer is a resounding endorsement for the company and its products. Unlike the majority of other dealers who've started their dealerships from scratch, Wiley brings a history of water purification research and experience to the business.
During the initial installation of that unit at Slimmer's home, Wiley found more than just a new product to sell, he also found a partner. By 1999, the two men had established their dealership and begun exclusively marketing their drinking water systems.
Today, Hague Quality Water of Greater Philadelphia is growing by roughly 30 customers each month. As the dealership has expanded in the region, it has helped to establish the Hague name in the northeast, simultaneously making periphery Hague dealerships more viable. The company has brought many of Wiley's original customers onto Hague systems and also operates a commercial/industrial division under the name Advanced Water Treatment Systems Inc.
In the near future, the company hopes to expand its operations further into New Jersey, where many of its current customers reside, serviced from the corporate office in Colmar, Pa. Two additional satellite offices in the Philadelphia area are also planned to meet ever-growing demand.
"Well, we're past the first five years now; those are supposed to be the most difficult for a new business," Wiley said. "I'm pretty confident that we will continue to be an important part of the industry in our corner of the country."