By Ronald Y. Pérez, WC&P Managing Editor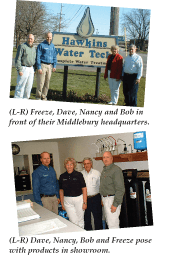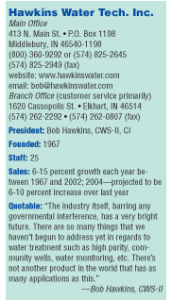 Every day, Bob Hawkins, CWS-II, passes by the world headquarters of Coachmen Industries Inc. in Elkhart, Ind., on his way to his own business, Hawkins Water Tech. Inc., in nearby Middlebury. So what does a water treatment dealership have to do with a leading manufacturer of recreational vehicles (RV)? To Hawkins, it all seems so apropos.
For more than half his life, Hawkins has made that trek to work and wondered what it would be like to have the time and money to travel (perhaps even in an RV) and see the rest of the United States. Come December, he'll be able to find out.
After 37 years as president of Hawkins Water Tech., he's through making service calls, sales pitches and salt deliveries. He and his wife and co-founder of the business, Nancy, will turn the reins over to their son, Dave, and son-in-law, Jim Freeze, at the end of this year. Both their son and Jim—currently general manager and operations manager, respectively—have finalized the purchase of the company from them.
In good hands

The elder Hawkins, 64, who admits Dave and Freeze have been essentially running the operation for some time now, is confident the business will continue to grow under new leadership. "I'm very comfortable with the fact that the boys will take this company to the next level because they are actually more assertive and aggressive," he says. "They are also open to new concepts and avenues of the water treatment industry."
As part of the transition, Hawkins Water Tech. will be moving into a new 15,000-square-foot facility that will replace the existing dispatch center and warehouse—each measuring 5,000 square feet. The move is expected to be completed by this spring. It's a long way from when Bob and Nancy ran the business from their home for the first 12 years of its existence.
It all started innocently enough when Bob, working as an auto mechanic at the time, and Nancy, a bookkeeper at a local Chevrolet dealership, decided to put their skills together and run a business for themselves. No small feat for a married couple with four small children. The Hawkins' tossed around a few different ideas such as bowling alley operators, bakeries, candy stores and even vending routes.
Scanning the classifieds
Nothing seemed quite right until they came across an advertisement in the newspaper. There, they saw where Aqua Tech Systems was looking for a husband-and-wife team to head up one of its franchise dealerships. "I had no idea what that was except for maybe boiler treatment in factories," Bob Hawkins says. "We started on a part-time basis with no customer base."
For the next four years, the Hawk-ins' worked the phones and routes until they purchased another small company and acquired their first employee through that transaction. And it didn't stop there. Four years ago, Hawkins Water Tech. bought a small business in Syracuse, Ind. (about 25 miles south of Middlebury) and, more importantly, its customer base. Hawkins says the company's policy when acquiring other neighboring businesses is to keep the dispatching duties at its Middlebury office. He adds that Hawkins Water Tech. is always looking at other possibilities to pick up more customers through acquisitions.
Presently, Hawkins Water Tech. employs 25 full-time and part-time workers, and serves the Michiana territory (Middlebury is located just six miles from the Indiana/Michigan border; see map) that encompasses 75 miles from the main office. Bob Hawkins is careful to note that the majority of business is conducted in Indiana and within 35 miles of Middlebury.
'Paying the light bill'
Hawkins Water Tech., an independent dealer, offers a multitude of services to its customers by way of water softeners, iron filters, carbon filtration, reverse osmosis (RO) and deionization, among others. One of Hawkins' main equipment manufacturers is Puritan Water Conditioning, of Crawfordsville, Ind. Hawkins has been with Puritan since almost the very beginning and states that the company is strong in providing promotional benefits, delivery service and product delivery. Yet, Hawkins Water Tech. also uses Fleck valves and relies on Nelsen Corp. for most of its RO installations as well as filters in vending machines and grocery store processors. In addition, Cargill Salt is a supplier of two to three semi loads a week that, Hawkins laughs, "helps pay the light bill."
Even with the vending machine installations in grocery stores, i.e., delivery of five-gallon bottled water, Hawkins says that 70 to 75 percent of his business is a result of residential customers while commercial and industrial split the remainder of accounts. Hawkins adds that grocery store customers also request processed water for their produce water misters. This allows for less calcium deposits on the display mirrors in the fruits and vegetables sections.
Clearly, the piece of equipment flying fastest off his shelves is the RO system, Hawkins says. "The RO is becoming more commonplace," he explains. "There's also encouragement by the association to sell package items. It is similar to, years ago, when household water softeners were looked at as a luxury item rather than a necessity." He uses an analogy between softeners and TVs and garage door openers with remote controls when they first came out. "It's about the sophistication of society asking for more amenities," he concludes.
One of the main causes of customers wanting to know more about softeners and other water treatment equipment is society's growing awareness of the safety and health issues of the natural resource.
"People are more intelligent shoppers than they were in the past," Hawkins says. "In the long run, people get their greatest value using a certified dealer to address their problems" as opposed to big box retailers.
Getting the residuals
Nevertheless, Hawkins admits his biggest competitor is Sears, which may owe much to the fact that Middlebury is home to only 3,000 residents. The nearest Culligan franchise, for instance, is located in South Bend, Ind., a short drive from Middlebury west of Elkhart but far away enough that Hawkins doesn't fear losing his customer base. Hawkins says he benefits from the "spin-off" in interest generated when a franchise enters a nearby market since he can usually be competitive in pricing.
Plus, unlike franchises that can pump more money into advertising campaigns, Hawkins Water Tech. relies mainly on the obligatory yellow pages, gadgets and giveaway promotions. Of course, that could all change with a new hierarchy in place at the company. For one, its website (www.hawkinswater.com) has the potential to do wonders for the company in the 21st century regarding better visibility as well as selling power.
The business has been online for about 10 years, and Dave Hawkins and another longtime employee have maintained it over that time. "We get calls from all over the world. It's had a pretty good impact," the elder Hawkins admits. "People can order directly from the website; it opens up the opportunities."
A look into the future
While listening to Hawkins, one gets the sense of what to expect from the upcoming transition in ownership. For example, he explains what the future holds for the business that may use a slightly different approach: "When we first came up, we called ourselves Hawkins Soft Water, as if that was the only thing we were going to do. Like, for instance, the bottled water business; I held back because I didn't want to be in that business. The home delivery of five-gallon bottles made me say, 'Who wants to have that many jugs around their house?' but when the market continues ask you if you do this or do you do that, we can no longer ignore that.
"You can't always base what the industry wants or needs on what you feel those wants or needs may be. That's sticking your head in the sand. You either progress and move ahead and keep your ear to the rail, or you get run over and die. You can't just stay status quo."
Conclusion
But, without a doubt, no new ownership can replace nor ignore what Hawkins has built for over 37 years: a solid reputation in a small, tight-knit community. So it's no exaggeration when he says flatly, "Our biggest assets are our reputation and word-of-mouth (business)." In fact, it has afforded Bob and Nancy Hawkins the opportunity to ride off into the sunset while knowing that their old business is on a stable course to continued success.