By Mike Adams
Summary: With spam—by some accounts—now over half of all email sent, it's really not a stretch to imagine your important email campaigns as losing their effectiveness even if you follow all the opt-in rules, etc. Here are proven e-marketing techniques to drive the right customers to the right place—your front door or website.
---
In just a few short years, email marketing has made tremendous progress. Advances in home computing technology and better development of software have translated directly into email messages that are more comprehensive, user-friendly, attractive, and readable than ever before. Email composition technology now allows users to create personalized fields, instantly respond to hyperlink clicks, and improve the branding value of email thanks to further user-friendly enhancements of HTML design software.
Email message relevance, however, is continually being compromised because of ongoing spam "wars" between spammers, legitimate email marketers and consumers. Nationally, legislation against spammers is on the rise and being led by California's prohibition against spammers, the strongest law against unsolicited email in the nation to date (see EXTRA).
Spam v. e-marketing
Heightened anti-spam positioning by national Internet Service Providers (ISPs) like America Online, Yahoo! and MSN Hotmail has led to aggressive identification and blacklisting of bulk emailers and companies suspected of participating in spamming. Many companies conducting legitimate, online e-commerce and email campaigns on a regular basis are now bringing their email functions in-house for fear of being branded spammers via their outsourced providers.
In the middle of this virtual ruckus are the small- to medium-sized retailers trying to either bring their websites back to life by priming some type of minimal return on their investments. To the hard-working, front-line dealerships, water store owners, suppliers and other industry service providers, here are 10 email strategies from businesses that composed and conducted successful email campaigns while improving existing sales.
Personalize email messages
As a minimum standard and general email marketing rule, you should now be personalizing email messages with customers' first names. Almost all commercial databases have a separate field for first names, which is all an email software program needs to begin basic personalization. Additionally, your company logo should be somewhere "above the fold" or on the top part of the email. Both of these email customizations are extremely important features in delineating subscriber-based, timely email messages from unsolicited, often questionable spam.
Advanced email personalization also includes using fields in your database to send specific offers to specified customer fields. Examples of this type of personalization include emailing the contacts of your western sales representative to the corresponding area codes, and sending email messages with the eastern salesperson's name and number to another set of corresponding area codes.
Email coupons and discounts
There's no better way to get customers in the door than to give them an excellent reason to buy now. A time-limited coupon that offers a 10 percent discount off any purchase over $50 can be used either with the customer's printer or as a code for an online store.
A practical email software program cannot only be set to automatically issue these coupons to subscribers, but can be programmed to send emails to most recent customers first, intermittent customers second, and prospective customers third as well as by using a database field. Each of these messages should always have your logo above the fold to brand your product or service.
Schedule follow-up campaigns
Schedule follow-up emails to be triggered by dates such as the 10th anniversary of your company, the first day of the summer, a holiday or even the day after prospective customers receive their federally-mandated Consumer Confidence Reports (CCRs) from their municipal water supplier. Since you're emailing campaigns from your computer, you have full control. Schedule follow-up emails to recent contacts after trade shows once prospective customers have signed up for your emails via website, and after events you've hosted for clients and customers.
Email 'thank you' messages
One business adage says that 80 percent of profits will come from 20 percent of your customers. These are your best customers—steady purchasers, no-hassle, honest people who care about their water quality. So why not reward them and turn them into your best advocates? Use your email software to directly and personally send them gift certificates, free gifts, or just a simple, customized thank you e-card. It's an easy, cost effective way to build tremendous trust and loyalty with customers.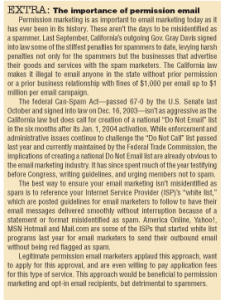 Distribute business news and water issues
Keep prospects apprised of local water issues or legislative maneuvers surrounding water utilities on a monthly basis.
Deliver what customers want
Use your email software to conduct email customer, client or supplier surveys to gather valuable customer intelligence. Want to know what your customers really think about you? Ask them with a brief email. Invite customers to participate in online surveys to provide direct feedback on how well—or poorly—your business is doing at the customer level.
In today's permission economy, you simply can't survive without interacting strongly with customers by learning more about their needs and wants through suggestions. Email software gives you the perfect tool to gather this priceless information.
Schedule over email
Automatic scheduling with email notices saves not only postal fees but also telephone time, as customers can respond to your service reminders either using supplied hyperlinks in email messages or by simply returning the email. Personalized service reminders via email can also be an opportunity to notify customers of current sales on supplies. In addition, they can notify customers of a new email referral special offering customers a discount or gift for referring new customers via email.
Make local connections
Build a list of contacts to include local business press, water quality associations, chambers of commerce, home-builders, realtors, economic development groups, or other outlets that help get the word out on the milestones of your business to customers and prospective customers. Personalized email announcements touting new members of your sales team, philanthropic participations, building expansions, new addresses, etc., keep your community informed about your business.
Enhance ad campaigns
You've probably already committed a boatload of money to an ongoing radio, television, yellow pages or print campaign. Why not enhance the branding with a cost effective email campaign to customers sending the same message? How about exclusive customer invites to that expensive radio remote at your storefront? Email messaging, using either an existing HTML design or a simple one you create, goes a long way to help get campaign messages directly to those who care most—paying customers.
Don't spam your customers
A personalized email not only brings your business closer to customers, but it ensures your message isn't mistaken for spam. Your email software should make it impossible to fake email headers, a strong trait of spammers. If your software is really good, it will feature anti-spam, compliance test technology, which helps ensure you don't inadvertently send an email message that's mistaken for spam and, thus, it gets filtered out.
Make sure your email list is 100 percent opt-in, i.e., permission-based or subscription-based. Your software should automatically handle "unsubscribe" requests from recipients so as not to delay their requests, earning their ire, and compromising your ability to sell to them another day.
Conclusion
The monthly expense of the business website—that marketing component of a few years ago that you couldn't be without—may perhaps begin to make money, or more money, for you with the right marketing push. Today's computing advances such as email marketing are making what were formerly exclusive information technology functions a lot simpler. Because of these advances, email permission marketing—which some say is the future of email marketing—and message personalization characteristics are only restricted by the fields of your database.
About the author

Mike Adams is president and CEO of Arial Software LLC, of Tucson, Ariz. Adams developed the first personalized email marketing software program for PCs in 1993, and has been an industry leader in the continual research and development of permission email marketing technologies used by businesses to maintain personal, trust-building communications with customers and clients. The company's customers range from Fortune 500 companies to small businesses in need of affordable solutions that automate, personalize and measure meaningful email communication. Adams can be reached at website: www.arialsoftware.com