Summary: The cartridge filter industry faces a double-edged sword. Along with increased presence of these filters in all types of applications, there come those manufacturers that may not pursue the strictest production standards to protect the customers' best interests. Remember to look for proper certification and follow that up by verifying a manufacturer's background.
---
Given the explosive increase, especially over the last few years, in the number of water filters being manufactured and sold, it's very interesting to look at the changes that have taken place with regard to "cartridge" filters. First, however, we must define what we mean by a "cartridge" filter. The dictionary tells us (as one possible definition) that a cartridge is "…any small container for powder, liquid, or gas, made for ready insertion into some device or mechanism." This certainly describes the type of filters often used in a "generic" type undersink reverse osmosis (RO) or filtration system in which you unscrew the housing from its head/top, pull out the spent cartridge, and replace it with a new one.
In the world of point-of-use/point-of-entry (POU/POE) water filtration, however, the word cartridge has taken on a broader meaning. In addition to the previous definition, the word "cartridge" is also used to describe self-contained disposable filters, sometimes described as "in-line" or "throw-away" filters. In fact, some of the very first filters of this type were given the amusing nickname of "hot dog" filters. It's not uncommon to hear some of the industry "old-timers" still talking about these "hot dogs."
For the purposes of this discussion, we'll use the term "cartridge filter" in the broadest sense, encompassing both replaceable and self-contained filters. As one would expect, these types of filters have gone through several evolutions since their inception. To steal a phrase, "in the beginning," most cartridge filters were filled with one of two different media—granular activated carbon (GAC) or sediment reduction media. The filters were quite simple in design with very limited, if any, options. For the most part, they were interchangeable from manufacturer to manufacturer. Keep in mind, though, there weren't too many companies manufacturing these types of filters way back then. The applications themselves were also somewhat limited. Most cartridge filters either went into RO systems or behind refrigerators to be used as the first "ice-maker" filters.
Expansive applications
How times have changed! Today's cartridge filters are available with almost any and every conceivable filtration/treatment media ever conceived. Meanwhile, a significant number of them still use the "tried and true" GAC and sediment media. A partial list of what's being sold today would include (but certainly not be limited to): carbon block; lead reduction media; softening resin; DI resin; KDF; arsenic reduction media; scale inhibitors; calcite, and even selective resins for specific contaminants such as nitrates, fluoride, etc. The list could go on and on. Often, two or more combinations are put into one cartridge.
In addition to the huge variety of possible filtration/treatment choices now available in cartridge filters, there are a number of options in terms of fittings and connections. You can now purchase cartridge filters that have "quick connect" fittings molded right into them, even 90-degree elbows. They're also available in numerous lengths, diameters and shapes. There are cartridge filters that go into unitary manifolds, heads that can be coupled to each other, and any number of different countertop designs.
Cartridge 'trends'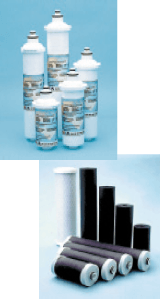 One of the latest "trends" in cartridge filtration is proprietary design and replacement. It has long been said that water filters are the equivalent of razor blades in the razor business. As some of the world's largest corporations are getting involved in the water treatment industry, they want to lock in the annuity afforded by a proprietary filter replacement program. All you need to do is visit your nearest major appliance store and look at new refrigerators. Virtually every different brand has its own proprietary filter/head combination. Replacement filters can only be purchased from authorized retailers/dealers.
The same concept is being used in other facets of the water treatment industry. It's now quite common to see POU water dispensers/coolers with proprietary filters integrated into the unit. There are several types of home RO and filtration systems that use proprietary filters. Cartridge filters are used on beverage dispensers in virtually every fast food outlet in the world. Even your corner convenience store most likely has one or more cartridge filters in use. The number of filters being replaced annually is in the millions. This doesn't even include the number of non-cartridge filters such as pitcher filters, end-of-faucet filters, etc. What a business!
Meeting demand
As the demand for "better" water continues to increase around the world, there will be continued growth and evolution in the filter cartridge business. One of the major challenges facing filter manufacturers, OEMs and consumers alike is the recent dramatic increase in water filters coming from overseas, primarily Asia. While the quality of many of these products has improved dramatically in recent years, historically, some may perform only adequately and others can be extremely questionable. From something as basic as poor quality plastic to something as serious as contaminated media, there are thousands of filters being exported to the United States that pose serious risks. What water treatment dealer wants to be liable for the in-line filter, behind the refrigerator in the second-floor break room of a bank, that bursts on Saturday afternoon after everyone is gone for the rest of the weekend? The dealer may have saved a dollar by buying a cheap import, but you can almost bet the Asian manufacturer isn't going to stand behind its product.
There seems to be a significant amount of truth to the old saying that "you get what you pay for." Even in the fast changing world of cartridge filters, that axiom is truer than ever before. If the company manufacturing the filter in question doesn't know who NSF is, or hasn't heard of the Water Quality Association (WQA), my advice would be to run as fast as you can. Two emerging product performance certification marks come from Underwriters Laboratories (UL) and Canada's CSA International.
Even if the product bears the NSF, WQA, UL or CSA mark, double check the listing with those respective organizations. Most Asian countries have few, if any, consumer fraud laws. If they do, enforcement may be another matter altogether. I've personally seen filters in Asia that have NSF, WQA, U.S. Food and Drug Administration (FDA), National Aeronautic Space Administration (NASA) and U.S. Environmental Protection Agency (USEPA) marks—all on the same label. Skeptic that I am, I somehow doubt the veracity of the manufacturers of those products.
Conclusion
When shopping for the right cartridge filter, look for the NSF mark and/or the WQA Gold Seal first. Know the company that manufactures the filters you buy. If you buy from a wholesale distributor, ask them where your product is being manufactured. Make sure you're in the problem-solving business, not in the business of solving problems created by poor quality filters. Innovations in technology and production along with increased demand and awareness guarantee that the cartridge filter business will continue to grow and change. Hang on because it's going to be a great ride.
About the author
Mike Long is an account executive for Omnipure Filter Co., which was founded in 1970. He's been with the Caldwell, Idaho, company for six years and has over 20 year's experience in the water treatment industry. Long can be reached at (800)-398-0833, (208) 454-0026 (fax) or email: sales@omnipure.com.