By Ronald Y. Pérez, WC&P Managing Editor
Like so many others growing up in the outskirts of Detroit in the 1970s, Wallace E. Fruit Sr. was comfortable working for an automotive company. The job at the Pontiac plant paid well and it was steady work during lean economic times. To supplement his income, after clocking out at 3 p.m., he'd deliver salt bags for a business owner to customers for a quarter apiece.
"I would make an extra $20 a day, which I guess was good back then," he says.
Through his delivery duties, he struck up a relationship with the boss' daughter, whom he later married. He continues, "I came out of the tobacco hills of Kentucky, and we didn't have too much. I just wanted my wife and children to have all the things that I didn't have."
By any other name
Eventually, Fruit quit his job at Pontiac and went into business for himself. He's now owner and president of Lakeland Soft Water Conditioning and Purification Co. Inc., of Waterford, Mich., about 39 miles northeast of Detroit. If that sounds like a mouthful, it's not done by accident. Over the years, he's run into others in the industry who tried to snag part or all of the business' name.
In 1979, Fruit bought a water treatment dealership that was founded 50 years ago. In all, he has worked with water conditioning for 40 years. Before Lakeland, he worked for Superior and Water King dealerships. For awhile, he ran Oakland Water Conditioning, named after the Michigan county where he still lives.
So, when Fruit says he'd like to franchise, he's taken seriously. In 1985, he opened a satellite location in Oxford. Seven years later, a store in White Lake was launched and, last year, a Rochester Hills store opened its doors and is technically a franchise, he says. While Waterford — the main location and headquarters — sits right in the middle of Oakland County, Fruit's plan was to place a location at each of the county's geographical corners.
Lakeland even has its own brand label. Fruit, 60, wanted to guard against a company coming into his territory and stripping him of the name. In fact, he's currently working with another company to have labels with the "Lakeland" name on 20-ounce water bottles sold in local grocery stores. Eight to 10 grocers that already have Lakeland water softeners have agreed to display the bottles.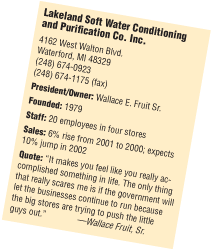 Water for fast food
Lakeland bases 80 percent of its business on the residential market, close to 20 percent commercial and very little industrial. It rents and sells water coolers (bottled and point-of-use), rents water conditioners, rents and sells reverse osmosis (RO) units and each of the dealership's four locations has its own water filling station. Plus, he has almost all the McDonald's (8 to 10) accounts in the area, as well as Burger Kings; Arby's; apartment complexes (150,000 to 300,000 grain units), and a nursing home. Fruit says the business has approximately 35,000 customers and services all makes and models.
He says he encounters three different types of water — municipal (mainly metropolitan Detroit), community wells and private wells. His customers fall primarily in the latter two categories. It takes municipal water customers about five to 10 years before they decide a water conditioner is necessary, Fruit says. He adds that arsenic is present in some water and the municipal water runs between seven and 10 grains hardness, which many people find acceptable. Iron and chlorine are other common customer complaints.
By the truckloads
Salt is still a big part of Fruit's business and he estimates 16 to 17 semi-truckloads are delivered from his four stores each month. The brand of salt is DuraCube, which is made by Cargill exclusively for water treatment dealers. Other companies he works with include Mid-America, Carbon Enterprises, Sybron (resins are bought through Clack Corp.), Clack for brine tanks, Structural tanks, IWW (now Good Water Warehouse), USFilter, Keystone, RO units from Nimbus, Water Factory, Hydrotech and Alamo. Still, the fastest growing segment of his business, Fruit says, is carbon exchange tanks.
"We tell potential customers that we cannot remove everything harmful in their water with one piece of equipment," he says. "If you're dealing with lime, calcium, magnesium, things like that, we do fairly well with an ion exchange system. If you're getting into PCBs, DBPs and gases, then we may go to an exchange/carbon tank." He tests the water first, and recommends ion exchange tanks for hardness, and carbon or RO units for PCBs, Arsenic III or V, and nitrates.
Originally from Hopkinsville, KY, Fruit has three children who work with him — Wallace Jr. is in the sales department at the Waterford store; Robert works there as well in service and installation, and Krissy runs the operation at White Lake.
A Michigan Water Quality Association member, Fruit takes pride in second or third-generation customers: "It gives you a sense of pride that I've accomplished something over the years. I helped people as well as making a living."
In the neighborhood
Fortunate to live in what he claims is the third-richest county in America, Fruit is a stone's throw away from where the National Football League's Detroit Lions play in Pontiac as well as where the Detroit Pistons of the National Basketball Association play in Auburn Hills.
He's benefited from that. In 2001, Lakeland saw a jump in revenue of $200,000 (or about 6 percent) from the previous year. Fruit predicts that this year will see a 10 percent increase over last year's total.
Conclusion
Fully aware of the struggles early in his water treatment career, Fruit isn't one to rest on his laurels, knowing how hard it is to maintain a steady business through uncertain times.
"I've seen about 10 to 15 mom and pop stores pushed out by Walgreen's, Home Depot, etc.," he says. "It used to scare me when I thought of city water taking over. But I've seen the cost being too great for the cities. Plus, water conditioning will be here for a long time.
"Man contaminates water every day. People are needlessly worrying about running out of fresh water. I don't see it. We can take the dirtiest water and turn it into the greatest water there is. If astronauts can recycle water in outer space for months at a time, we should be able to do the same. The technologies may change but I think we'll be here for many, many years to come."