By Carlos David Mogollón, WC&P Executive Editor

Photographs, WQA 2002 Award Winners and tables that illustrate this article are visible in the printed or .pdf file version of the article only. For the link to the .pdf file, go to the end of the page. For a printed copy, please make a request at [email protected]. Be sure to include the article title, author(s) name(s), the issue, your name and fax number or full address in the email.

A number of things seemed in disarray as the 28th Annual Water Quality Association Convention & Exhibition got under way in New Orleans. For one, attendance at the March 5-9 event was down sharply — credited largely to trends and after effects of the Sept. 11, 2001, terrorist attacks on the East Coast.
Strategically speaking
By the end of the week, though, things had settled down. A program was begun to refocus the association with assistance from strategic planning consultant Lynn Kahn, of The Kahn Group. She was brought in a couple of weeks before the convention to set in motion a review process that will culminate in a far-reaching new business plan at the next convention in Las Vegas (March 18-22, 2003). Results of a member survey, a mission statement and key areas to focus on will be presented at the WQA Mid-Year Leadership Conference this September in Sedona, AZ.
The plan will address tightening up cracks in lines of communication, command and overall focus that have emerged as the association expanded its core membership structure of retail dealers and manufacturers to include Commercial/Industrial (C/I) and Consumer Products sections in 1997. The idea is to develop a better vehicle to balance competing interests within these four groups, as well as possibly a new bottled water section.
"Keep in mind, everything I've learned about water has been in about the last two weeks," Kahn told one of group during meetings with each of the sections to gather input, "so I come to it without preconceptions."
In addition, it will look at goals of the World Assembly Division (WAD) and the struggling Water Quality Society, which was designed to boost a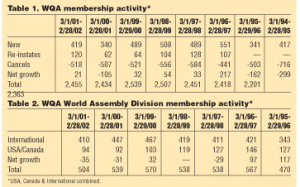 stagnant WQA membership (see Tables 1&2) by attracting individual members. These would not only include staff of manufacturer and dealership members, but operators and end-users of water treatment equipment — particularly C/I customers — engineers, consultants, academics, etc., with related influence in the industry.
Can't please everyone
At the New Orleans convention's outset, some dealers were a bit unhappy at being left out of early discussions regarding a review of WQA governance, traditionally split between manufacturers and retail dealers with alternating years in the presidency. They were also hesitant to endorse creation of the new bottled water section.
Wheeler dealers
The second point was brought up not so much as an issue of questioning the value of such a section, but to ensure its focus was on needs of existing members (i.e., dealers looking to bottled water delivery to augment their businesses), said Jack Lorenzen. The Nebraska dealer and former WQA president said it shouldn't simply be a way of introducing into the association another competing group — big bottlers — whose interest may be better served by the International Bottled Water Association (IBWA) — see EXTRA: Feeling the Pinch below. Dealers remain protective of their position within the WQA and wary of efforts to water that down by introducing new sections. Many also have been hesitant to embrace the society, seeing it largely as a way for competitors to gain greater credibility without necessarily investing in full association membership.
Global warming
Meanwhile, international members — particularly non-U.S. residents — were frustrated with a leadership vacuum at the WAD since Dan Wyckoff's departure as director last fall and rebelled against what they saw as a lack of responsiveness by WQA to the division's needs. While not completely satisfied with an absence of direction from WQA and a continued tendency for committee chairmanships to be held by U.S. members only, they were encouraged by a renewed commitment by manufacturers in support of the European water industry.
"I got a lot of support from companies, when in the United States, that said they want to work with Aqua Europa for it to be a stronger organization in representing the point-of-use/point-of-entry water treatment industry throughout Europe. I'm also getting support from a number of European groups in that regard," said Aqua Europa chairman Tony Frost, of the United Kingdom's Aqua Focus Ltd.
The issue had come to a head over the European federation's ongoing inability to reach a consensus on harmonization of water treatment equipment standards, particularly with respect to conflicts over the softener standard that lead to last month's WHO/NSF International HPC Symposium in Geneva. WQA joined in supporting the conference out of hopes it would provide some guidance on the lack of health risk of common heterotrophic bacteria. HPC growth in softener resin beds has been used as a trade wedge by German and Austrian industry players selling units with an automatic disinfection step. Support of the conference and greater stability of Aqua Europa also are seen as preemptive moves to keep the issue from crossing the Atlantic.
"It would not just target the ion exchange market (here) but the carbon and cooler portion of our industry as well," said 2002-2003 WQA president Bob Ruhstorfer. "My personal fear is, as in times past, when bad regulations were able to stand, they gain legitimacy. And if one regulatory body doesn't change it, then the next assumes it has some validity. We have to be vigilant against bad science or misinformation any time it presents itself."
Manufacturing a dream
Manufacturers literally blew up in their section meeting over another decline in trade show attendance, with New Orleans figures estimated at the close of the convention at between 3,100 and 3,200 — down from last year's 3,700 in Orlando and 4,100 in Long Beach in 2000. One WQA board member said, "It was kind of like throwing gasoline on a fire." Several meetings were held during the week between top manufacturers and the WQA Executive Committee and Board of Governors to impress upon WQA leadership the need to revise the organization's governorship and refocus the association and its convention to better reflect growth and changing trends in the industry.
The point was raised in a letter of "concerned members," dated March 1, sent to the governors from heads of several large manufacturers — Don Brockley, EcoWater; Jorge Fernandez, Pentair; Ed Fierko, Osmonics; Bill Prior, Kinetico; Mike Reardon, Culligan, and Bob Ruhstorfer, RainSoft. While acknowledging the WQA's rich history of defending the industry's rights and interests in the marketplace, the letter states: "We believe the governance, funding and some of the activities (services) have become misaligned with needs of its key members and realities of the marketplace, as they exist today. We are very concerned that if this situation is allowed to continue, it will threaten the future of the WQA as we know it."
Key points made in the letter include:
Consolidation in recent years has turned traditional manufacturer/suppliers into large companies,
Many have significant market (and even headquarters) outside the United States, and
Manufacturers often sell new water treatment products today aimed at markets not served by traditional dealers.
The letter also mentions the need to bring in an outside consultant to help the association refocus and reposition itself for not only the current makeup and dynamics of the water treatment industry, but to anticipate and adapt to future trends. To be fair, Ruh-storfer mentioned some of these very same points earlier in the year (see "New WQA President's Report," WC&P, April 2002). As a result of the letter and WQA's response to it, though, two big companies not supporting the association as much in recent years renewed their commitment and even sent top executives, EcoWater's Brockley and Culligan's Greg Norgaard, to serve as WQA directors.
Future spin
Despite the disgruntlement, outgoing WQA president C.R. Hall noted much of the current decline was to be expected considering the terrorist attacks that forced cancellation of the WQA Mid-Year Leadership Conference last fall. There was the traditional refrain from the trade show floor about wanting to see more attendees, but many exhibitors said the people they were seeing were "deal makers."
"It was good traffic. It was decent," Hall said. "We were off maybe 10 percent, I'm told. They're still crunching the numbers. There's a bunch of things we're going through right now, and it's all good. It's good to re-evaluate yourself now and again. And, given that every other industry association is off in attendance at their conventions much more than we are because of travel restrictions and the general outlook since 9/11, we're not doing that badly."
An April 10 release from WQA points out actual convention registration was down 19 percent, which put trade show attendance at around 3,000. It also mentioned trade show attendance was off worldwide, according to the Association Forum of Chicagoland. The average drop in 2001 was 20 percent, but some have seen figures off by as much as 50 percent due to negative effects of Sept. 11 on business travel.
"We're looking at many ways to regain attendance, including moving future show locations to the north where we have higher concentrations of dealers," said WQA executive director Peter Censky in the release. "However, considering the currently improving economic situation, we believe our 2003 convention and exhibition in Las Vegas will have significantly higher attendance. We're taking many steps to ensure that."
Among those steps are:
WQA will investigate venues near international air hubs to leverage the U.S. Department of Commerce International Buyer Program it got involved with this year. The program is expected to bring international delegations to Las Vegas so attendees can develop both new overseas sales and potential international partnerships.
WQA will form a committee to identify target industry trade shows and organize pavilions where manufacturers can exhibit, using the WQA pavilion at AquaTech in Amsterdam as a model.
WQA will review "wrap-around" and "wrap-through" exhibitions, in which advertisers and exhibitors can pre-sell, via the WQA website, the event to prospects as well as do targeted, post-convention marketing. This approach will allow a multi-stage system for acquiring customers using the WQA exhibition as a "nucleus" event.
Conclusion
It will be interesting to see how far the strategic plan will have advanced by September and next March.
However, Kahn pointed out the real work — once a blueprint is drawn up — will fall to the WQA committees, the boards and staff. They have to be willing and ready to implement it right away. With a horizontally integrated organization such as the WQA that encompasses such diverse interests in the water treatment industry, not everyone will get their way, she stressed: "The outcome is not going to make everyone happy. Just accept that now."
In the end, though, the ideal of establishing one voice for the water treatment industry may be closer than ever.