By Jeff Dunn
With the advent of the Internet as the next marketing tool for various businesses, the bottled water market is seizing the opportunity as a means to reach out to a greater consumer base. Constraints that discouraged people from purchasing online before are being reduced as cost has given way to a yearning for purified water at their doorsteps.
A quick tour through Internet search engines will reveal many websites displaying bottled water. As Internet usage grows—currently 28 million households have Internet access in the United States alone, according to Nielsen Media Research—more and more consumers will have and use the technology to purchase goods and services online.
While services such as travel and financial planning have proven to be successful e-businesses, food and beverage marketing direct to consumers maintains a respectable presence. Water is a category of "Food and Wine," which this past holiday season experienced the third-highest level growth in sales, said BizRate. com. Indeed, this category has been experiencing steady growth and is expected to have a significant impact on the way people purchase food and beverages in the 21st century.
Online presence
Major bottlers, i.e. Perrier, Suntory, McKesson, have impressive sites that promote corporate image. There are also many sites created by regional bottlers and distributors. These sites promote their products in local territories and many sell 5-gallon bottle delivery services online. Other small market bottlers offer their line of polyethylene terephthalate (PET) bottle products for local delivery or UPS shipment.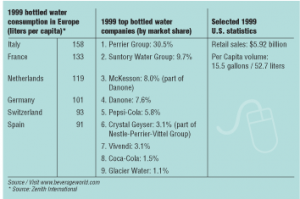 From my interviews with industry professionals, I've learned that there still exists the perception that no one will purchase bottled water online due to the high cost of shipping. The reality is that while the cost of shipping water may deter some shoppers, a great many bottled water consumers find the availability and the convenience of shopping online worth the extra cost. Consider—that with one click of a mouse—you can have a case or more of unique bottled water delivered anywhere you want at about the price one would pay for a bottle at a convenience store or restaurant.
There are websites with bottled water products for dogs, cats and other pets as well as bottled water for people. Some products available for pets include a self-watering pet dish that dispenses bottled water automatically. There's also a product that consists of purified water packaged in a dog bowl and the cover, once removed, becomes a Frisbee for your dog to play with.
Many websites have maintained slow and steady growth by following their mission of providing web surfers and bottled water consumers with the opportunity to learn about and optionally purchase online, unique and high quality bottled water that, otherwise, they wouldn't have access to where they live or work.
Consumer profile
Who buys bottled water online? Examples of some of the more glamorous are rock stars who may want their favorite brand of bottled water delivered to their next concert stop; and movie stars who demand their favorite brand on the set where they're filming their next blockbuster movie. Less glamorous, but a major category, are families and individuals that drink a great deal of water and desire variety. For the same reason, some company purchasing agents continually rotate brands of water in the company cafeteria for their employees as a company "perk."
In a mobile society like ours, web surfers may discover water bottled in the town or region where they grew up and purchase it in order to remember the taste of back home. Or, even more often, online ordering presents an opportunity for a customer to taste a part of another country or region of America. Each summer, several customers of one particular website purchase a case of bottled water for a child for delivery directly to the cabin at the sleep-away camp where they'll be spending their school vacation.
Women comprise a large segment of the bottled water market and, for the first time, made up the majority
of the 2000 holiday season online shoppers, reported BizRate.com.
The Bottled Water Boutique (www.bottledwaterboutique.com) is an online distributor of bottled water that went online in 1999. Its mission has been to offer the "World's Best Bottled Waters." The products found on this site—there were eight at the time of this writing—are only offered for online ordering after a panel of experts has determined that the products pass a 50 point quality test. The site's motto says it all: "Everything from the shipping box, the bottle, the label, the cap and closure to the taste, mouth feel, and after taste is rated."
Hooking the visitor
For online bottled water distributors to succeed, the site must offer content that will interest a visiting web surfer. The content offered should be of sufficient quality so that the visitor will bookmark the site and hopefully return to it repeatedly. According to Arthur von Wiesenberger, founder of the BottledWaterWeb.com and author of four books on bottled water, "Surfers are looking for a number of things when they turn on their computers. Many are looking for entertainment, some are looking for information and others are looking for a place to belong, a sense of community. If a site can combine all three elements, then it has a good chance of success."
One way websites instill a sense of community is by providing a bulletin board or forum, where visitors can post questions and comments and share their interest on bottled water with other visitors or with web hosts. At least one website provides an interactive water game that visitors can play and learn about bottled water. At another website, members of the Water of the Month club are automatically shipped a case of the selection of the month at prearranged discount pricing.
Conclusion
Online distribution of bottled water should increase steadily as more consumers become aware of the existence of opportunity and convenience of online ordering. Additionally, online distributors offer an opportunity for regional bottlers to market their products to consumers nationally and worldwide. Small bottlers and brick and mortar distributors of imported brands now have the opportunity to market their brands online without having to build and maintain an e-commerce site of their own. As the popularity of ordering bottled water online grows, established online distribution sites will surely attract the attention of large companies who will recognize them as another excellent channel by which to advertise and market their products.
About the author
Jeff Dunn is founder and managing director of the BottledWaterStore.com. He has been a water treatment industry consultant for the past 10 years and specializes in the design and application of membrane process systems for the bottled water industry. He also serves as executive vice president for the Water Management Group Inc., a company that provides professional outsource services for municipal and industrial water treatment systems. He can be reached at (888) 225-6222, 209-755-6446 (fax) or email: jdunn@bottledwaterstore.com